The Fastest 40-Yard Dash Times in NFL History
"What's the 40 time?" is a common refrain when discussing NFL hopefuls. The 40, referring to the 40-yard dash, is the shorthand metric for comparative speeds between NFL prospects. It almost never comes up after the draft, but it remains arguably the most important result of any of the combine or pro day tests. Whether or not they had long careers, these players recorded the fastest 40-yard dash times we've ever seen. In the event of ties, we'll list the oldest times first.
The fastest 40-yard times you won't see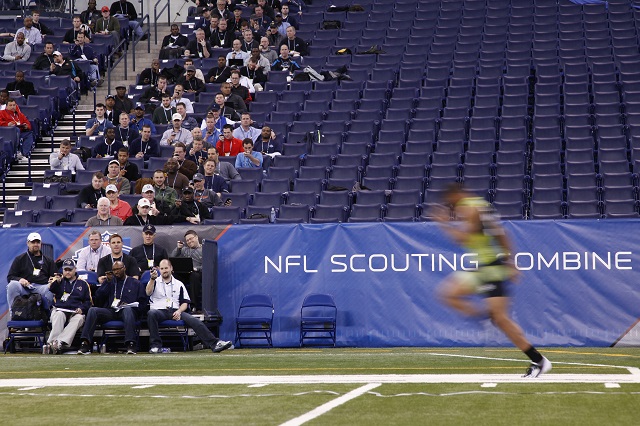 You might have heard that the legendary Bo Jackson clocked 4.13 seconds in the 40-yard dash, which is Usain Bolt-like speed. But you won't see Bo Jackson on the list. His blazing 1986 time is unofficial and hand-timed, and we're focusing on electronically timed results, which is why all these times are from the 21st century.
Next: The countdown begins
12. Tye Hill (TIE)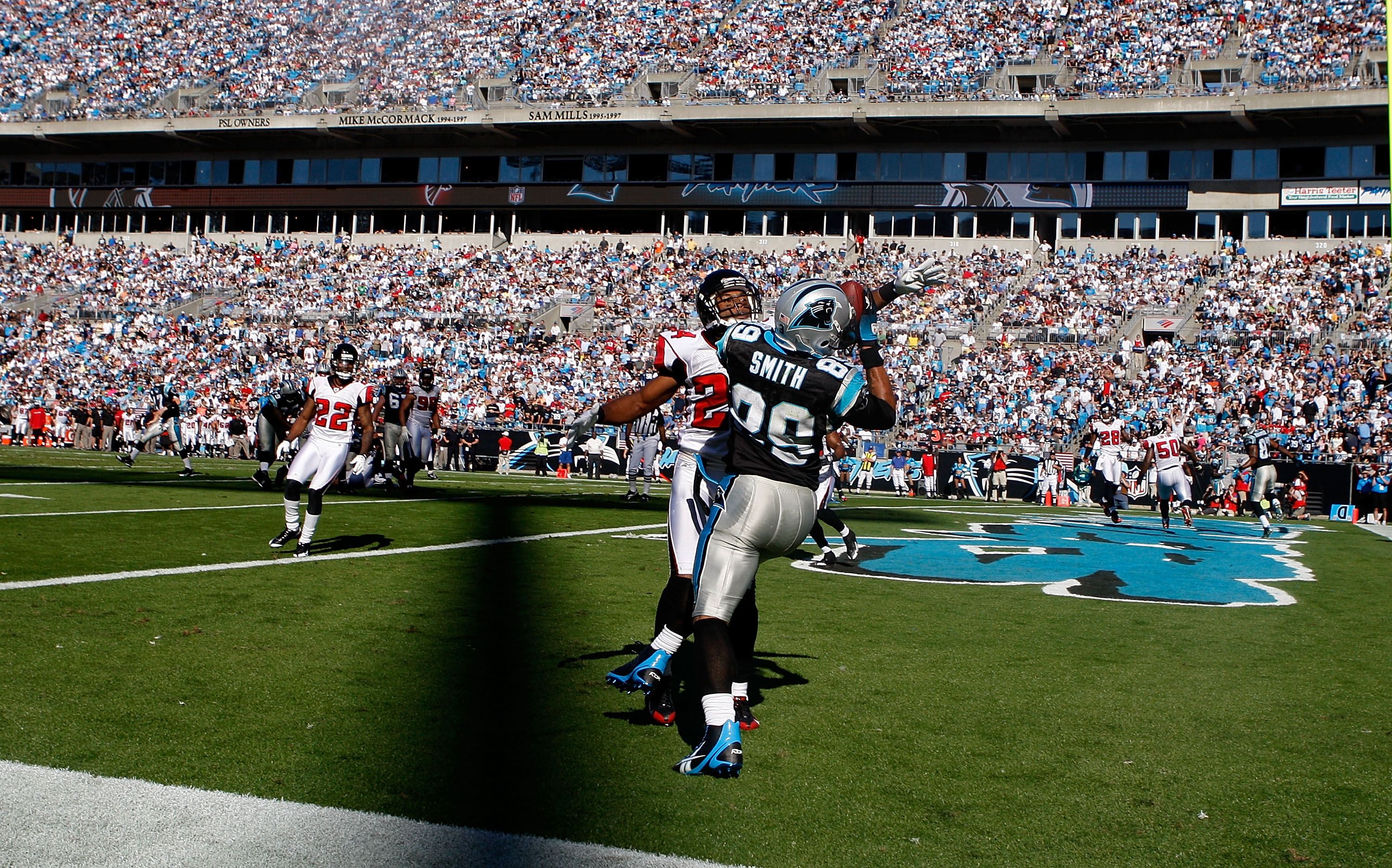 Time: 4.30 seconds
Year: 2006
The St. Louis Rams chose Tye Hill in the first round of the draft. The Clemson product also played for the Tennessee Titans, Detroit Lions, and Atlanta Falcons during a career that spanned 2006 to 2010. His was the fastest 40-yard dash at the 2006 draft combine.
Next: This speedster made a lot of stops during his brief career.
12. Yamon Figurs (TIE)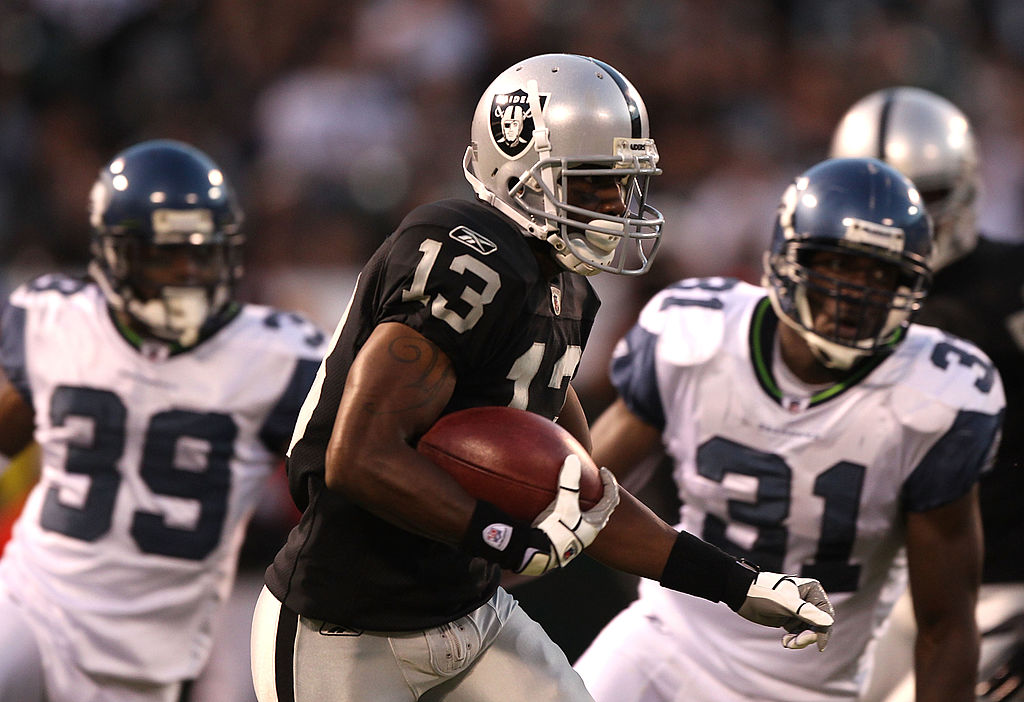 Time: 4.30 seconds
Year: 2007
Yamon Figurs also played his last game in the NFL during the 2010 season, after tearing his ACL during his rookie campaign with the Baltimore Ravens. He ended up with the Detroit Lions, the Tampa Bay Buccaneers, the Oakland Raiders, the Cleveland Browns, and the Tennessee Titans before entering the Canadian Football league, where he remained for one season with the Edmonton Eskimos.
Next: His elite speed appealed to one team.
12. Darrius Heyward-Bey (TIE)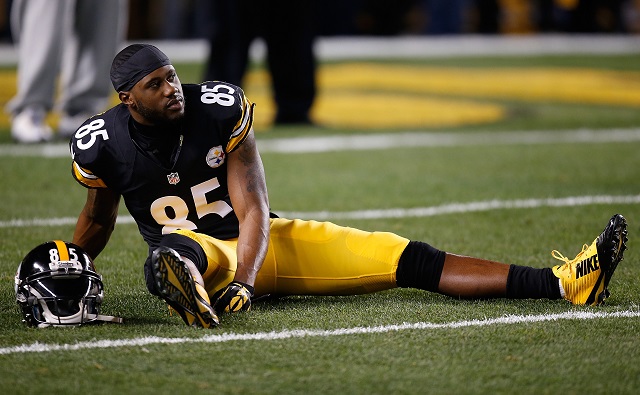 Time: 4.30 seconds
Year: 2009
Let's get one thing clear about now-deceased Hall of Fame Raiders owner/general manager/icon Al Davis: He loved fast players and he loved drafting fast players. So when Darrius Heyward-Bey ran a 4.30 at the 2009 NFL combine, Davis responded by taking the receiver with the seventh overall pick. That was, by most people's estimations, way too high. Oh well. He didn't amount to much for the Raiders, but he was still in the league in 2017, with the Steelers.
Next: The first player on our list under 4.30 seconds.
11. Fabian Washington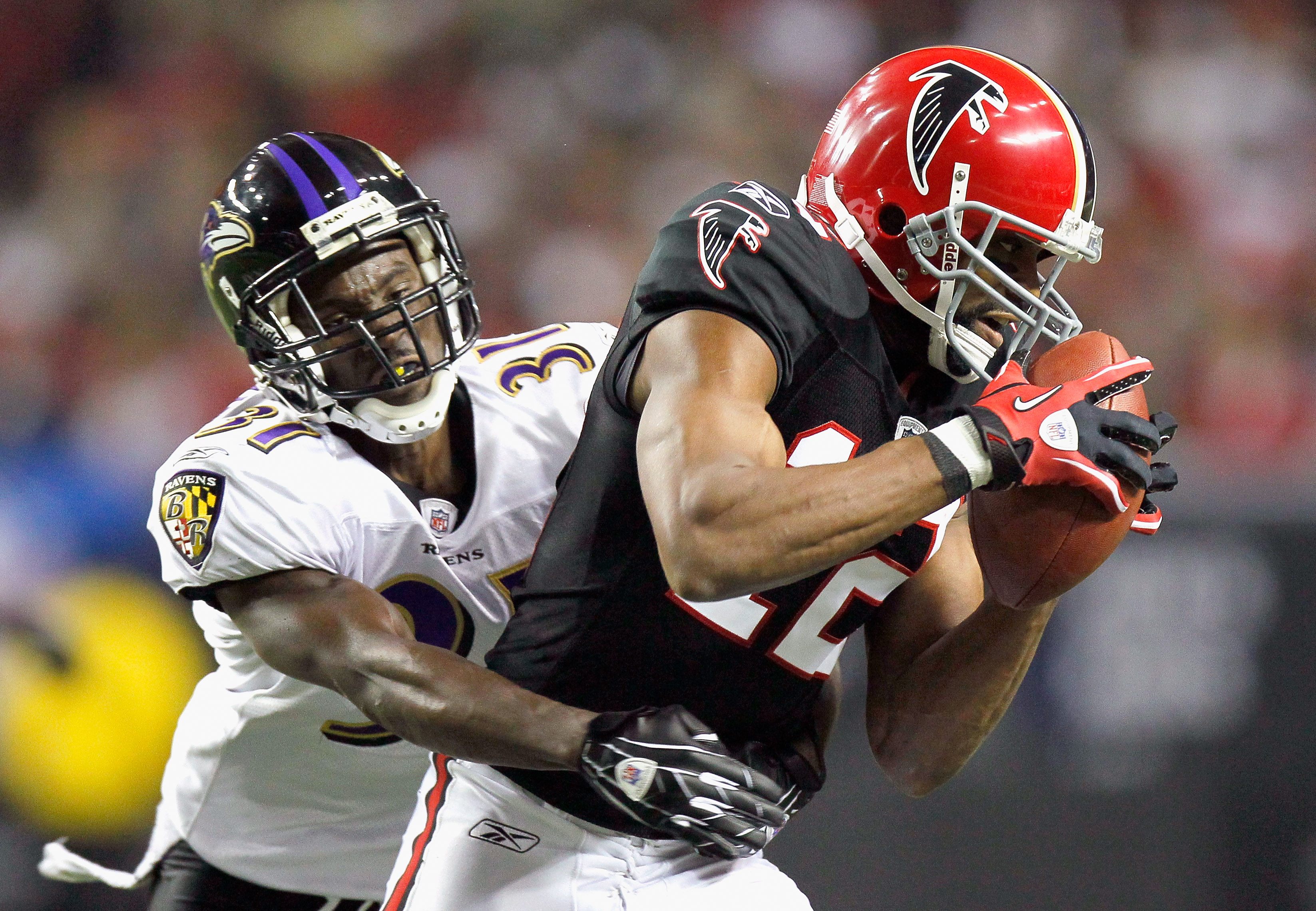 Time: 4.29 seconds
Year: 2005
The cornerback out of Nebraska recorded one of the fastest 40-yard dash times in 2005 when he clocked a 4.29. Do you want to guess who drafted Washington? He went to the speed-loving Oakland Raiders with the 23rd overall pick that year. He played in 81 games over six seasons split between Oakland and Baltimore. Washington recorded six interceptions and 204 tackles during his NFL career.
Next: A role player who is one of the fastest of all time.
6. Jerome Mathis (TIE)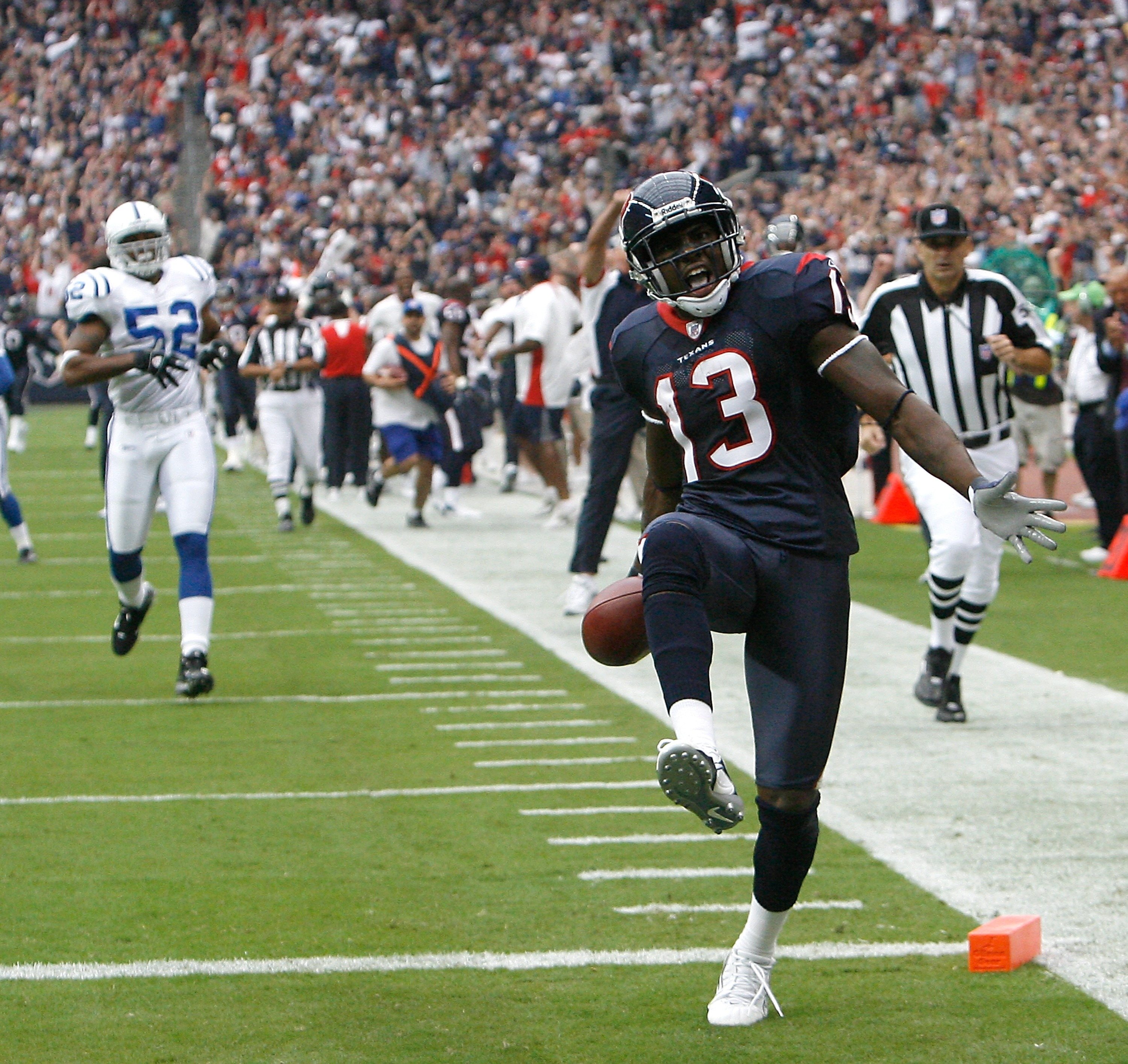 Time: 4.28 seconds
Year: 2005
This wide receiver out of Hampton University clocked 4.28 seconds at the 2005 combine. The Houston Texans drafted him in the fourth round that season and put that speed to use. They put him in as a kick returner, and he racked up 1,542 return yards and two touchdowns during his all-pro and pro-bowl rookie season.
Next: Do you see the trend developing?
6. Jacoby Ford (TIE)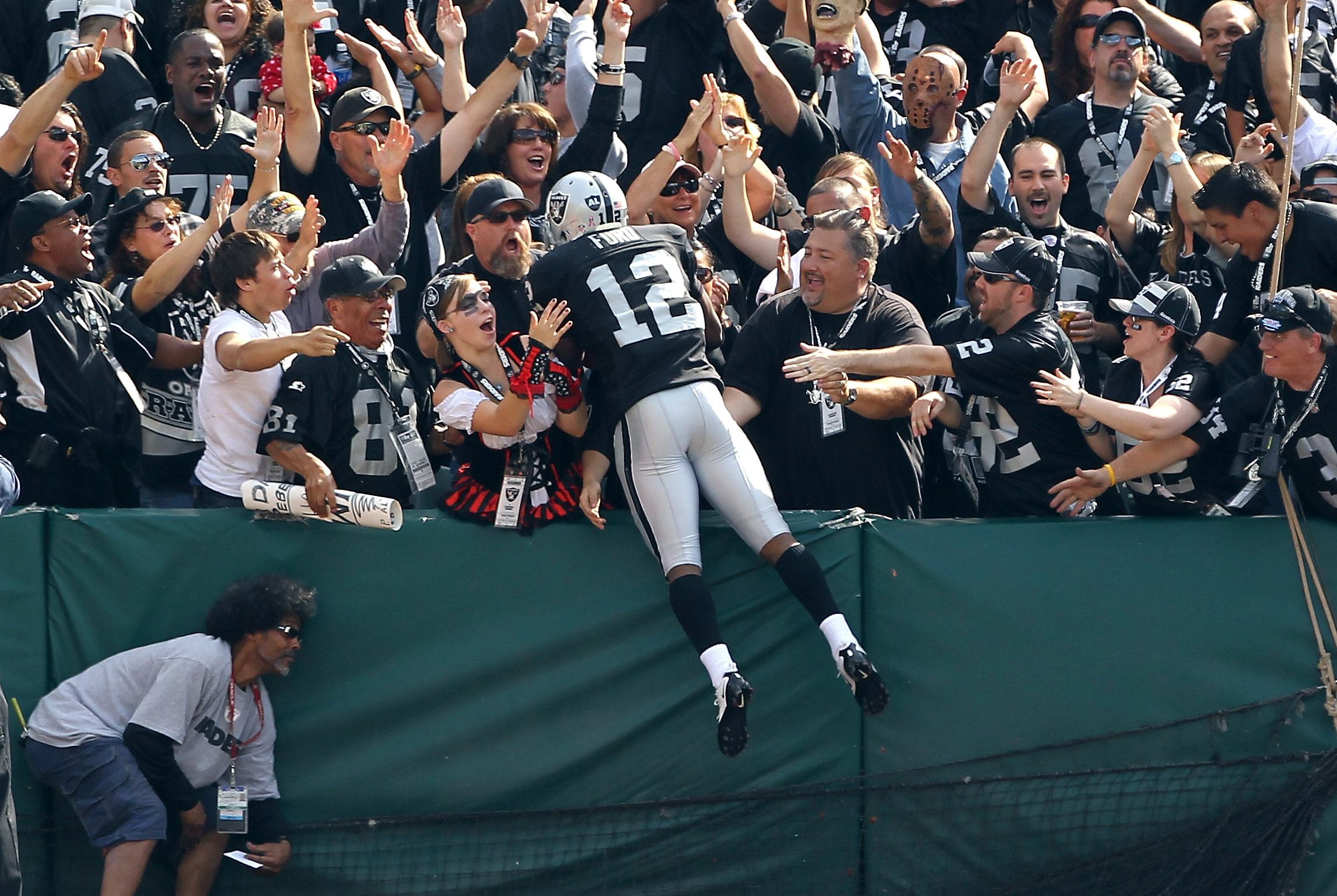 Time: 4.28 seconds
Year: 2010
Jacoby Ford, a super-speedy wide receiver, ran a 4.28 40-yard dash and was drafted by — yep, you guessed it — the Oakland Raiders with a more reasonable 101st overall pick. Ford was even faster than Heyward-Bey (the unofficial gold standard for "Al Davis will draft anyone who was faster than anyone else"), posting his time in 2010. He played with the team for four seasons, until the franchise did not offer him a new contract in 2014.
Next: We hate to be a broken record, but…
6. DeMarcus Van Dyke (TIE)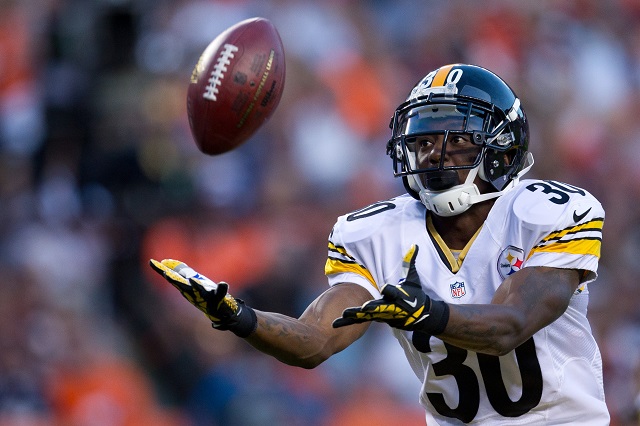 Time: 4.28 seconds
Year: 2011
University of Miami product DeMarcus Van Dyke was also drafted by the Oakland Raiders, in the third round of the 2011 draft. That draft was owner/GM Al Davis' last, as he passed away that in October 2011. We hate to sound like a broken record, but Van Dyke's fate was similar to other speedsters drafted by the Raiders over the years. He didn't play much for Oakland, and the team released him in 2012. He suited up for the Steelers for two years and landed with the Minnesota Vikings in 2014.
Next: So far, so good.
6. J.J. Nelson (TIE)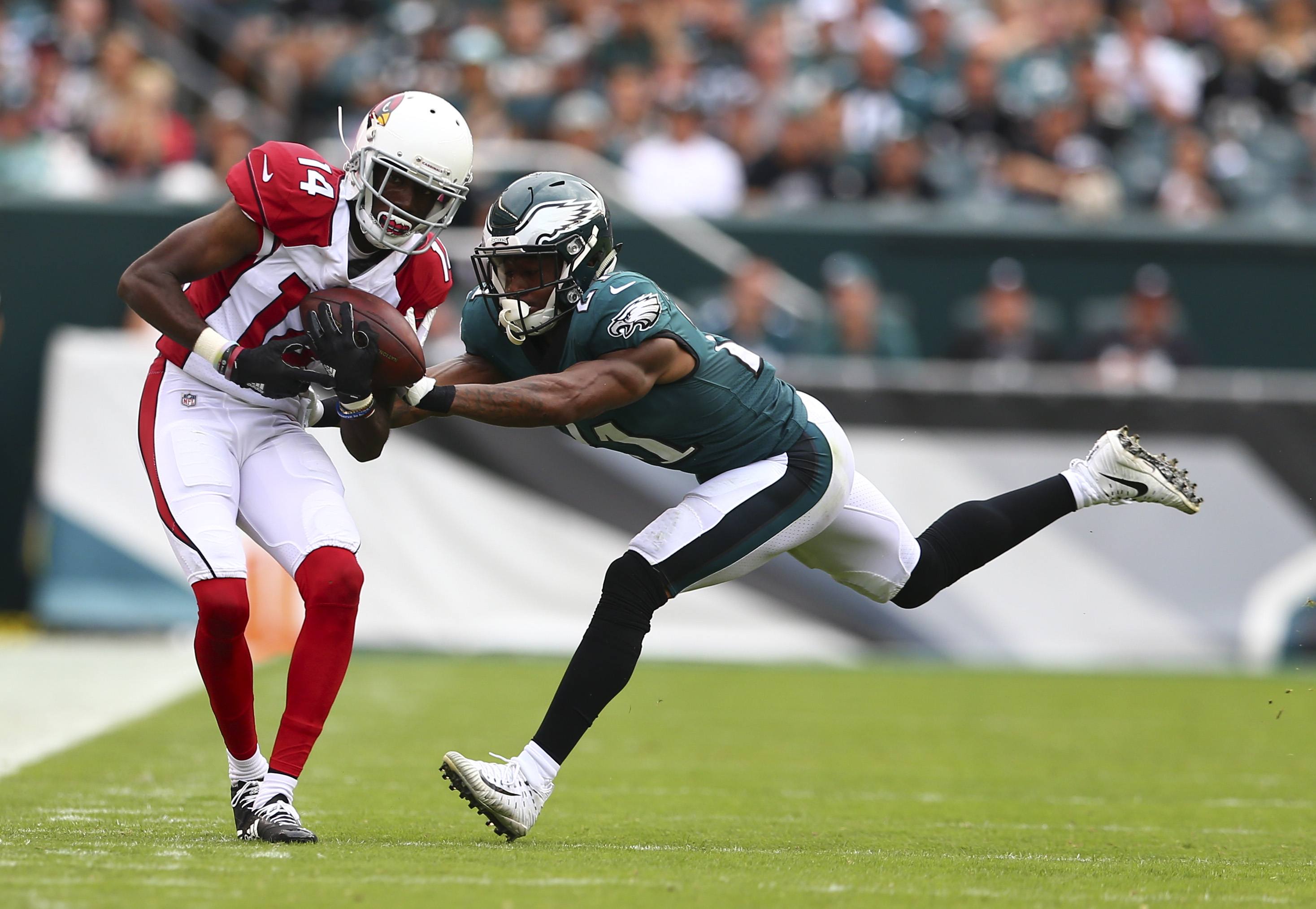 Time: 4.28 seconds
Year: 2015
For most of the players we've discussed so far, speed didn't translate to on-field production. Nelson's first three seasons break the mold. He played in 11 or more games each year and hauled in multiple touchdowns in each of them. The Arizona Cardinals drafted him out of Alabama-Birmingham with the 159th overall pick in 2015.
Next: A recent blazing 40-yard dash time.
6. Jalen Myrick (TIE)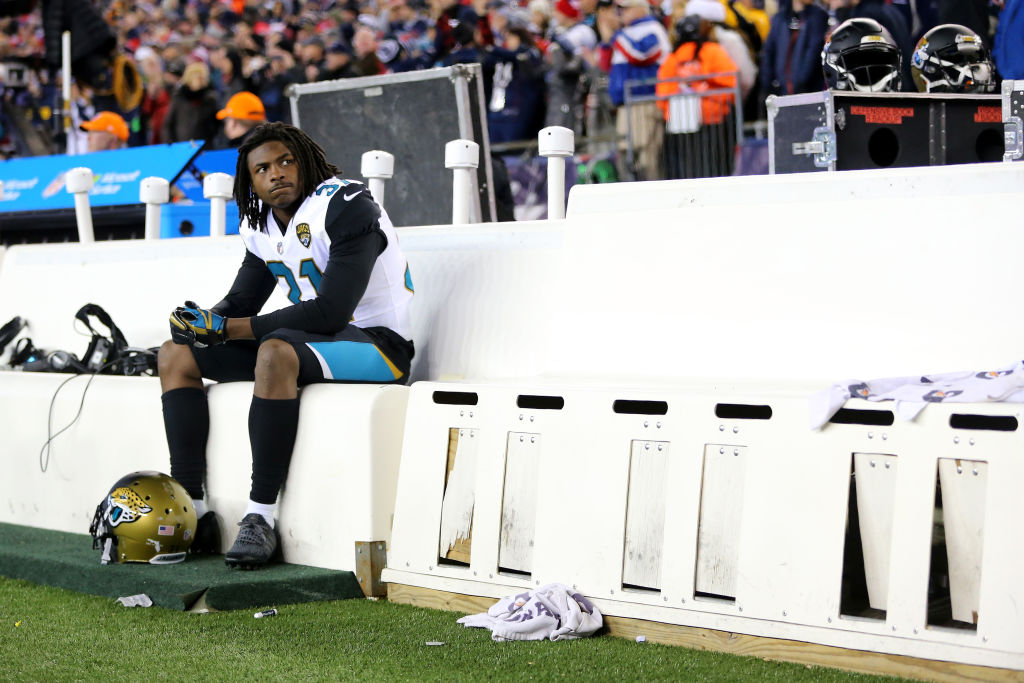 Time: 4.28 seconds
Year: 2017
Speed is one of the key skills cornerbacks need to possess, and University of Minnesota product Jalen Myrick has it. His 4.28 at the 2017 combine is one of the fastest 40-yard dash times we've ever seen, but he's still waiting for his breakout season. The Jacksonville Jaguars drafted him in the seventh round, and he played in only five games as a rookie.
Next: Stop us if this is getting old.
4. Stanford Routt (TIE)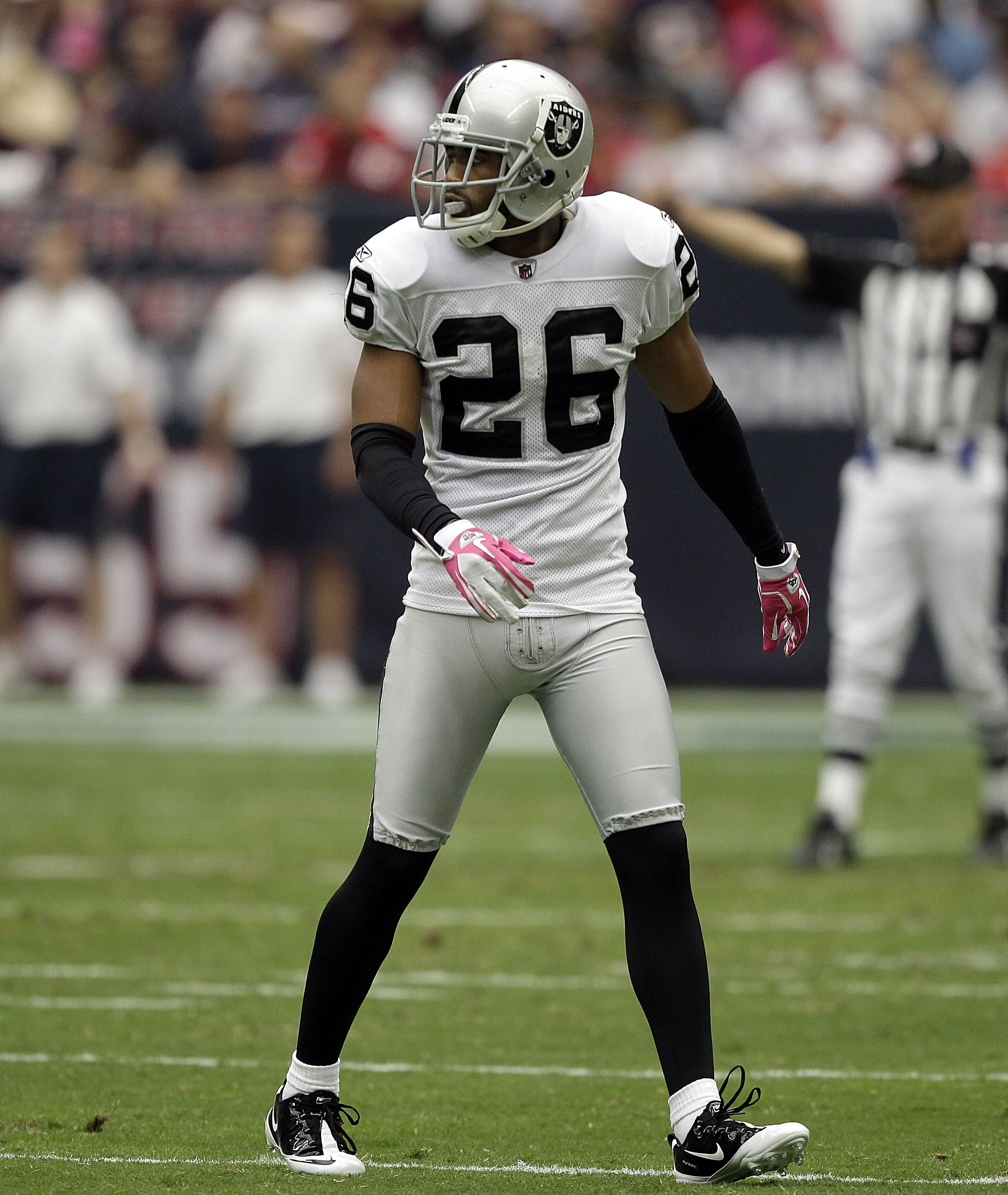 Time: 4.27 seconds
Year: 2005
Are you getting sick of this yet? A player, in this case, Houston product Stanford Routt, posts one of the fastest 40-yard dash times in combine history. The Oakland Raiders draft that player, and he slips into obscurity. Except in this case, Routt didn't. The defensive back spent seven seasons in Oakland and grabbed six of his 12 career interceptions in 2010 and 2011. He spent time with Houston and Kansas City in 2012 before leaving the league.
Next: It took a while for this speedster to have a breakout season.
4. Marquise Goodwin (TIE)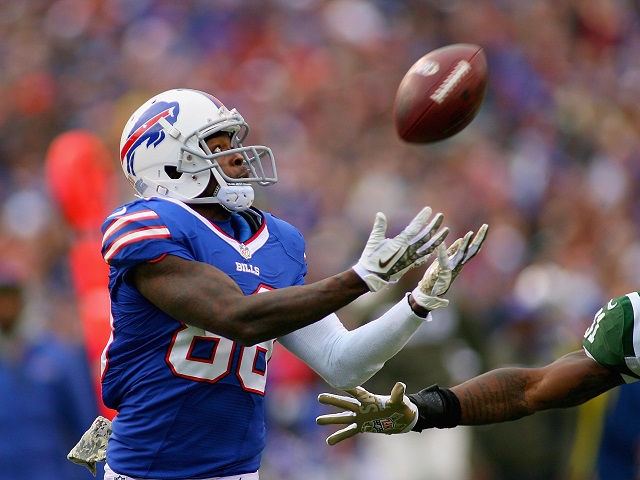 Time: 4.27 seconds
Year: 2013
Marquise Goodwin, a multi-sport athlete at Texas, put down a scorching 4.27 time at the 2013 NFL combine that stands as one of the fastest 40-yard dash times ever. The Buffalo Bills drafted him in the third round, but he didn't amount to much there. Goodwin had a breakout season with the 49ers in 2017, hauling in 56 catches for 962 yards and two touchdowns.
Next: His breakout season never arrived.
3. Dri Archer
Time: 4.26 seconds
Year: 2014
A running back out of Kent State, Archer wasn't a highly-touted prospect before his combine showing, so his time definitely opened some eyes. After all, a 4.26 40-yard dash is fast. Real fast. The Pittsburgh Steelers drafted Archer in the third round of the 2014 draft, but he performed like a player who wasn't highly-touted. He compiled just 63 rushing and receiving yards and 517 return yards over two seasons.
Next: Now for the clear-cut top two.
2. Chris Johnson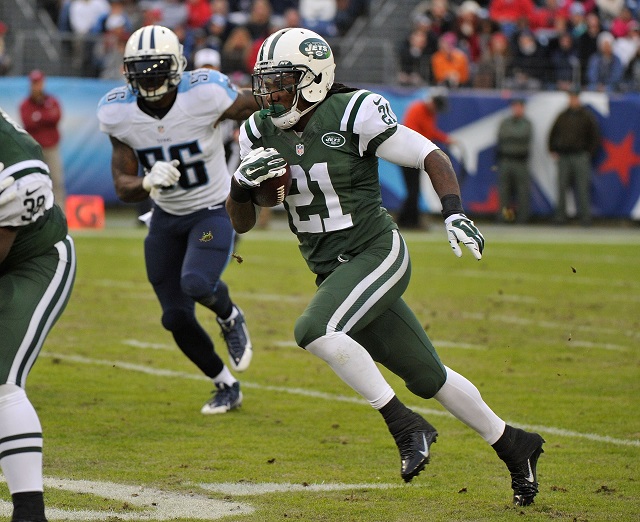 Time: 4.24 seconds
Year: 2008
The second-fastest electronically clocked player in NFL combine history, Chris Johnson's time of 4.24 seconds stands as one of the fastest 40-yard dash times we've ever seen. Unlike some of the other players we've discussed so far, Johnson's speed translated well to the field.
Nicknamed CJ2K after his 2,000-yard rushing campaign for the Tennessee Titans (who took him in the first round) in 2009, he has five other 1,000 yard rushing seasons to his name. He never ran for fewer than 1,000 yards until his seventh year in the league, when he moved from the Titans to the New York Jets.
Next: A recent speed demon clocked one of the fastest 40-yard dash times in history.
1. John Ross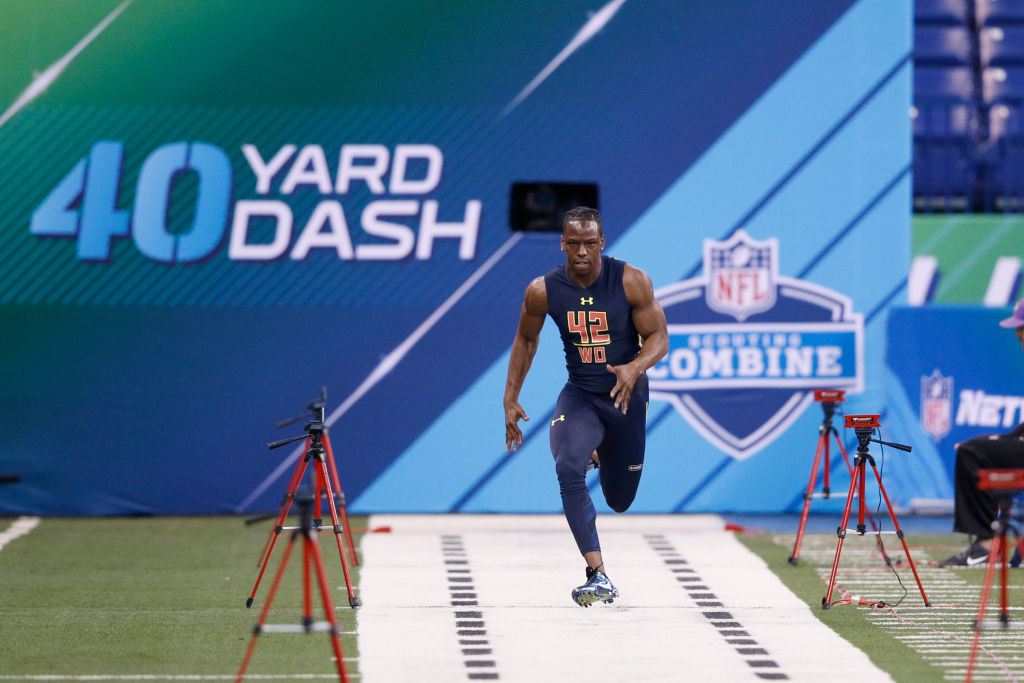 Time: 4.22 seconds
Year: 2017
Chris Johnson held the 40-yard dash record for almost a decade, but during the 2017 combine, University of Washington receiver John Ross blew everyone out of the water and set a new record of 4.22 seconds. Ross was unofficially clocked at 4.18 — which would put him within a respectable distance of Bo Jackson's legendary (and unofficial) 4.13. Ross hasn't made a huge impact on the field yet, but we're guessing he'll have plenty of chances to do so thanks to his elite speed.
Statistics courtesy of ESPN and Pro-Football-Reference.
Additional reporting by Matt Reevy.
Read more: The 15 Wealthiest NFL QBs of All Time