NFL
The 5 Fastest Players in the NFL Right Now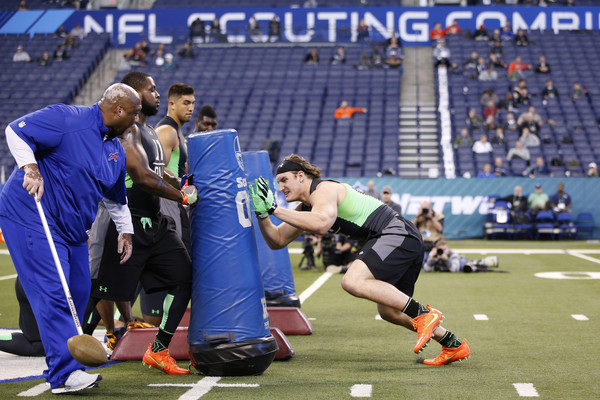 The time-honored cliches, "speed kills" and "you can't coach speed," are true. The fastest NFL players can shred the perfect defense and go the distance on any given play. Opposing teams must account for these electric performers at all times. This extra attention creates space for all offensive personnel to go to work.
On the other side of the football, speedsters can play lock-down, man-to-man defense and chase down plays from the weak-side across the formation. A real burner will put in spot duty on special teams as a return man when the team needs a spark. Football speed, in pads, is different than straightaway speed measured with a stopwatch on a fast track.
Even the great Jerry Rice ran a rather pedestrian 4.71 40-yard dash. On game day, however, he flashed wide open on drag routes across the middle before hauling in the football, turning the corner, and racing upfield past the defense for six. Alternatively, Darrius Heyward-Bey's professional career never got off the ground despite literally breaking stopwatches at the NFL combine. The following current NFL players represent the ideal combination of lateral quickness, acceleration, agility, and raw top-line speed.
5. Julio Jones
This is (almost) unfair. Julio Jones measures out at six-foot-three and 217 pounds — and he is bigger than Adrian Peterson. At the combine, Jones clocked in at 4.39 in the 40-yard dash as the most physically gifted wide receiver to enter the draft since Randy Moss. Yes, Jones is faster than Antonio Brown and Odell Beckam, Jr., who are both burners in their own right.
The 27-year-old is a matchup nightmare. As a possession receiver, Jones can use his big body to wall off defenders on slants and quick outs right at the sticks. On wide receiver screens, he will haul in the pass, before throwing out a stiff-arm on the defensive back and racing down the sidelines. In response, defensive coordinators will often call for Cover 2, with a corner cheating up toward the line of scrimmage being backed up with safety help over the top.
Still, Jones can easily outrun this double coverage before quarterback Matt Ryan drops in a deep bomb. For his career, he is averaging 15.1 yards per catch as the ultimate big-play threat. Last year, Jones led the league in both receptions (136) and yards (1,871). Ironically, the top-end speed was on full display when he found himself as a defender, chasing Tampa Bay linebacker Kwon Alexander 85 yards downfield to stop a pick-six.
4. DeSean Jackson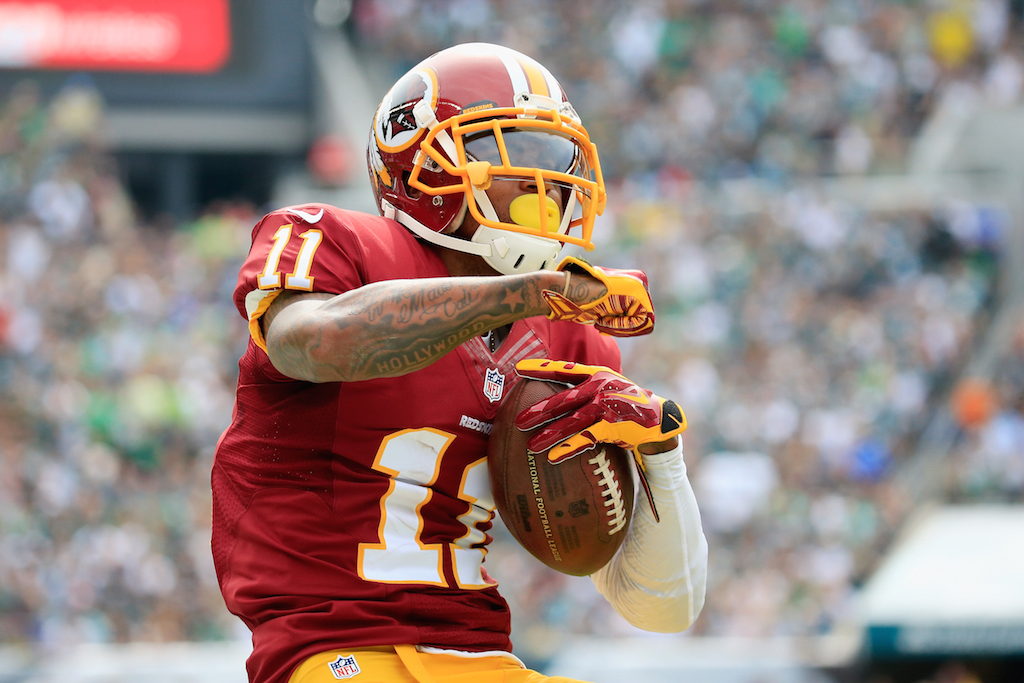 At 30 years old, DeSean Jackson is still one of the fastest men in the NFL. He ran a 4.35 in the 40-yard dash at the NFL combine. Then the Philadelphia Eagles picked him in the 2008 draft. Jackson was at his best in 2010, when he paired up with a reinvigorated Michael Vick to torch the competition. That year, Jackson came down with 47 receptions for 1,056 yards — a blistering 22.5 yards-per-catch average.
For the play of the year, Jackson actually muffed a punt against the New York Giants, before picking the football back up at his own 25. From there, he drifted to his right, before feinting back to the left and turning on the jets upfield. After shaking two tacklers and hurtling over the punter, Jackson got a block and turned on another gear at the 50-yard line. From there, he was so far behind the Giants coverage that he actually tiptoed horizontally alongside the goal-line to run out the clock before scoring the touchdown.
The Philadelphia Eagles won this game 38-31. A irate Tom Coughlin screamed at punter Matt Dodge for actually kicking the football to Jackson. Matt Dodge found himself out of a job immediately thereafter. For his career, Jackson has averaged 18 yards per catch to go with 50 total touchdowns, as a receiver, on the ground, and in the return game. For 2016, Jackson will have another big year in Washington, if Kirk Cousins can get him the football.
3. Brandin Cooks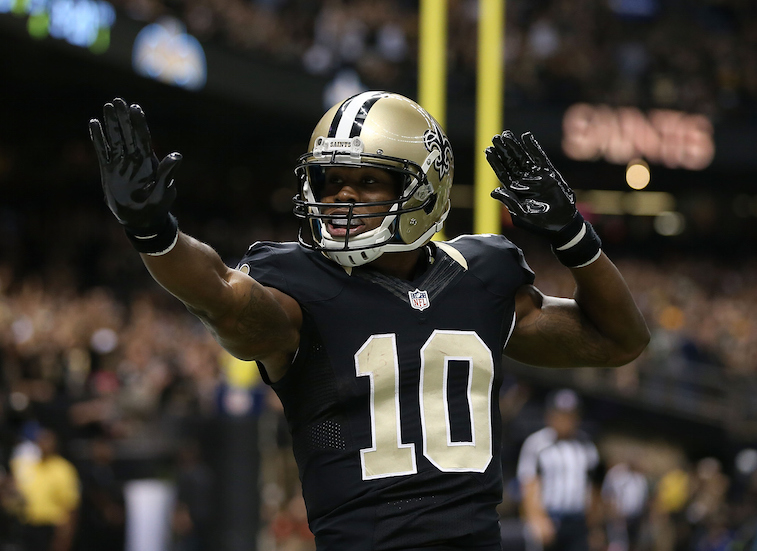 Brandin Cooks is one of the more underrated and least recognized burners in the NFL. Cooks played his college ball at Oregon State, in the shadows of the Mighty Ducks of the Pacific Northwest. Now, Cooks finds himself in another small market. His Saints club that hasn't made the playoffs through his first two seasons. Still, Cooks is only 23; he has plenty of time to play pitch-and-catch with Drew Brees on the Superdome fast track — and introduce himself to fans.
Cooks is often compared against Rams wideout Tavon Austin in terms of both speed and stature. On paper, both of these athletes measure out near 5-foot-9 and 180 pounds and run a sub-4.35 40-yard dash. In real time, however, Cooks does show better acceleration; he is one shade quicker in and out of his breaks as a route runner.
For this, Cooks hauled in 84 receptions for 1,138 yards and nine touchdowns last season, while obliterating concerns that he was a one-dimensional speedster. For Week 1 this year, Drew Brees hit Cooks in stride from the back of his own end-zone. Cooks then sprinted down the sideline and celebrated capping  off the 98-yard pass play in front of a raucous New Orleans crowd.
2. Patrick Peterson
Patrick Peterson is the closest thing to Deion Sanders we can get. Peterson already admitted to modeling his game after Sanders, right down to the high-stepping and flashy touchdown celebrations. For a more direct comparison, he may be one small step slower than Deion. However, he is a much more physical presence and willing tackler out on the edge. Either way, both Peterson and Deion Sanders were ready for Prime Time, after clocking at 4.34 and 4.27 in the 40-yard dash, respectively. Peterson is at his best in press coverage, when he will line up directly across from the other team's best receiver and track him all over the field, with no safety help over the top.
Last year, in Week 6, Peterson limited the flashy Antonio Brown to only three catches for 24 yards. Taken together, Peterson and the Honey Badger form the best secondary in football this side of Seattle. These two already combine for 27 interceptions and six return touchdowns well before the age of 30.
The Cards have one of the best defenses in the league again. Jones is pressuring the quarterback off the edge and Peterson is jumping hot routes out in the flat. He will remain in the game to field punts after harassing the opposing offense into yet another three-and-out. In the return game, Peterson will set up his blocks beautifully, before weaving in and out of traffic and hitting the turbo button to daylight.
1. Ted Ginn Jr.
Ted Ginn Jr. would have emerged as the latest track-and-field star, if it were not for football. In high school, he won the state title in 200 meters and the national championship in the 110-meter hurdles. As a high school senior, Ginn did clock out at 10.2 in the 100-meter dash, which was already then a mere four-tenths of a second off the record pace of Usain Bolt. Ohio State actually recruited Ginn to run track. Then coach Russ Rogers believed that the Cleveland product had a chance to make the 2008 Olympics. Ginn, of course, dedicated himself to football instead.
As a Buckeye, Ginn kicked off the 2007 BCS National Championship Game by taking the opening kickoff 92 yards to the house against Tim Tebow and the Florida Gators. Ginn, however, sprained his foot beneath the dog-pile in this wild celebration and still wore a cast through the ensuing NFL combine in Indianapolis. If not for this freak injury, Ginn was all but set to run a sub 4.3 40-yard and challenge the combine record. Still, he went to the Miami Dolphins as the ninth overall pick in the 2007 draft. For his second year, Ginn had racked up 56 catches for 790 yards, before landing in San Francisco.
As a 49er Ginn was well behind Michael Crabtree, Mario Manningham, and even a 35-year-old Randy Moss on the wide-receiver depth chart, while also competing with Vernon Davis for touches. As a return man, Ginn took three touchdowns to the house through three years in San Francisco. He is at his best in Carolina, where he is the primary deep threat for Cam Newton. Ginn has already carved out a 10-year career for himself as the fastest man in the NFL.
Statistics courtesy of ESPN and Pro-Football-Reference.