The Fastest Run in the NFL This Season Might Surprise You
Faster than a speeding bullet? Perhaps not, but once an NFL running back gets up a head of steam, there's no telling how quickly he can fly down the field and elude tacklers on the way to the end zone. For some, such as the 49ers Matt Breida, his speed is enough to come close to warranting a speeding ticket in an urban school zone.
Put those combine 40-yard dashes aside, it's what takes place in game action that matters.
4. Christian McCaffery, Panthers
In a hard-fought game against the Jacksonville Jaguars, do-it-all running back Christian McCaffery sprang free for a nifty 84-yard touchdown in the early minutes of the third quarter. The former Stanford star tied Nick Chubb's speed hitting 21.95 miles per hour on his score. The 4-3 Panthers won that game against the Jaguars, 34-27.
In an interesting comparison, these fleet-afoot NFL stars are about half as fast as a racehorse, and a tick slower than your average polar bear. Luckily, there are neither horses nor polar bears playing defense in pro football.
4. Nick Chubb, Browns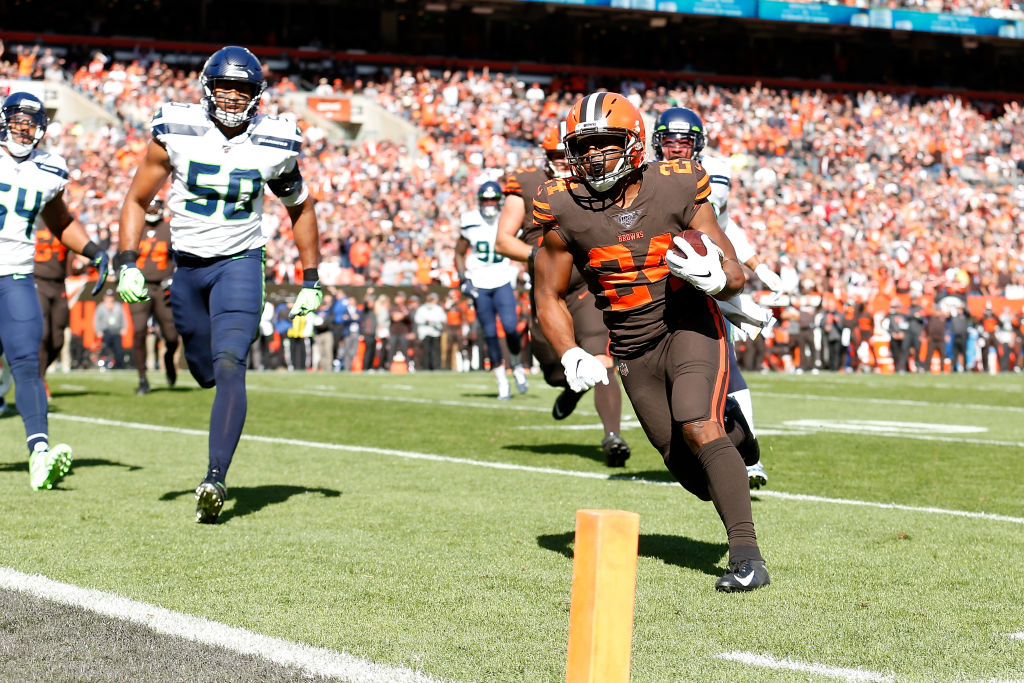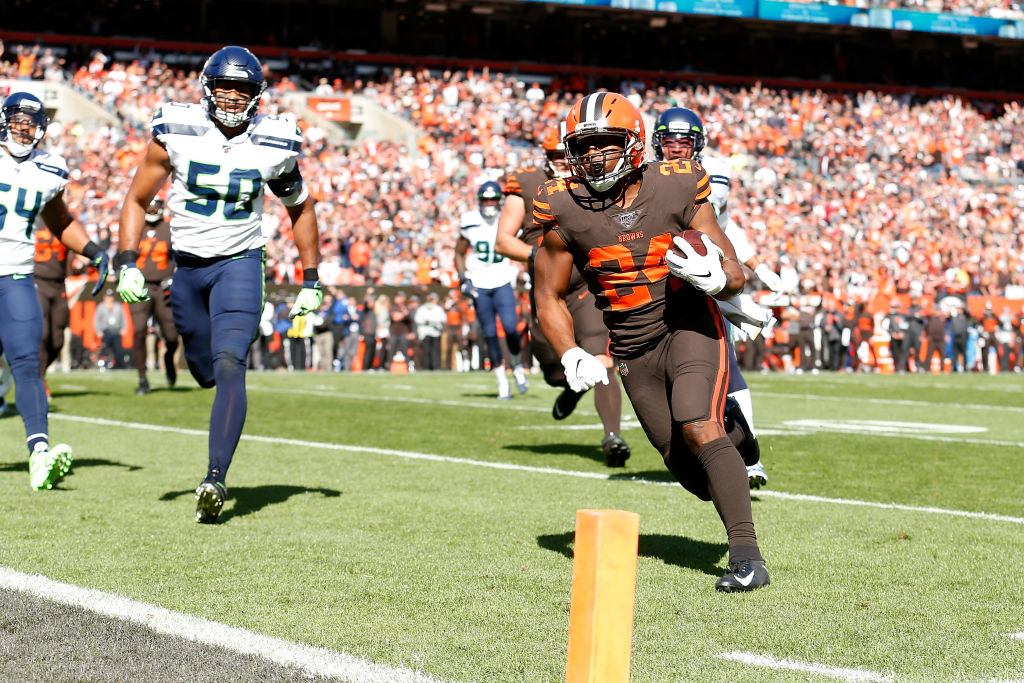 On a crucial fourth-quarter play against the Baltimore Ravens on Sept. 29, second-year Cleveland Browns running back Nick Chubb took a handoff and ran off right tackle for an 88-yard score. It was a key turning point for the Browns who beat the Ravens 40-25. On his run, Chubb hit the accelerator and reached 21.95 miles per hour as he eluded tacklers.
Chubb fell just four yards shy of the magical 1,000-yard mark in his rookie campaign. But the former University of Georgia star is off to a great start this season, named AFC Offensive Player of the week for his stellar performance against the Ravens.

3. Brandon Wilson, Bengals
Nothing makes a highlight reel quicker than a kickoff return where the receiver takes it all the way to the house. In the Oct. 13 game against the Ravens, Cincinnati Bengals' safety Brandon Wilson took a first-quarter Justin Tucker kickoff 92 yards for a score. Wilson, a standout at the University of Houston, flew down the field, hitting a top speed of 22.03 miles per hour for his score.
As anyone following the Bengals this season already knows, Wilson's score was not enough for the winless Bengals with the team losing 23-17 to the Ravens.
2. Cordarrelle Patterson, Bears
In its week two game against the Denver Broncos, Chicago Bears wide receiver Cordarrelle Patterson took the ball on an end-around midway through the third quarter and ran for 46 yards before being pushed out of bounds at the enemy 22-yard line. Patterson, a former University of Tennessee star, reached a top seed of 22.23 miles per hour, a shade slower than the player with the fastest run in the NFL this season.

1. Matt Breida, 49ers
With a little more than a minute elapsed in the 49ers game against division opponent Los Angeles Rams, Matt Breida, the pride of Georgia Southern, took the ball and ran off left guard and dashed 83 yards for a touchdown. According to NFL Next Gen Stats, Breida achieved a top speed of 22.30 miles per hour, good for the fastest run of the season so far. Interestingly, that is faster than he ran his 40 in the 2017 combine, which was timed at 4.38 seconds.