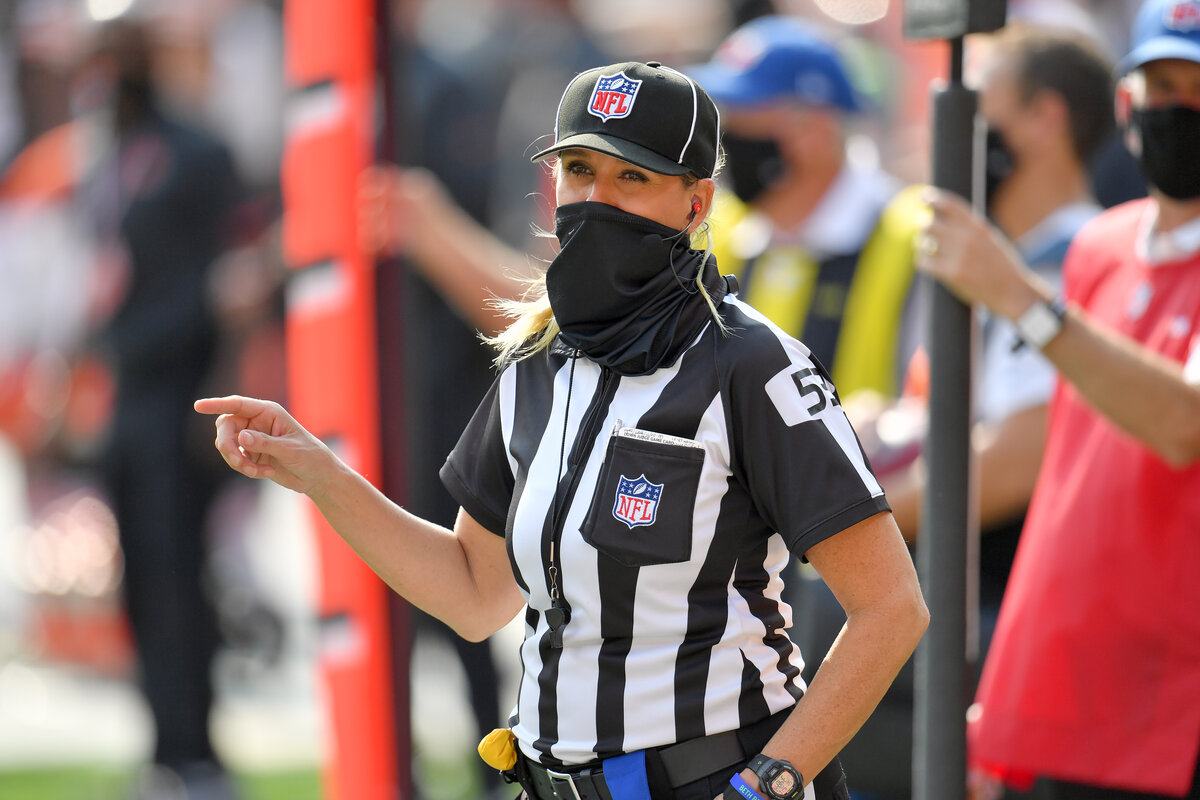 Female NFL Official Sarah Thomas Had the Perfect Answer About Handling an Angry Bill Belichick
Sarah Thomas was the first full-time female official in NFL history. Her answer on how she'd handle Bill Belichick proved she was ready.
By this point, the sight of Sarah Thomas working NFL games shouldn't surprise many fans.
Thomas, the NFL's first full-time female official, is in her sixth season working league games in that role. In spite of the outside questions about how she would fare, Thomas has performed well enough that she is now a mainstay in the zebra uniform.
Thomas was made for this job — and her 2015 answer about how she'd handle New England Patriots head coach Bill Belichick, especially if he got angry, proved that fact.
Sarah Thomas is a trendbreaking official
Born in Pascagoula, Miss., Sarah Thomas played college basketball at the University of Mobile (Ala.) in the 1990s. 
Thomas began officiating in 1996 at the amateur level. In 2007, Thomas became the first woman to officiate a college football game at the FBS/Division I-A level. Thomas continued breaking new ground throughout the 2000s and 2010s. 
In December 2009, Thomas became the first woman to officiate a bowl game: the Little Caesars Pizza Bowl between Marshall and Ohio. 
Thomas kept working with Conference USA through the 2014 season.
Sarah Thomas became the NFL's first-time official in 2015
Contrary to popular belief, Sarah Thomas wasn't the first woman to officiate an NFL game. 
That honor went to Shannon Eastin, who broke new ground when she worked the Lions-Rams game on Sept. 9, 2012. There was one problem, though: Eastin worked that game during the officials labor strike.
When Thomas debuted in September 2015, she became the first woman to officiate an NFL game while in the union. Thomas was also the first full-time woman to work an NFL game with an officiating crew.
Thomas, who had worked Saints scrimmages in the past, served as the line judge in her first season. She moved to the down judge position — previously known as the head linesman — in 2017. 
During the 2018-19 postseason, Sarah Thomas became the first woman to earn an on-field assignment for a playoff game when she worked the Chargers-Patriots showdown in the AFC divisional round on Jan. 13, 2019.
Thomas had the perfect answer about handling Bill Belichick
In April 2015, the NFL announced its intent to hire Sarah Thomas as a full-time official, making her the first woman to hold that title.
Naturally, there were questions about how she would fare as a trendsetting official and transitioning from Conference USA — a mid-major — to the NFL.
Thomas spoke with The MMQB in April 2015. Peter King asked Thomas what she would do if a veteran coach, specifically Patriots head Bill Belichick, cursed at her after a call. 
"I really have not thought of it," Thomas responded.
That was the best answer Thomas could have provided. Thomas approached her new job as just that: a job. There was no need to stress or say something that could have provided ammo against her.
Save a broken wrist she suffered in a 2016 game, Thomas has avoided any and all issues at the NFL level. Football fans shouldn't be surprised to see her work a Super Bowl at some point soon.
Like Sportscasting on Facebook. Follow us on Twitter @sportscasting19.