Fernando Tatis Jr. Is the Newest $300 Million Star for the San Diego Padres
The MLB offseason has been under the radar in terms of activity. There have been many key deals getting done as teams prepare for Spring Training. The San Diego Padres are looking to build off their exceptional season last year with star player Fernando Tatis Jr.
Tatis burst onto the MLB scene, putting together a masterful 2020 season. The young phenom has shown that he can be a franchise cornerstone in his short career. The Padres also see that potential and have invested in their young star, giving him a lucrative deal that keeps him with the team well into his 30s.
Fernando Tatis Jr. and the Padres agree to a $340 million extension
According to ESPN's Jeff Passan, the Padres and Fernando Tatis Jr. have agreed to a 14-year, $340 million extension, keeping the star shortstop with the team until he's 35. This deal contains one of the biggest guarantees in American sports history and is the third-biggest contract in the majors. Only Mike Trout and Mookie Betts have bigger deals than Tatis.
At 22 years old, Tatis is getting his big payday much earlier than his counterparts. His deal is the largest deal for a player before arbitration in league history. However, the apparent star talent Tatis has displayed shows that he is worthy of this deal. It also made sense for the Padres to lock him up early before his price goes up. If he continued to play well, which everyone expects, he would be worthy of an even bigger deal down the line.
With the new contract, Tatis still holds the leverage in terms of his future. He still has a no-trade clause, allowing him to veto or accept deals involving him. According to Passan, the control of his future is something he didn't want to give up in his extension. This is continuing with the trend of players across sports leagues wishing to have power over their own futures as much as possible.
The Padres made sure to lock up one of their young stars for the long-term. Given how Fernando Tatis Jr. has taken over the MLB, he deserved this hefty contract. He has become an all-around talent in two seasons, making him one of the majors' best talents.
Fernando Tatis Jr. has dominated the MLB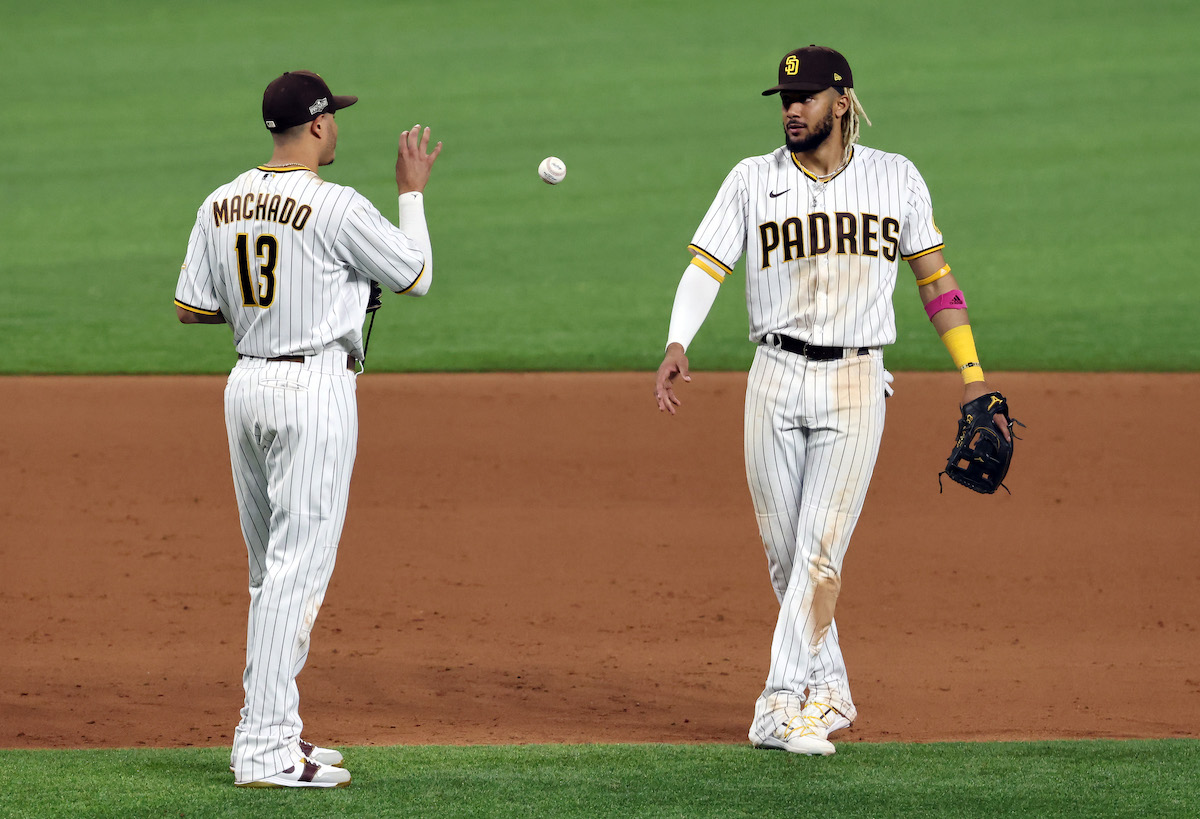 RELATED: How Good Was Padres Star Fernando Tatís Jr.'s Father, Fernando Sr.?
There isn't a more exciting talent in the MLB than Fernando Tatis Jr. His raw power at the plate and his exceptional glove ability create countless highlights. His breakout season was noticed by others, as he finished fourth in MVP voting. Not only is his play impressive, but the swag he carries himself with makes him an entertaining character to watch.
In two seasons, he's hit 39 home runs, averaged .301 at the plate, and ran in 98 runs per ESPN. The shortened 2020 season is where he made his mark, making an impact as the leadoff hitter for the Padres. His dominance last year is what propelled him into superstardom, which has affected him on and off the diamond.
His star power has already put him in numerous commercials, promoting various products for multiple companies. The passion, excitement, and energy he plays with flows into his teammates, showing his infectious leadership. Because of his outstanding play, he is becoming the new face of the MLB. Hopefully, his swag and electrifying play attract more of the younger crowd the league is looking for.
Having Fernando Tatis secured on a long-term deal gives the San Diego Padres their franchise cornerstone. If he can stay healthy, he could be the player to bring the team its first-ever World Series title. With two $300 million contracts on their roster, the expectations are high for the Padres.
The San Diego Padres have two $300 million players
It looks like the Padres are not afraid to spend money to win. After inking Tatis Jr. to his massive contract, the team has two players with contracts valued at or above $300 million. Manny Machado is the other, signing a 10-year, $300 million contract with the team in 2019. According to Passan, they are the second team to have two players with such deals on a team. The New York Yankees are the other with Giancarlo Stanton and Gerrit Cole.
Machado is a star player, putting together a decent 2020 season. He had a .304 batting average with 16 home runs and 47 RBIs last year, per MLB.com. Given Machado and Tatis's age, the Padres have themselves a dynamic duo to lead their franchise for the foreseeable future. Now they just have to put everything together on the field.
The Padres finished the regular season 37-23, second behind the Los Angeles Dodgers in the NL West. They would face LA again in the postseason but didn't have much success. They were swept in the National League Divisional Series. Their struggles late in the season derailed what was a special year for the Padres. However, they are reloaded and ready to make a run at a World Series.
The San Diego Padres saw a star in the making with Fernando Tatis Jr. and made sure to lock him up on a big contract. Now that he is getting paid like an MLB star, Tatis will need to show consistency. If he can stay healthy and continue to excel, the Padres and Tatis could end up hoisting multiple World Series trophies together.