Fernando Tatis Jr. in right field is the best of both worlds for the San Diego Padres
Fernando Tatis Jr. is having a season for the history books. Even as he continues to battle through a nagging shoulder injury, the San Diego Padres' young star is the landslide favorite to win the NL MVP and is currently on track to lead his team into the postseason for the second straight year.
As great of a player as Tatis is at the plate, it hasn't been all sunshine and rainbows for the 22-year-old slugger.
Fernando Tatis Jr. is a below average defensive shortstop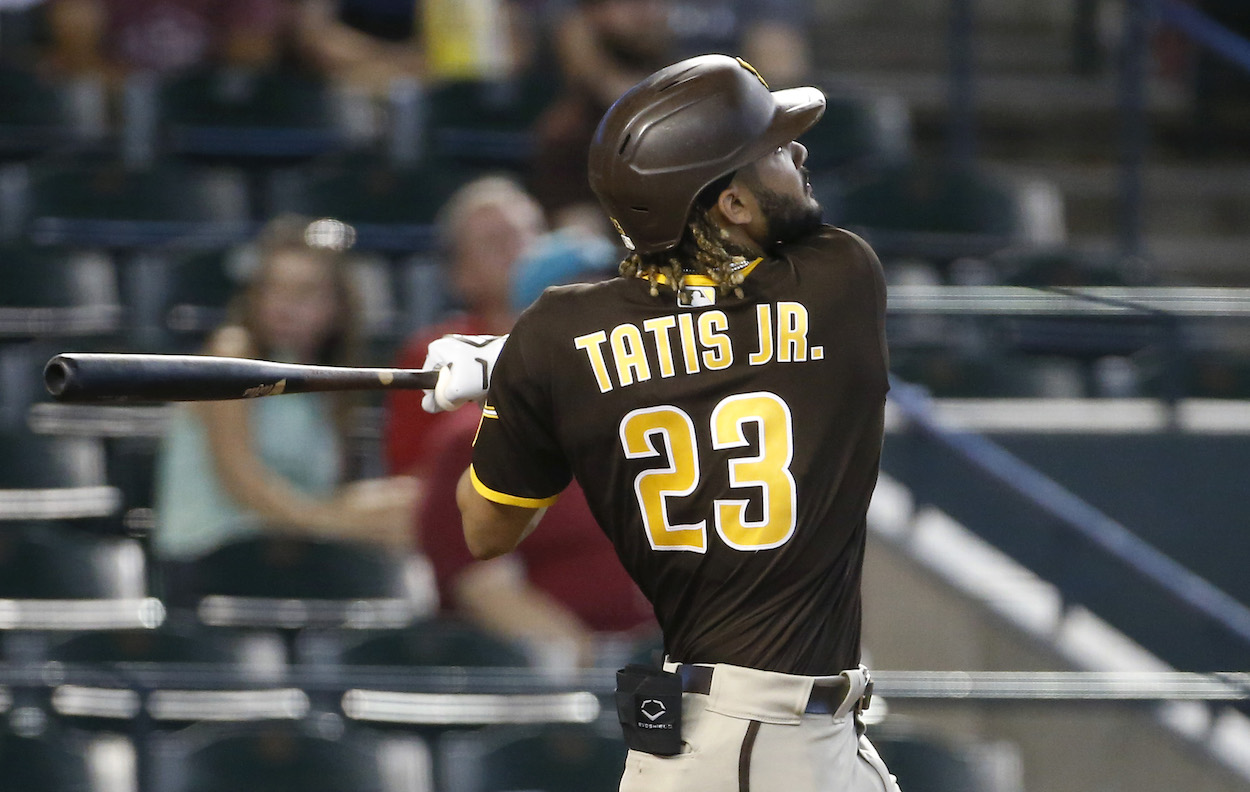 Tatis is one of the top three hitters in baseball; there's no debating that (when he's healthy). Between the trio of Shohei Ohtani, Vladimir Guerrero Jr., and Tatis, you can't go wrong.
With that said, Tatis' performance in the field has not been up to par. In fact, it's been amongst the worst in the league. Across 83 games at shortstop this season, he's recorded 20 errors, -7 defensive runs saved above average, and a measly .933 fielding percentage.
Tatis is tied with Javier Baez, Bo Bichette, and Jose Urias for the most errors committed in baseball. He also has the fourth worst fielding percentage of all MLB shortstops with at least 10 games played.
Not ideal if you're the Padres.
The San Diego Padres had to make a decision
Obviously, the Padres can't justify removing Tatis from the lineup regularly due to his defense. Even if he is the worst defensive shortstop in baseball, his bat regularly carries San Diego to victory. Tatis proved this fact to be true just a few nights removed from coming off the injured list, going 4-5 with four RBIs and two home runs en route to an 8-2 win over the Arizona Diamondbacks.
Tatis is the best hitter in the NL; excluding him from everyday action due to defense is illogical.
With that said, the Padres were still struggling to stomach having a black hole of errors at shortstop. Arguably the most important infield position on the diamond, San Diego needed to find a way to get Tatis out of there while still keeping him in their everyday lineup. This is especially true now following the acquisition of second baseman Adam Frazier at the trade deadline, a move that allows the Padres to transition Jake Cronenworth to shortstop on a full-time basis.
Thus, Tatis was played in right field on August 15, the first time he's ever lined up at the position.
Early results for Tatis are promising
This isn't to say right field is an easy position to play in baseball, but it's unquestionably less difficult for a team (like the Padres) to hide a bad defender in one of the corner outfield positions instead of the infield. Tatis saw three defensive chances against the Diamondbacks and converted all three — easy peasy.
Playing a corner outfield position also gives Tatis more leeway to focus on what he does best, hitting the baseball. Right and left fielders tend to be a little heavier, giving them more power at the plate. It's not like Tatis needs any extra power (he's already hit 33 home runs this season), but every bit counts in Major League Baseball.
Tatis has only scratched the surface of transitioning into the outfield. Still, if his performance against Arizona is a preditor of long-term results, the Padres should be feeling good about their decision. Either way, Tatis is the NL MVP frontrunner and one of the top sluggers in baseball — he'll get on the diamond one way or another.
All stats courtesy of Baseball Reference.