Revealing Details About the Feud Between Tom Brady and Bill Belichick
Even though the New England Patriots' Tom Brady and Bill Belichick are the winningest coach and quarterback duo in the NFL, insiders have long reported that there's trouble in paradise. Rumors have circulated that there's a long-standing feud between Brady and Belichick, and tensions between the two icons reportedly persist.
Ahead, discover the most interesting details about the feud between Tom Brady and Bill Belichick — and find out what insiders expect to happen in the future.
Tom Brady wants a 'divorce' from Bill Belichick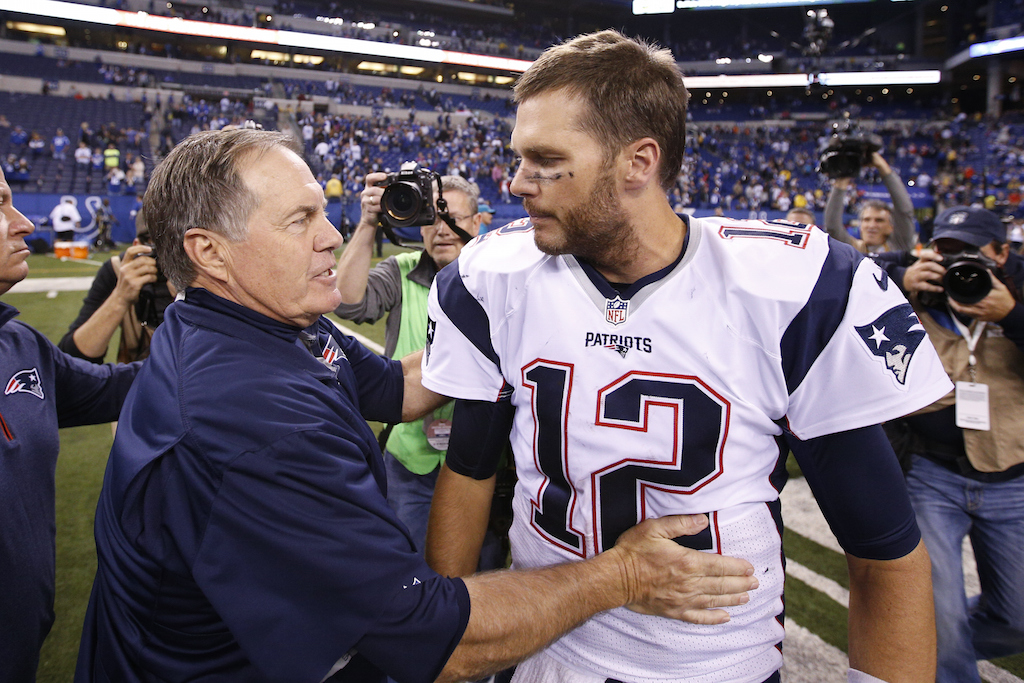 People reports that according to a new book, Tom Brady would "divorce" Bill Belichick if he could. In excerpts from Belichick: The Making of the Greatest Football Coach of All Time, ESPN's Ian O'Connor details what People calls a "long-simmering angst" between Brady and Belichick. The book was compiled based on interviews with 350 people, but without participation from Belichick.
"If you're married 18 years to a grouchy person who gets under your skin and never compliments you, after a while, you want to divorce him," an anonymous source close to Brady and Belichick told O'Connor. "Tom knows Bill is the best coach in the league, but he's had enough of him. If Tom could, I think he would divorce him." Brady reportedly felt so angry with Belichick at the end of the 2017 season that he considered leaving the team.
The feud between Tom Brady and Bill Belichick began in 2015
People reports that according to O'Connor, Tom Brady's feud with Bill Belichick and the New England Patriots "first appeared following their Super Bowl victory over the Indianapolis Colts in 2015, when the team was accused of deflating their footballs and making them easier to grip." Brady denied involvement in the controversy, known as "Deflategate." Brady fought a legal battle against the league, and the NFL suspended him for four games the next season.
At that point, Brady and his family reportedly "fumed at the lack of support from Belichick and Patriots owner Robert Kraft." O'Connor wrote that Brady was "'miffed' at Belichick for telling reporters to ask the quarterback about his preferences on game balls and 'very miffed' at Kraft for reluctantly announcing in 2015 that he wouldn't fight Brady's four-game ban."
They've feuded over four main issues
SB Nation reports that Tom Brady and Bill Belichick "were able to put their egos aside" and get along for many seasons, Super Bowl appearances, and Super Bowl wins. "But nothing lasts forever." The publication reports that, according to ESPN's Seth Wickersham, both Brady and Belichick are "ruthless and proud self-made men, both secure though still unfinished in their legacies."
The feud between the two Patriots icons has "finally come to a head over four main issues," SB Nation reports. Those issues are "the role of Brady's trainer and business partner, Alex Guerrero; the succession plan at quarterback; Belichick's coaching style; and irreconcilable differences over who's responsible for the team's unprecedented success over the years."
USA Today reports that Brady recently said his relationships inside the Patriots organization have ebbed and flowed. He explained of Belichick, "He's not the easiest coach to play for. But he's the best for me." We'll have to see if Brady still feels that way.
Brady's relationship with his trainer is a major sticking point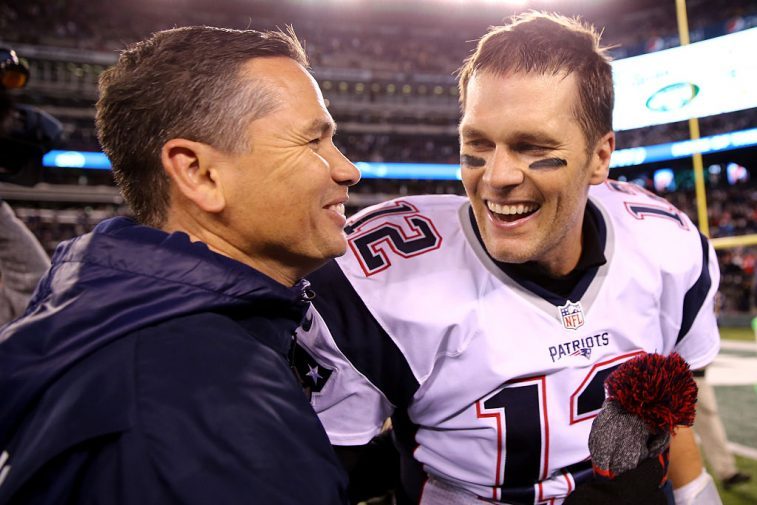 SB Nation reports that Tom Brady's relationship with his trainer and business partner, Alex Guerrero, is a major sticking point in the feud with Belichick. Brady and Guerrero promote the "pseudoscientific" training and lifestyle TB12 method. Brady claims that it's this method that keeps him playing in his 40s. But ESPN reports that other Patriots players "feel pressured to use the program, even over the team's own medical and training staff."
Because of Guerrero's relationship with Brady — and the fact that he treated so many Patriots players — Guerrero had "nearly unlimited access to the team," SB Nation explains. Belichick reduced that access, "exiling him from the sideline and locker room." Guerrero supposedly told players that Belichick had barred him from treating them.
Tom Brady isn't getting any younger, and Bill Belichick will need to replace him
SB Nation notes that despite Brady and Guerrero's claims that the TB12 method can keep Brady playing in his 40s like he did when he was younger, Belichick still needs to groom a new quarterback as Brady's eventual replacement. He chose Jimmy Garoppolo. Brady told the team that he wants to play into his 40s, but "committing to Tom Brady indefinitely created a problem for the Patriots because Garoppolo, who Belichick viewed as Brady's replacement, was scheduled to be a free agent after the 2017 season."
Belichick didn't want to trade him, and the team made an offer of somewhere between $17 and $18 million per year. Garoppolo and his agent — also Brady's agent — rejected it, and Kraft eventually instructed Belichick to trade him. In USA Today's assessment, "If not for owner Robert Kraft reportedly stepping in, Brady could very well be playing out his final NFL days in another uniform." The publication adds, "Brady and Belichick's personal relationship might never be the same again, but their working relationship will continue its historic trajectory as long as Brady keeps defying Father Time."
But the two still depend on each other for their successes
Nonetheless, Bleacher Report explains that Tom Brady and Bill Belichick don't need to have a close relationship for the Patriots to keep winning. Players reported that there had been issues "between Brady and Belichick for at least five years. They just haven't entered the public sphere. Or kept the Patriots from winning their division every year or going to the Super Bowl three of the past four," the publication reports.
Bleacher Report also reports that "The issues Brady and Belichick have are typical for any two people who have had a highly productive relationship but have been around each other as much as they have." The publication adds, "Sometimes those types of things escalate, but more often they're just cyclical. Especially when the two depend on each other for continued success." This isn't the first time that a coach and quarterback haven't gotten along — and as long as they can depend on each other for their continued success, the feud may not matter.
Read more: Tom Brady Reveals the 1 Fruit He Avoids at All Costs