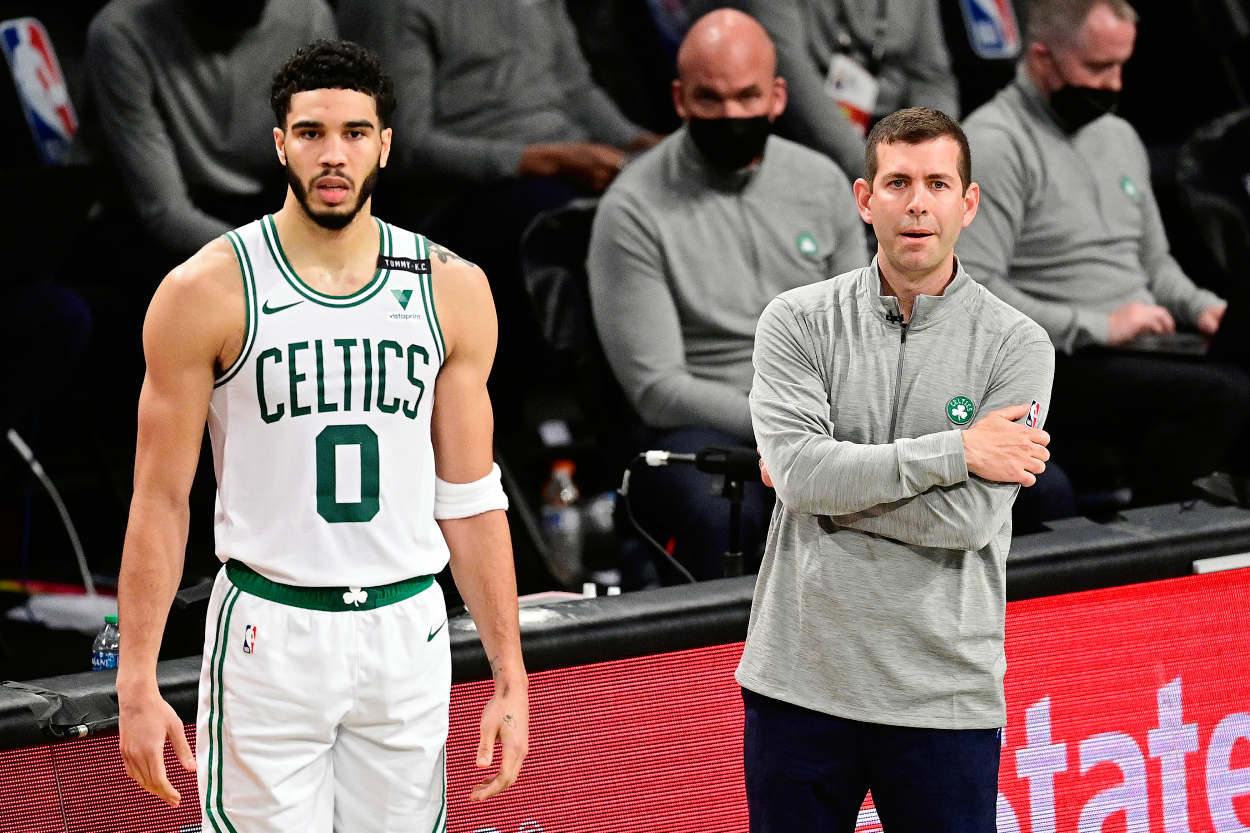 Fireworks Erupt as Jayson Tatum, Brad Stevens Blast Report That Claims 'Jayson Tatum Is About Jayson Tatum'
Jayson Tatum and Brad Stevens fired back at an ESPN report that claimed Tatum was a selfish player.
Jayson Tatum responded with a touch of sarcasm. Former head coach Brad Stevens didn't hold back. The Boston Celtics tandem recently reacted to an ESPN report that claimed one Eastern Conference coach said Tatum didn't put much stock into winning. While Tatum was relatively short in his response to the claim after Boston's one-point victory over the Philadelphia 76ers on Wednesday, the usually mild-mannered Stevens let out some steam during an appearance on a Boston radio show.
ESPN report claims Jayson Tatum cares only about himself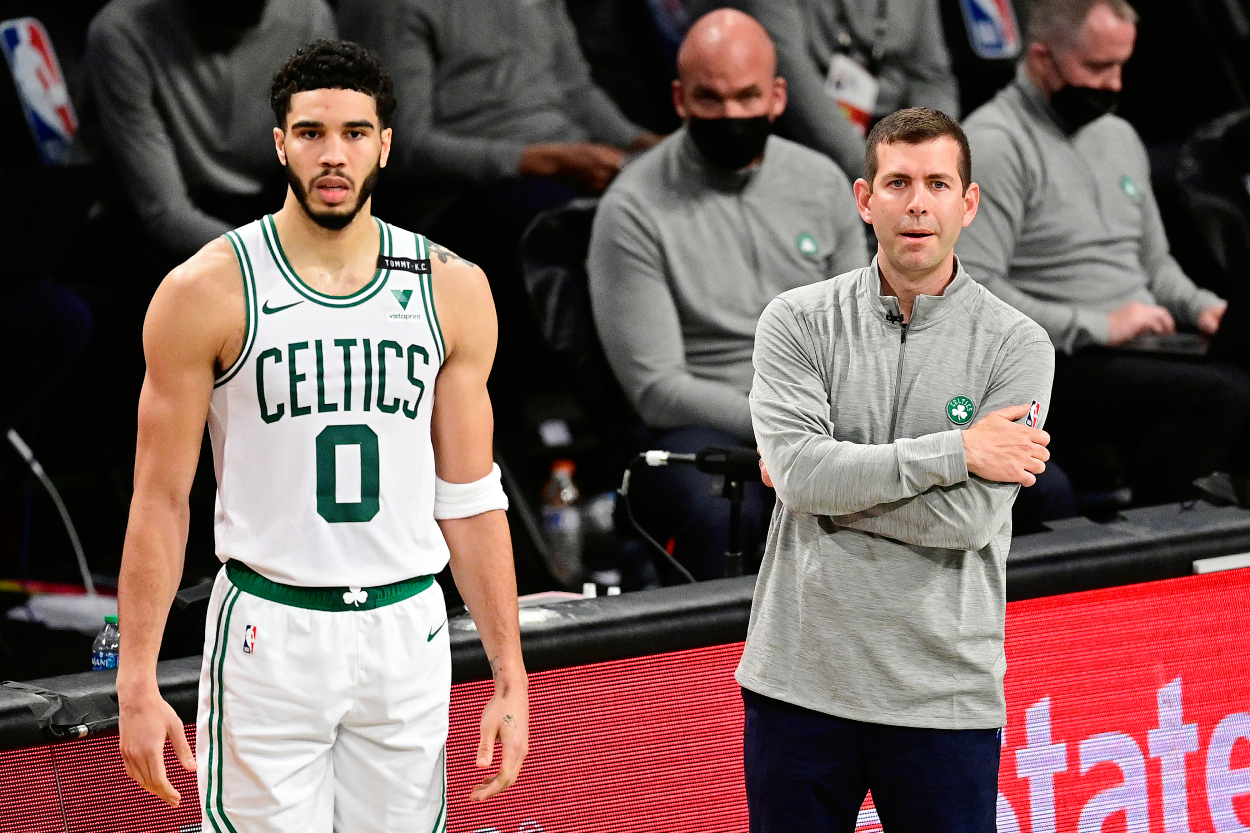 Last week, ESPN put out a story that revolved around Boston's two young stars, Tatum and Jaylen Brown. It was a piece loaded with quotes from anonymous sources. One of those sources was an Eastern Conference assistant coach who claimed Tatum was quite selfish.
"Jayson Tatum is about Jayson Tatum," the assistant coach said. "I don't think he cares about winning now, and if he does, it is on his terms.
"He doesn't want to score 15 and win. He wants to score 39 and win."
The report centered around the time Marcus Smart called out Tatum and Brown for not passing the ball enough. Smart made the comment after Boston blew a 19-point lead in the third quarter at home to the Chicago Bulls earlier this season.
The Celtics' hits kept coming in the article.
"They've looked like (players that) legitimately don't enjoy each other's success, and it's been like that for years," an Eastern Conference executive said. "The fact it's still rearing its head is not surprising in that regard."
Brad Stevens fires back at the ESPN story
During a radio appearance on the Toucher and Rich Show, Stevens took exception to the story. The former Celtics coach and now front-office executive defended Tatum while ripping the assistant coach, who claimed the Celtics star was selfish.
"If you can't put your name on it, don't say it," said Stevens. "There is no way that assistant coach would put his name on that quote because, first of all, he has never been around Jayson. And, secondly, Jayson would kill him every time he played him for the rest of his career. That's the way those guys in this league are wired …
"I take it with such a grain of salt. To me, that line was a joke because I'm around him every day. You look at him, he plays, he's available, he competes, he's got a lot on his plate. He's done a lot more in his first five years in the league than most of the league, right? Totally, totally wrong in that guy's assessment."
Stevens wasn't done yet.
"I thought that quote was absolutely ridiculous, to be honest," he said. "I don't ever react to that stuff and I actually sent a note to one of the people I work with like, 'This is idiotic.' Just be around this guy every day. That guy loves to win. He's sitting there with his feet in the ice bucket after every game that we lose and he looks despondent. This guy's competitive. I know that for a fact. I'm glad he's on our team."
Tatum responded to the report after beating the 76ers on Wednesday
When the game is on the line and the Celtics need a basket, the ball is usually in Tatum's hands. That was not the case, however, Wednesday night when Boston pulled out an 88-87 win over the 76ers. According to Mass Live, Tatum did not touch the ball on Boston's final three possessions. Instead, it was Dennis Schroder who took over down the stretch.
Tatum was asked about not being the go-to player down the stretch. Although he wasn't as fired up as Stevens, he referenced the ESPN story in his postgame press conference.
"I seen a report the other day that said I was a selfish player," Tatum said. "That seems pretty unselfish of me, but whatever it takes for us to win. I guess more often than not it's going to be in my hands, but we play 82-something games in the regular season. It's going to be some nights where you might need to space the floor, take the best defender away out of the action and see what we get."
Despite not taking charge in crunch time, Tatum finished with 26 points and 16 rebounds. He also seemed a bit testy after the game.
"I still dominated," Tatum said. "Still impacted the game at a high level without necessarily scoring 30 or 40 points, and still winning. Go home and sleep well tonight."