Firing Jason Garrett Won't Save Joe Judge or the New York Giants
New York Giants Head coach Joe Judge is doing everything he can to hold on to some semblance of control. Coming off a 31-10 blowout loss at the hands of Tom Brady and the defending Super Bowl champion Tampa Bay Buccaneers, Judge has fired offensive coordinator Jason Garrett.
The Giants are now 3-7, and they've been entirely inept on offense. In that sense, firing Garrett does make sense. Judge had to do something to shake his team up in an effort to try to regain a pulse, after all.
Ultimately, it seems like too little too late for Judge and the Giants, though.
The New York Giants have fired offensive coordinator Jason Garrett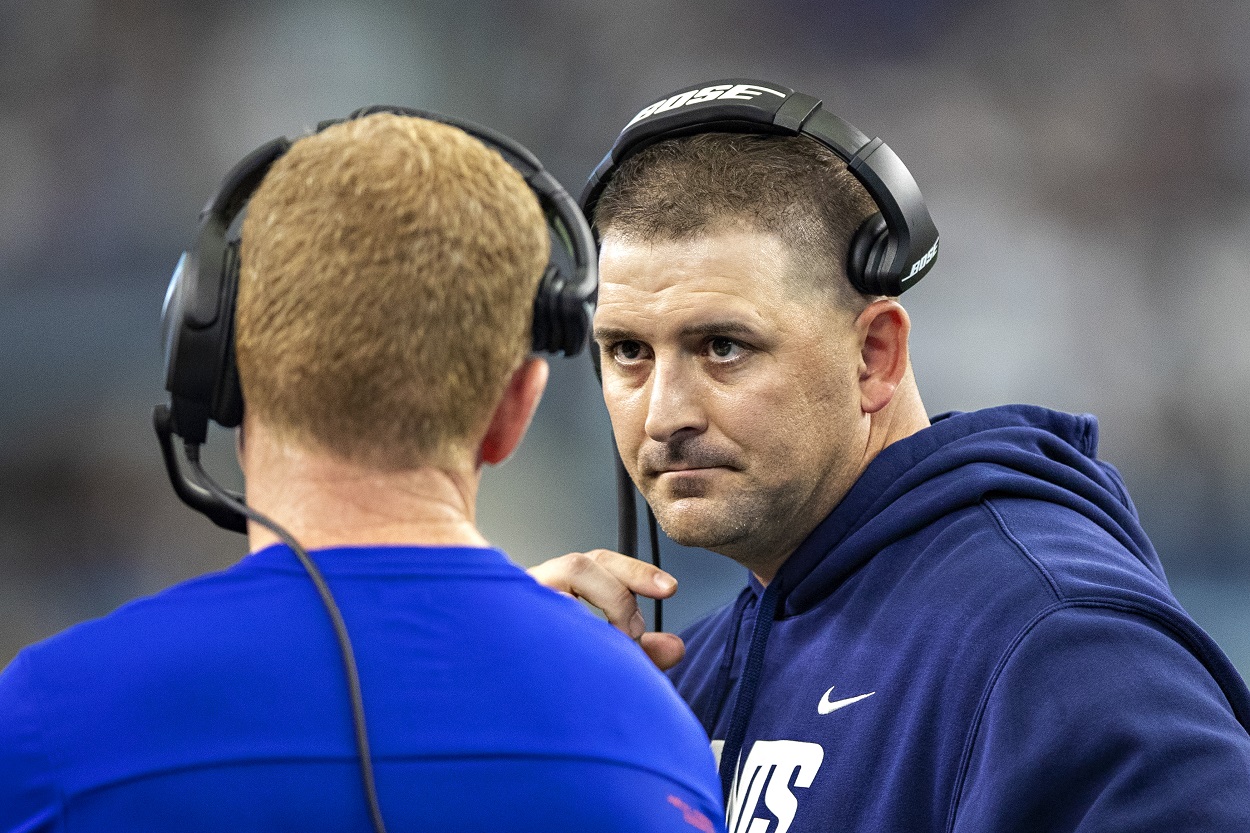 Judge and the Giants have fired Garrett, according to ESPN. The former Dallas Cowboys head coach has been the offensive coordinator in New York for less than two seasons, but apparently, his head coach has seen more than enough.
Frankly, who can blame him?
The Giants have averaged just 18.9 points per game this season. They're near the bottom of the league in total yardage accumulated as well as first downs gained. For context, Kansas City leads the league in first downs with 281. The Giants have just 193 through 10 games.
Garrett's first season as offensive coordinator was even worse. The Giants ranked 31st in the league in 202, with only 17.5 points per game scored. In 26 games under Garrett, the Giants' offense has averaged only 5.1 yards per play, 17.2 points per game, and 308.5 yards per game.
With numbers like that, he didn't deserve a job calling plays in the NFL.
The loss to Tampa Bay was a turning point for Judge and the Giants
Under Garrett, the Giants have scored 10 points or less twice this season. They lost 25-3 to the Carolina Panthers and scored just ten against the Buccaneers.
New York's offense was woeful against the defending champs. The Giants accumulated just 215 yards of total offense on 4.0 yards per play. They went 1-of-9 on third down and 1-of-3 on fourth. Quarterback Daniel Jones was an inefficient 23-of-38 for 167 yards, one touchdown, and two interceptions. Star running back Saquon Barkley rushed just six times for 25 yards coming off an ankle injury. Wide receiver Kenny Golladay, who the Giants gave a big-money contract to this offseason, caught just one catch for 12 yards. He was targeted twice, which is unacceptable.
"We have to do a better job of scoring points," Judge said after the game, per ESPN. "I know it sounds pretty obvious and to the point with it. But I'm going to keep it pretty blunt right there. We have to do a better job of putting our players in a position to make plays. We have too many good players. We have to put them in a better position to capitalize on it. That's it."
"I'm not going to go into it right now," the head coach said when asked if Garrett would remain the team's offensive coordinator.
Less than 24 hours later after those comments, Garrett has been fired.
This is probably too little too late for Judge and the Giants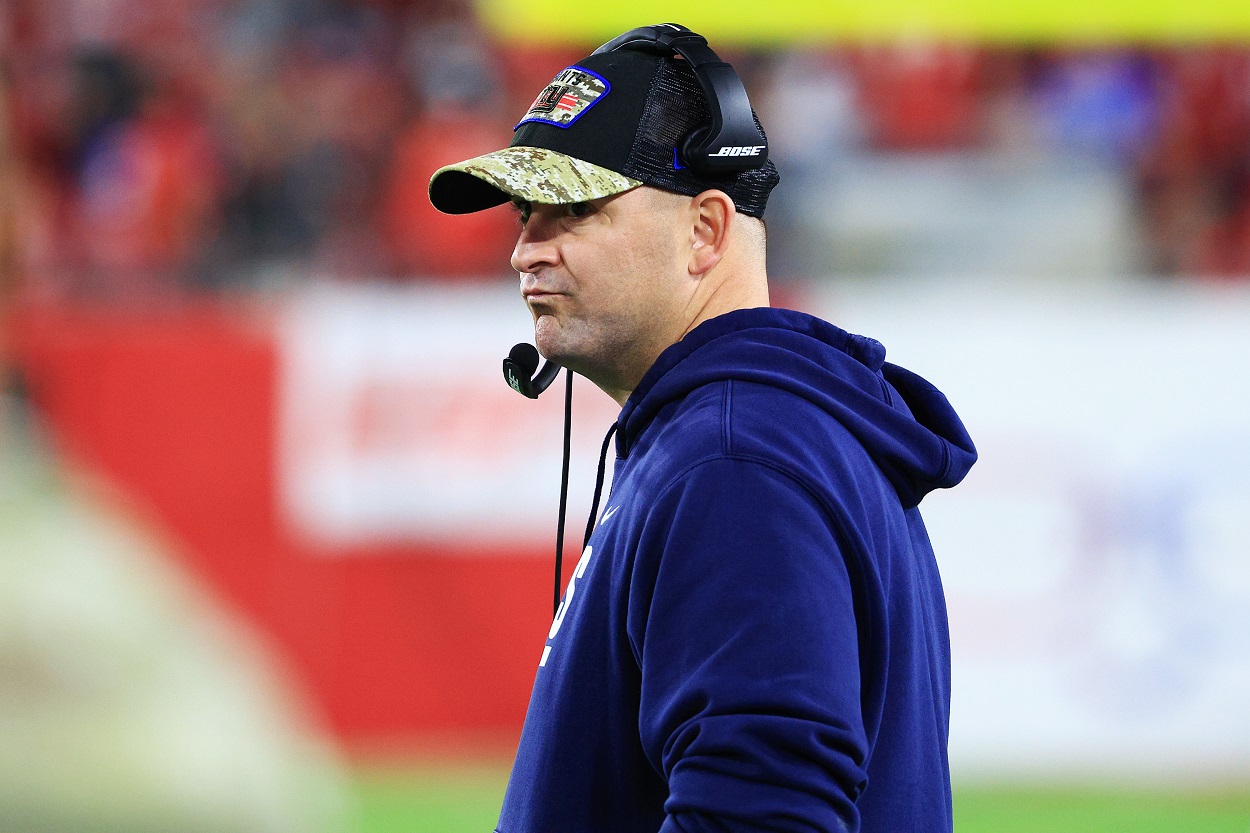 It's hard to see the Giants improving much this season, even without Garrett. Former Cleveland Browns head coach Freddie Kitchens will be taking over the playcalling and he may be able to provide somewhat of a spark, but things still look bleak for New York.
A few things are clear for the Giants.
In his third season as starting quarterback, Jones isn't the guy. He's thrown nine touchdowns this season but has also tossed seven interceptions. In three seasons in New York, he's thrown 44 touchdowns compared to 29 total interceptions. As a former No. 6 overall pick, that's just not going to get the job done, and the harsh reality is that Jones is honestly more of a high-level backup than an NFL starter.
Speaking of not getting the job done, Barkley, who the Giants took No. 2 overall in the 2018 NFL Draft, has been equally as disappointing. When he's healthy, he's easily one of the most dynamic players in the NFL. That's the problem, though. Barkley has struggled with injuries for much of his career. He's played in just 37 out of a possible 58 games and has the second-fewest games averaged per season of any first-round running back drafted between 2015 and 2020, according to ESPN. He averages just 10.3 games played a season.
An unrestricted free agent in 2023, Barkley has a season and a half to prove he can still be one of the top running backs in the league, but hope is dwindling.
The thing is, those issues aren't really on Judge. He inherited both players, keep in mind. It's not like he chose to draft Jones a round or two earlier than he probably should have been. He's also not the one who decided to draft a running back with the No. 2 overall pick in today's pass-happy league.
Still, Judge has done nothing to make the Giants better. Going 6-10 as a rookie head coach isn't terribly unexpected, but his team has regressed this season, and that's never good.
The thing about high-level coaches and players in the NFL is that they're pretty easy to spot. The Chiefs knew they had a star in Patrick Mahomes while he was still backing up Alex Smith. It was just obvious. Packers head coach Matt LaFleur is one of the youngest coaches in the NFL, but he already has a 34-9 record and two trips to the NFC Championship under his belt.
Patience is not a word commonly used in NFL circles, and one has to wonder just how much more patience the Giants will have for Judge.
He doesn't move the needle as a head coach, and that's already evident in just a season and a half.
Firing Garrett will buy him at least the rest of the season, but it's not likely to save his team in 2021. It's also not likely to save his job when all is said and done.
Stats courtesy of ESPN and Pro Football Reference.