Firing Joe Brady is the Beginning of the End for Carolina Panthers Head Coach Matt Rhule
With his Carolina Panthers at 5-7 at the bye week, head coach Matt Rhule clearly felt he needed to make a change.
Rhule, who's in his second year with the Panthers, fired offensive coordinator Joe Brady. It was a move clearly designed to shake his team up in an effort to finish the last five games of the season strong.
It's a move that also signals the beginning of the end for Rhule in Carolina, though.
This is the beginning of the end for Matt Rhule and the Carolina Panthers
Maybe not now or even at the end of the season, but it's easy to see things going downhill for Rhule and the Panthers.
Brady is the fall guy for Rhule's 10-18 record as Panthers head coach, plain and simple.
Firing Brady is meant to be a catalyst for change within the organization, but when is the last time a coach has fired a coordinator in-season, and it actually led to meaningful positive change? Firing a coordinator mid-season is almost always a move meant to take the heat off of the head coach, and that's what has happened here. Rhule will undoubtedly frame it as a positive move for the Panthers. The truth of the matter is that this is a desperate move from a desperate coach, though, and desperation isn't a strategy that leads to long careers for NFL head coaches.
"I met with Joe this morning and informed him that I have decided to make a change," said Rhule, via the team website. "I'm very grateful to him for his time and effort in helping us get established over this past year and a half."
Brady didn't have much to work with in Carolina
On paper, yes, Brady has been a disappointment. One of the masterminds behind LSU's championship season, Brady was the passing game coordinator and wide receivers coach for the undefeated Tigers as they won the College Football Playoff championship behind the arm of Joe Burrow throwing to receivers like Justin Jefferson and Ja'Marr Chase. Notably, all three of those players currently star in the NFL.
Brady's LSU offense was explosive through the air, putting up 568.9 yards per game as well as 48.4 points per game. His performance at LSU led to Rhule offering him the Panthers' offensive coordinator job the following season. It had to be a rough transition for the former rising coaching star, though. Instead of Burrow, Brady had Teddy Bridgewater at quarterback. Instead of Chase and Jefferson, Brady had D.J. Moore and Robby Anderson. The Panthers averaged just 21.9 points per game in 2020, which was 24th out of 32 NFL teams.
In 2021, Brady has seen three quarterbacks start for the Panthers (Sam Darnold, P.J. Walker, and Cam Newton), and he's only had Christian McCaffrey for seven games.
The Panthers are averaging just 19.7 points per game this season, which has undoubtedly led to Brady being fired.
Just how much of the responsibility for the Panthers' struggles should fall on Rhule's shoulders, though? He's the head coach, so ultimately he should shoulder it all.
Rhule has been underwhelming as head coach of the Panthers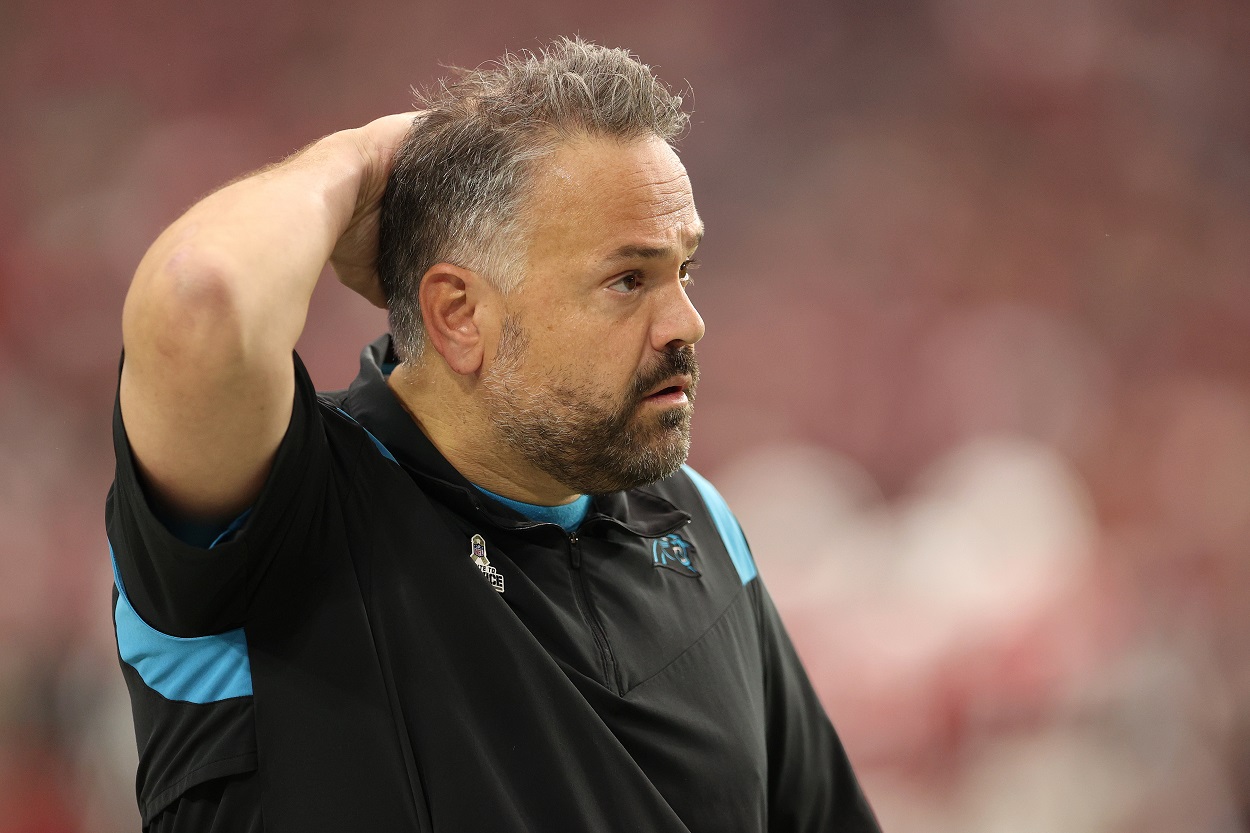 The Panthers hired Rhule out of the college ranks because he did a terrific job of rebuilding two programs, Temple and Baylor. What exactly has he built in over a season and a half in Carolina, though?
The Panthers were 5-11 last season, and while that's not terribly surprising considering it was Rhule's first year in the NFL, there were signs of trouble early on. It's OK to be bad if you're rebuilding. The Panthers suffered a five-game losing streak in the middle of the season and also ended it losing four of their last five, though.
In a league known for parity, that much consistent losing points to a coach being over his head.
That's fine in year one. The Panthers have a four-game losing streak under their belt in 2021 as well, though, and at the bye, they've lost three of their last four. That includes a 33-10 loss to a hapless Miami Dolphins team that saw Newton play so poorly that he was pulled in the fourth quarter and made the worst kind of NFL history.
From losing streaks to making bad decisions at the most critical position on the team, Rhule is proving to be over his head as an NFL head coach.
Plain and simple, Rhule hasn't been good, and firing Brady is not likely to change that.
It's time to cue up The Doors because this is the end. Well, the beginning of it at least.
Stats courtesy of ESPN and Pro Football Reference.