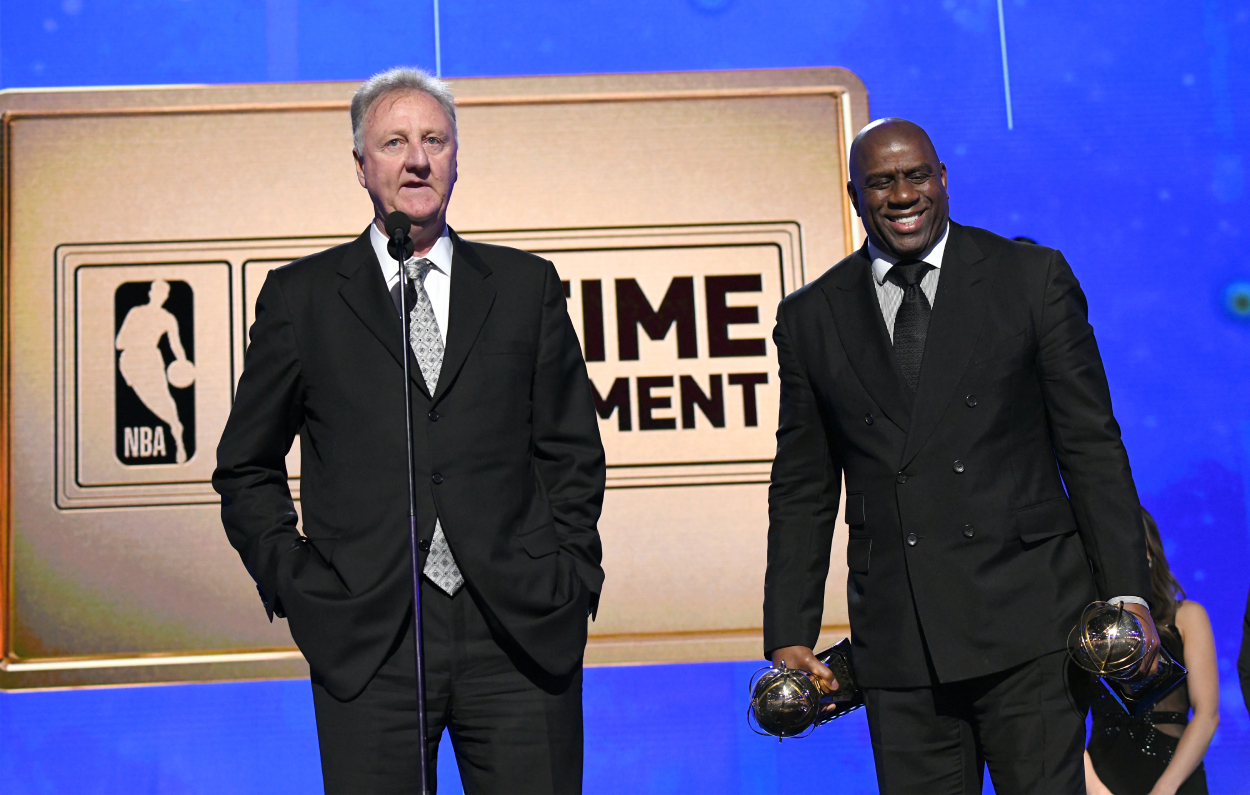 Fitting How Larry Bird's Birthday Falls on Boston Celtics vs. Los Angeles Lakers Game Day
Larry Bird's birthday happens to fall on a Boston Celtics vs. Los Angeles Lakers game day. Bird turns 65.
It's hard to comprehend that it was 29 years ago when Larry Bird retired from the NBA. What's even tougher to take is that Bird, who led the Boston Celtics to three NBA titles, turns 65 years old today. How fitting is it that his birthday falls on a day when the Celtics face the rival Los Angeles Lakers? On the night when his former team visits the Lakers, we'll take a look at some of the biggest Celtics vs. Lakers moments during the Bird era.
Larry Bird called out the Celtics for being too soft during the 1984 NBA Finals against the Lakers
After Game 3 of the 1984 NBA Finals against the Lakers that saw LA take a 2-1 series lead, Bird slammed his teammates in the locker room. He referred to them as "sissies," blasting them for not being physical enough. They got the message loud and clear.
Game 4 featured physical — and dirty — play by the Celtics. Playing in LA, Boston found itself trailing 2-1 in the series and 76-70 in Game 4. They needed a momentum change, and they got it via Kevin McHale. McHale famously clotheslined LA's Kurt Rambis as he went in on a fast-break layup. The hard, intentional foul caused benches to clear and may have gotten the Lakers out of rhythm. Boston capitalized and went on to win 129-125.
"I remember Larry saying something to the media about how soft the team is," former Celtics guard Danny Ainge said during the Locked On Celtics podcast last year. "But every single person that was watching that film was completely embarrassed and humiliated by our effort in Game 3 in Los Angeles."
Boston took a 3-2 series lead with a Game 5 win in Boston before the Lakers got back even in Game 6. The Celtics closed out the series with a 111-102 victory at home to secure their second title with Bird leading the charge.
Larry Bird and the Celtics blew a 16-point lead in series-changing loss to the Lakers in the 1987 Finals
The core of the Celtics was getting old. Bird, McHale, and Robert Parish were getting up there in age and battling nagging injuries. Boston brought in veteran Bill Walton to short up the bench for the 1985-86 season but was banged up during Boston's 1987 run. The Detroit Pistons and Chicago Bulls were putting together championship-caliber teams, so 1987 may have been the Celtics' last legitimate shot at a championship with this crew.
Things got off to an ugly start for the Celtics as the Lakers maintained homecourt advantage with two blowout victories in Los Angeles. Boston then had the next three games at home and won Game 3 109-103 as Bird led the way with 30 points and 12 rebounds.
It was Game 4 when the Celtics saw the series slip away.
In the third quarter, Boston held a 16-point lead and was looking to tie the series before the Lakers mounted a frantic run. Although LA chipped into the Boston lead, the Celtics still held an eight-point lead with 3:30 remaining. The Lakers racked up 12 of the game's final 15 points, including Magic Johnson's famous baby skyhook, and escaped with an improbable 107-106 win to go up 3-1 in the series.
"We've gotten beat here before, but the way we let that one go really hurts," Bird said before practice for Game 5, per United Press International. "Our mental toughness is just not what it used to be.
"I really liked our chances (for the series) last night. If we could have just got that one, it would have been a different series. I wanted to win all three at home and go out there for two games because I know we could win one. But winning two …"
Boston did win Game 5, but the Lakers closed out the series in six games.
Bird received a death threat during the 1985 NBA Finals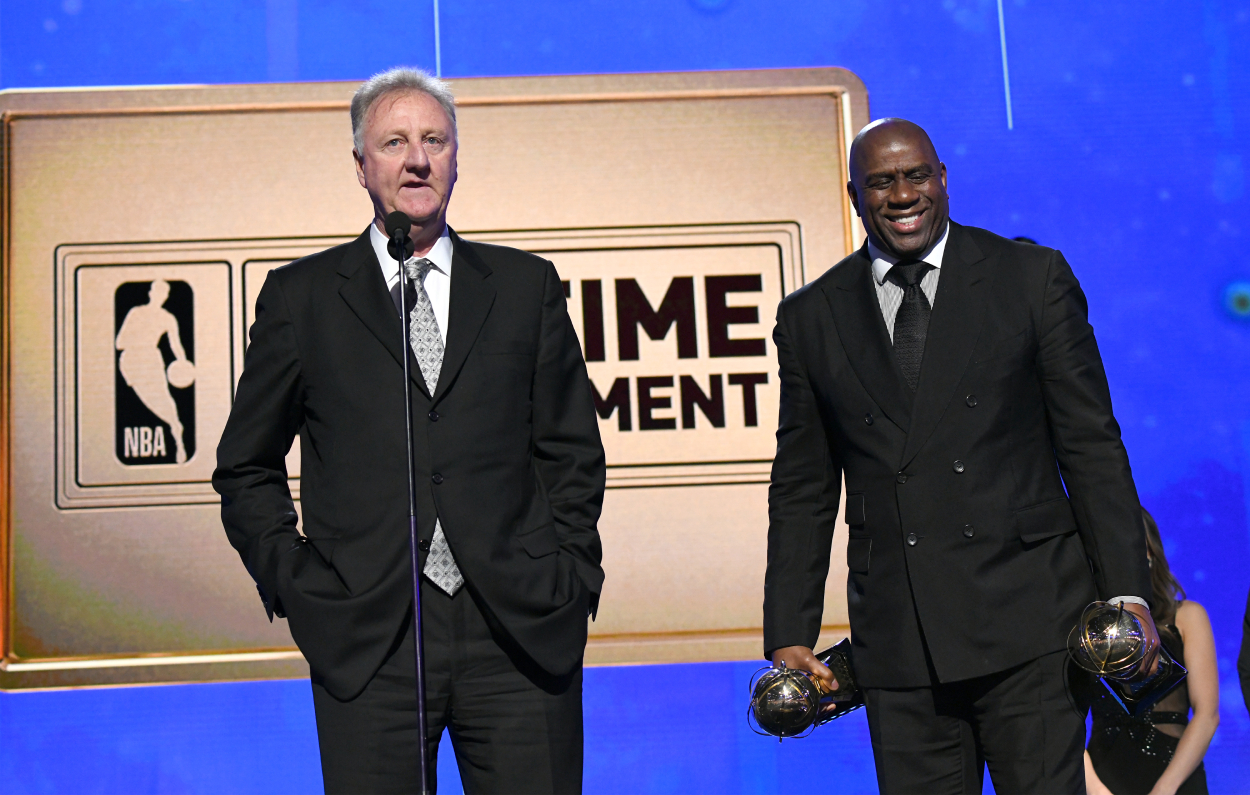 During halftime of a 1985 NBA Finals game in LA, Celtics coach K.C. Jones delivered a disturbing message to Bird as the Celtics' star warmed up for the second half. Jones told his star player that a threat had been made on his life. He gave Bird the opportunity to leave under intense security or continue to play the game. Bird returned to the layup line, according to Sports Illustrated.
"Larry, I see you're still out here," said Jones.
"Of course, K.C., it's the Finals," Bird answered.
"Great," Jones said. "But do me a favor. When we go back to the huddle to start the second half, could you stand at center court? I'm afraid this guy might be a bad shot."
With Bird, the Celtics and Lakers rivalry was at its best. The teams faced each other three times in the NBA Finals, with the Lakers winning twice. It had individual rivalries with Bird vs. Magic and Kareem Abdul-Jabbar vs. Parish. There was intensity and physicality. Heck, there were even death threats.
There was no better basketball than those Bird vs. Magic days. It's when the game was at its best.
Happy Birthday, Larry.