Five Fixes to Help the Slumping Atlanta Hawks get Superstar Guard Trae Young Some Assistance
ORLANDO — Atlanta Hawks GM Travis Schlenk is in a rather difficult spot, and from the tone of his recent comments on an Atlanta radio show, it sounds like he knows it. Schlenk, the architect of a rebuild that made the Hawks relevant again, is fully aware he needs to get superstar guard Trae Young some help, but spending sprees from the last two past two offseasons complicate things.
Also, there's this as it relates to any potential retooling: Last year's Hawks similarly struggled early before catching fire late and whipping the New York Knicks and Philadelphia 76ers in the playoffs. How, one might wonder, can Schlenk tear apart a roster that was two wins from the NBA Finals just six months earlier?
The Hawks need a shakeup of some sort, with them staggering along at a disappointing 17-22. A Hawks team that talked boldly of contending for the East title before the season sits 12th and four games back of rival Charlotte for the final playoff slot.
Here is a look at five areas where the Hawks either need to make significant improvements or should address via personnel shakeups:
The Atlanta Hawks must improve a porous defense that ranks 25th in the NBA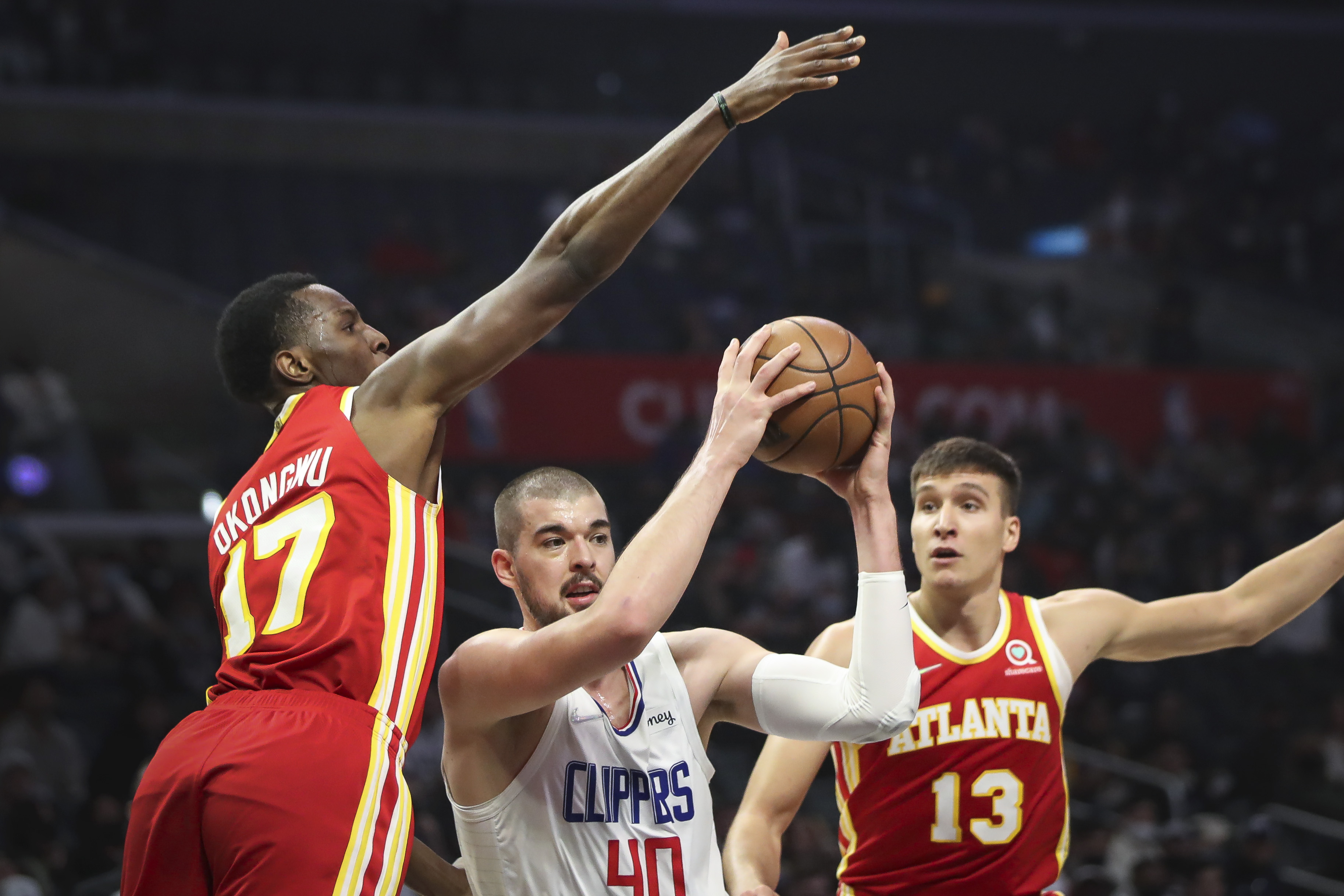 Any talk of improvement for Atlanta must start on the defensive end of the floor. The Hawks have given up 111.5 points and 46.7% shooting — both of which statistics rank 25th in the NBA. Oddly, both numbers are similar to what they allowed last season (111.4 PPG and 46.3% shooting), but scoring is down this season, and the Hawks aren't nearly as efficient offensively to cover their defensive struggles.
The defensive woes became more apparent during a recent 2-4 road trip when the Hawks gave up 131 points to Chicago, 136 to Portland, and 134 to the Los Angeles Lakers.
Atlanta has to become better closers in second halves and fourth quarters
Last season, when the Hawks crafted their stirring run through the playoffs, they were good finishers when the fourth quarter rolled around. Their net rating in fourth quarters ranks 27th in the league this season.
Already, the Hawks have blown five games where they had a lead heading into the fourth quarter. One of the most egregious instances came on Dec. 13 when the Hawks wasted a 41-point night by Young by getting outscored 44-25 in the fourth quarter by the rebuilding Houston Rockets in a six-point loss.
Another such collapse came last week in Portland when Young crafted a historical performance (56 points and 14 assists) in what devolved into a loss. Young went to the bench for a rest at the start of the fourth quarter with the Hawks leading by five points, but they were down by six when he returned.
"We were a good team at finishing games last year," head coach Nate McMillan said during a recent media availability in Orlando. "We became a better fourth-quarter team with our execution last season, and that's something we have to do again. We have to understand the urgency that there needs to be in the fourth quarters of games."
Oddly, the Hawks have had little punch when they have played from behind. They are just 2-16 when trailing at the half and a putrid 1-17 when behind heading into the fourth quarter.
Schlenk: 'Maybe it wasn't such a great idea to bring everybody back; that's on me'
Schlenk uttered that discouraging phrase to 92.9 The Game in Atlanta about spending $300 million this past offseason to lock up Young, John Collins, Clint Capela, and Kevin Huerter to long-term contracts.
The Hawks also made McMillan — one of the heroes of last season after he took over for Lloyd Pierce — the full-time coach. However, the Hawks don't seem to be responding to McMillan's old-school style of focusing on toughness, defense, and resiliency.
Teams should never make trades to send messages, but maybe that's the move for Schlenk with a roster that has seen significant drop-offs in many areas.
The Hawks must figure out how to get more out of $125 million man John Collins
Shams Charania of The Athletic recently reported that Collins has grown "increasingly frustrated" with his shrinking role in the Atlanta offense. Remarkably, he has a lower usage rate this season despite signing a five-year, $125 million deal over the summer.
Collins is an extraordinary athlete who plays bigger than his size, but there isn't one thing he's exceptional at offensively. He's averaging 17.5 points on 54.1% shooting, but he isn't a player the Hawks can give the ball to and ask him to go and create a good shot. The same can be said for Huerter, Bogdan Bogdanovic and Clint Capela.
To his credit, Collins is shooting the 3-pointer better than any point in his career (42.7%), but he must diversify his offensive game to help Young shoulder the load.
Could the Hawks be in the market for a blockbuster deal to shake up the roster?
The Hawks have stockpiled plenty of capital with which to make a deal if Schlenk decides to go that route. They have all of their picks in the next few upcoming drafts, and they also hold $20 million in expiring contracts in Lou Williams, Solomon Hill, Gorgui Deng, and Delon Wright. Also, the Hawks might be able to entice a trade partner with the promise that youngsters DeAndre Hunter or Cam Reddish could provide. Hunter, who has been out for several weeks with a wrist injury, is nearing a return to game action.
Whatever the Hawks pursue, it must be someone who can take some of the load off the shoulders of young. The dynamic, do-everything guard ranks fourth in the league in scoring (28), third in assists (9.6), and sixth in ESPN's Player Efficiency Rating (25.61).
Top targets such as Ben Simmons, Jaylen Brown, Domantas Sabonis, and Dejounte Murray would help support Young with some superstar firepower. Other veterans, such as Eric Gordon, Terrence Ross, or Robert Covington, could give the Hawks more pop off the bench than a struggling Lou Williams (6.5 PPG and 36.6% shooting). Simmons, of course, is the top player available via a potential trade and is one who could help the Hawks defensively and by taking Young off the ball some.
All of the story's quotes, unless otherwise attributed, were obtained firsthand.
Statistics courtesy of ESPN.com
RELATED: The Atlanta Hawks Could Make a Massive Mistake and Move Away From NBA Title Contention by Trading an Up-and-Coming Youngster