Florida Atlantic's Harrison Bryant is the NFL's Next Star Tight End
The reigning best tight end in college football has a chance to become the NFL's next star tight end. Draft analysts have spent months raving about Harrison Bryant, a 6-foot-4 weapon from Florida Atlantic University. The 2019 winner of the John Mackey Award, a yearly honor given to the best tight end in Division I, Bryant has seen his draft stock rise after not only an excellent senior season, but standout performances at both the Senior Bowl and the NFL combine.
With several teams looking to select a franchise tight end in next month's NFL draft, here's why fans should be rooting for their team to emerge victorious in the Harrison Bryant sweepstakes.
Harrison Bryant was one of college football's most productive tight ends
A two-way starter in high school who primarily held offers from FCS schools, Harrison Bryant left FAU as one of the greatest players in program history. Playing his final three seasons under offensive mastermind Lane Kiffin, Bryant finished his college career with 148 receptions for 2,137 yards and 16 touchdowns. FAU won two Conference USA championships in Bryant's three years as a starter.
Rather than declare for the NFL draft after a strong junior season, Bryant elected to return to school and earn his degree in health administration. That decision paid off tremendously. Bryant earned unanimous All-American honors in 2019 after catching 65 passes for 1,004 yards and seven touchdowns in 13 games. Bryant led FBS tight ends in all categories.
Only Cortez Gent, who played at FAU from 2005-09, and his 161 career catches rank higher than Bryant on the Owls' all-time list. Gent also had four more receiving touchdowns in his career than Bryant.
Draft analysts have compared Harrison Bryant to George Kittle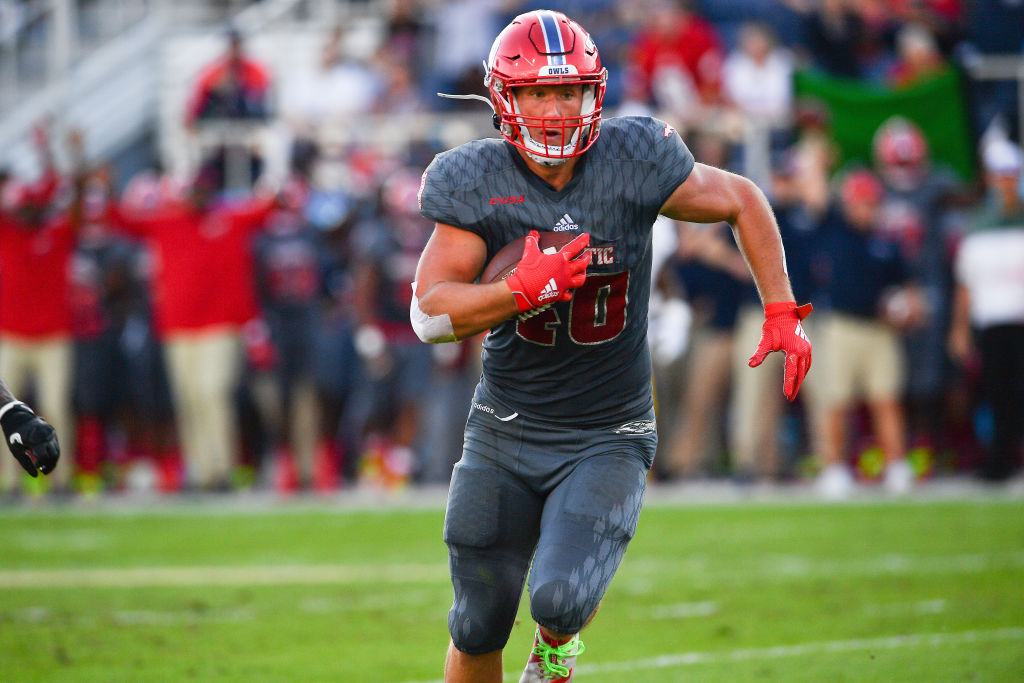 That sounds like a lofty comparison, but it is a fitting one. Harrison Bryant often called Kittle, the 49ers' star tight end, his favorite player and one he modeled his play after. At 6-foot-5 and 243 pounds, Bryant measured extremely close to George Kittle's 6-foot-4, 250-pound frame.
In praising Bryant's athletic traits and blocking skills, NFL Media's Lance Zeirlein called Bryant one of the most "well-rounded" tight ends in the 2020 NFL draft. Zierlein was one of the first draft analysts to invoke Kittle's name.
"[Bryant is] a little light to be considered for full-time work as a "Y" tight end, but his technique and tenacity should not be discounted in his ability to help the running game. He's instinctive in space with speed and separation talent to work all three levels and gives offensive coordinators the freedom to line him up all over the field. Bryant could become an early starter and has the talent to be a high volume pass-catching target as a move tight end.
What teams could select Harrison Bryant in the NFL Draft?
Bryant is currently projected to go on the NFL Draft's second day. Although Bryant was named to NFL Media's all-combine team, that may be the last opportunity he has to perform in front of multiple teams. FAU's pro day, which was scheduled for April 3, was canceled because of the coronavirus pandemic.
Bryant met with the Carolina Panthers at the Senior Bowl, according to Walter Football. Carolina parted ways with veteran tight end Greg Olsen and new quarterback Teddy Bridgwater could use a safety blanket target. The same goes for the New England Patriots, who reportedly met with Bryant at the NFL combine. New England struggled without Rob Gronkowski last year and are now without Tom Brady.
The sight of Bryant in a Patriots uniform would be interesting. Bryant's former head coach, Lane Kiffin, compared Bryant to Gronkowski throughout the 2019 season.