'Florida Man' Tom Brady Shares His Reason for Buying His $6 Million Yacht: 'I Literally Said I'll Never Own a Boat in My Life'
Tom Brady is undeniably the GOAT quarterback. With a record seven Super Bowl rings, Brady is also only the second NFL quarterback to win a Super Bowl ring for two different teams and the only one to do it in both the NFC and the AFC. And after his most recent Super Bowl win, Brady (in)famously tossed the Lombardi trophy to Rob Gronkowski, who was on a boat about 15 feet away from the one Brady was on. (Hey, he has won it seven times, he can do whatever he wants with it.) Tom Brady also happens to have his own yacht — something he thought he would never own. Keep reading to learn more about why he decided to drop $6 million on a boat.
Tom Brady's reason for buying a boat isn't what you might think
Brady didn't buy a boat to boost his ego or show off his success. In fact, according to an interview in the Wall Street Journal, Brady previously said, "I literally said, 'I'll never own a boat in my life. Never. Who likes boats?'" But it turns out he discovered a benefit to having a boat: "enforced family time."
Brady explained, "No one can go anywhere. They're captive. I almost want to put my kids on the boat like, 'You're hanging with us — that's how it's going to go.'" Brady and his wife, Gisele Bündchen, have two children together, Benjamin and Vivian, and Brady has another son, Jack, from a previous relationship with actress Bridget Moynahan.
Tom Brady recently purchased a $6 million yacht
According to The Sports Hub, Brady's boat is a 77-foot Wajer yacht, which is an upgrade from his first boat, a Wajer 55S. It comes complete with a master suite, a junior suite, and a guest cabin, as well as an automatic roof, and it can sleep up to nine people at a time.
The boat also has a very James Bond theme, and is named "The World is Not Enough," although Brady plans to christen his yacht, "Viva a Vida." Brady purchased the upgraded yacht for $6 million, which is three times the price of the yacht he purchased after signing with the Buccaneers. 
Brady also bought a huge mansion in Miami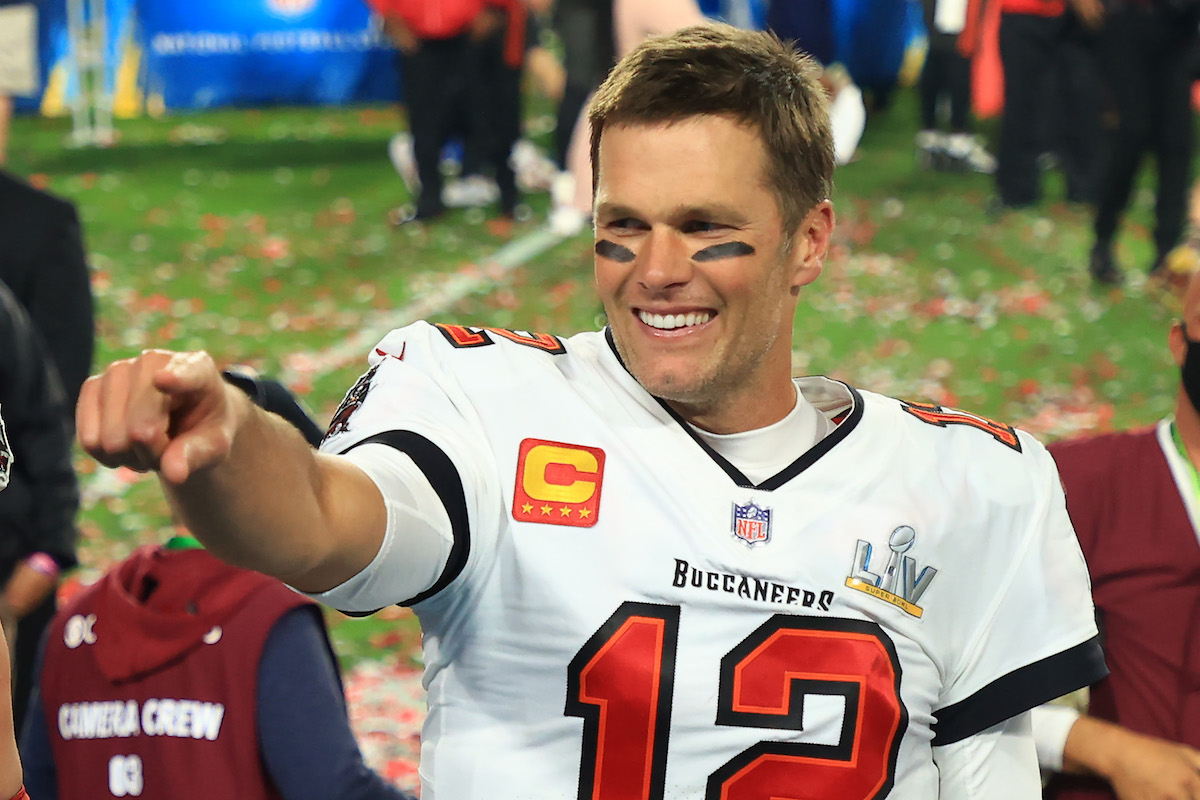 His yacht(s) are not the only big purchases he has made as he settles into his new Florida life. As the WSJ pointed out, "His family is now a Florida Family, and Brady is now a Florida Man. Or at least, a Florida Man in training. Those heavy jackets and wool hats from New England winters aren't needed anymore."
Brady and Bündchen bought a $17 million mansion on Miami's Indian Creek Island, nicknamed "Billionaire Bunker" due to the private 13-person police force that protects the approximately 42 people who live on the Island. A few of Brady's neighbors include Ivanka Trump and Jared Kushner, as well as supermodel Adriana Lima.
Brady also has an impressive car collection, which includes a Bugatti Veyron Super Sport, one of only 450 made, a 2009 Audi R8, a 2015 Ferrari M458-T, and a 2015 Rolls Royce Ghost. To go with his James Bond yacht, he also has two Bond cars, a 2018 Limited Edition TB12 Aston Martin Vanquish S Volante, one of only 12 made, and a 2017 Aston Martin DB11.
The people of Florida seem happy with their newest resident, at least if the number of fans trying to catch a glimpse of him is any indication. And Brady and his family seem happy in Florida, away from the awful New England winters. Hopefully, his family will be as excited about spending Christmas on the yacht as Brady is. But, as the GOAT already said, "No one can go anywhere."
RELATED: Tom Brady Has Given People Another Reason to Hate Him