Floyd Mayweather Had a Crazy Diet Before Defeating Conor Mcgregor
When discussing the greatest boxers of all-time, Floyd Mayweather Jr.'s name always comes up. His 50-0 career record is untouchable. Mayweather last fought professionally against UFC star Conor McGregor in 2017. He ultimately went on to earn his 50th career victory that night, but before the fight, Mayweather had an absolutely crazy diet.
Floyd Mayweather is one of the greatest boxers ever
How can you not be amazed when looking at Floyd Mayweather Jr.'s career resume? He has a 26-0 record in world title fights and a 24-0 record against former or current world titlists, according to BoxRec. He also has a 4-0 record against International Boxing Hall of Famers. This includes wins over Arturo Gatti, Oscar De La Hoya, Juan Manuel Marquez, and Shane Mosley.
Here is a look at all of his world titles, according to BoxRec.
He held the World Boxing Council (WBC) super featherweight title from 1998-2002 and had eight title defenses.
From 2002-2004 he held the WBC lightweight title with three title defenses.
He won the WBC super lightweight title in 2005.
Mayweather won the International Boxing Federation (IBF) welterweight title in 2006.
He won the WBC welterweight title twice with six total title defenses.
Mayweather won the WBC super welterweight title twice with one title defense.
He held the World Boxing Association (WBA) super welterweight super title from 2012-2016 with one title defense.
From 2014 to 2016, Mayweather held the WBA welterweight super title and had three title defenses.
He won the World Boxing Organization (WBO) welterweight title in 2015.
All of Mayweather's success has helped him rack up a $505 million net worth, according to Celebrity Net Worth. He also has his own promotional company called Mayweather Promotions. When discussing boxing, Floyd Mayweather Jr. has always been brought up throughout the last two decades and that's for good reason.
The big fight with Conor McGregor
Mayweather had not fought since September 2015. However, he took on UFC star Conor McGregor in 2017. This was a huge fight as Mayweather was the face of boxing and McGregor was the face of the UFC. They are both master showmen too, so everything leading up to the fight was certainly entertaining. McGregor had never boxed but he had a 21-3 MMA record, according to Tapology.
McGregor talked a big game before the fight too.
"I'm not going to look to implement anything. I'm going to outbox this man at his own game. That's how skilled and how much of a different level I am compared to him. … This man isn't on my level. He's not even a quarter of the man I am." McGregor said in the press conference, according to SBNation.

Conor McGregor
That did not work out too well for him, though, as Mayweather ultimately won by TKO in the 10th round. "This was my last fight tonight. For sure," Mayweather said after the fight, according to ESPN. "Tonight was my last fight. Tonight I chose the right dance partner to dance with. Conor you are a hell of a champion."
Mayweather has not had a professional fight since. McGregor has not been in the boxing ring since, but he has had two UFC fights. He won one against Donald Cerrone and lost one against Khabib Nurmagomedov.
Mayweather had a crazy diet before the fight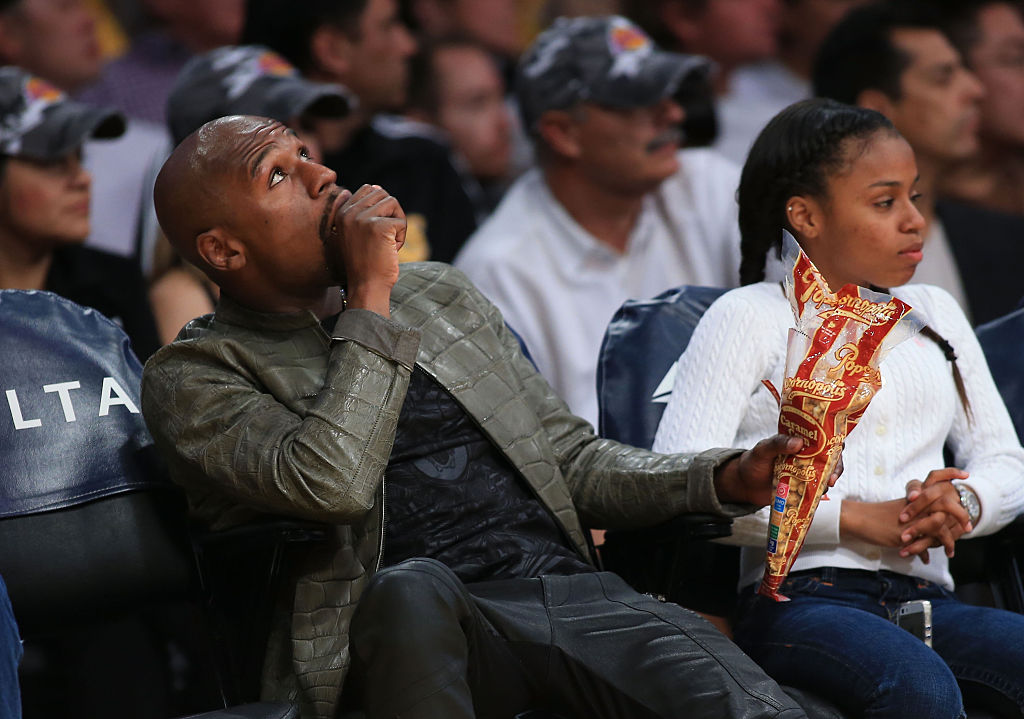 Floyd Mayweather Jr.'s chef, J. Santiago, revealed to TMZ what Mayweather ate leading up to the big fight with Conor McGregor. She said that a typical breakfast included eggs, home fries, grits, pancakes, and various breakfast meats including bacon, turkey sausage, turkey ham, and turkey kielbasa.
Santiago also told TMZ that Mayweather is obsessed with spaghetti bolognese and that he pretty much ate it every day leading up to the fight. She also said that Mayweather liked barbecue chicken, baked chicken with rice and gravy, and a lot of soul food. Mayweather only ate two bananas and just drank water before the weigh-in on the Friday prior to the fight. However, he ate spaghetti, barbecue chicken, green beans, rice, sauteed shrimp, peppers in garlic sauce, and salad after the weigh-in.
Additionally, at 1:30 a.m. on Saturday, which was the night before the fight, Mayweather got hungry. Santiago made him barbecue chicken, spaghetti, green beans, and rice, according to TMZ.
Well, jeez, that's a lot of calories.
Floyd Mayweather ate a lot of protein heading into his fight with Conor McGregor. It certainly worked too since he won the 50th fight of his career. Who knows how things would have gone had he not eaten the way he did.