Floyd Mayweather Is Finally Heading to the Hall of Fame
Floyd Mayweather has been one of the most popular faces in boxing for the last few decades. He's earned his fame thanks to his impressive skills in the ring as well as his lavish lifestyle and immense wealth. And finally, after retiring with 50 wins and 0 losses under his belt, Floyd Mayweather is finally entering the Boxing Hall of Fame.
Floyd Mayweather Jr.'s legendary boxing career
RELATED: Floyd Mayweather Makes Six-Figure Gamble on Green Bay Packers and Hits Jackpot
It's hard to summarize Mayweather's two decades in the boxing ring, but it's easy to talk about his accomplishments. The obvious accomplishment under his belt is the fact that he retired with an undefeated professional record of 50-0. Few boxers hold onto their zeros, as most end up losing at one point. But Mayweather has accomplished this feat.
While records tend to be padded with wins against nobodies, Mayweather has beaten some of the toughest boxers of his time. He's beaten boxers on the level of Oscar De La Hoya, Canelo Alvarez, and of course, Manny Pacquiao. Plus, Mayweather has won belts in five weight classes, proving that size didn't matter to him.
But of course, while his boxing skills were unparalleled, so was his ability to promote himself and his fights. He earned his nickname of "Money" for a reason, and Mayweather's fights have almost all been highly successful. This has earned him a lot of money, but it also helps him turn a new leaf in retirement.
Floyd Mayweather finally cements his legacy by joining the Boxing Hall of Fame
RELATED: Floyd Mayweather Jr.'s WWE Cameo Earned Him $20 Million
For many years now, boxing fans have all pretty much unanimously agreed that Mayweather was going to be inducted into the Boxing Hall of Fame eventually, and now, that day has come. According to ESPN, Mayweather, as well as a lot of other high-profile faces in the boxing world, have been officially inducted into the Class of 2021 Boxing Hall of Fame.
Mayweather said, according to ESPN, "Throughout my career, I gave everything I could to the sport of boxing, and now, to be recognized by one of the most prestigious honors in the sport for that hard work and dedication is very humbling."
Although he's officially retired, Mayweather isn't done with boxing just yet. Mayweather started his own promotion company years ago called Mayweather Promotions, and he's leaning on it now more than ever. Furthermore, Mayweather, like ESPN wrote, was trained by his family, and nowadays, he's also helping prepare the next generation of boxers to take over for him.
How Mayweather continues to influence boxing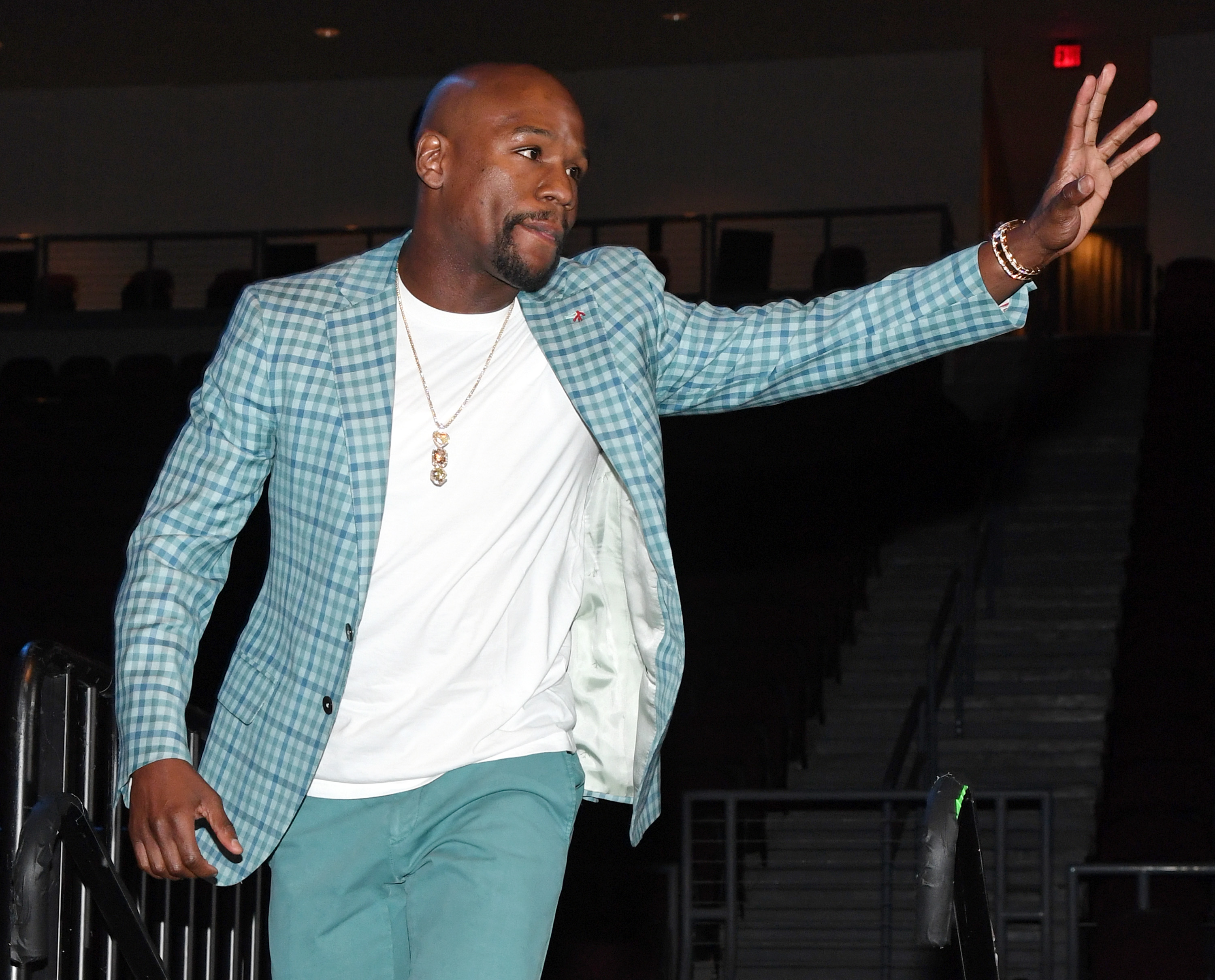 One of the many family members who've helped train him was his uncle, Roger. Roger passed away in March 2020. Perhaps as a way to pay tribute to him, Floyd has since started to train others on the art of boxing. While this is a recent change of pace for Floyd, it may pay dividends in the future. Floyd is undoubtedly one of the best boxers alive today.
Outside of training others though, Mayweather also has several protégés with whom he works closely with. The two most successful ones are Devin Haney and Gervonta Davis. While their careers are still young, Mayweather is steering them toward the same path that he once walked on.
Mayweather isn't just influencing boxing by teaching young boxers, he's also starting to become more vocal about the politics behind boxing. For example, recently, he spoke out about the Alphabet Belts in boxing. Alphabet Belts refer to the numerous belts and organizations that exist in boxing, and he's in favor of reducing how many Alphabet Belts there are in the world as a way to make things less confusing for boxing fans.