Floyd Mayweather Jr.'s Threat Seemingly Has Logan Paul so Frightened He Now Has 24/7 Security to Keep Him Safe
Who would have ever thought that we'd all be getting ready for a boxing match between one of the greatest boxers of all time and a YouTube star? It's 2021, though, so here we are. Floyd Mayweather Jr. plans to fight in a pay-per-view boxing exhibition against Logan Paul next month, and while the main event is still weeks away, we have already had some fireworks.
Jake Paul — Logan's brother and fellow YouTube star — got into a verbal altercation with Mayweather at the news conference for the fight, and Jake eventually took the boxer's hat. This ignited an actual scuffle between the two, which led to Mayweather using threatening language that now has Logan and Jake taking extra security precautions.
Floyd Mayweather and Jake Paul got into a heated scuffle
RELATED: Floyd Mayweather and Jake Paul Get Into Heated Altercation and Internet Star Leaves With Fighter's Hat and a Black Eye
The upcoming boxing match between Mayweather and Logan Paul seems to really just be about the money. Mayweather is 50-0 and one of the greatest boxers of all time, while Logan just started boxing in 2019 and lost to fellow YouTuber, KSI.
This means quality boxing could be hard to come by in the event, so the more coverage they get for their June 6 fight beforehand, the better.
That's most likely what went into Mayweather and Jake Paul's scuffle, as Jake approached Mayweather at the fight's news conference not long after the 44-year-old called the brothers "fake fighters," per a video from radio personality Brendan Tobin. The two then ultimately went face-to-face in what looked like a staged altercation before Jake took Mayweather's hat.
Since taking someone's hat is the ultimate sign of disrespect, things then got ugly after that as it turned into a heated scuffle. Jake even later revealed on social media that one of the legendary boxer's bodyguards hit him in the eye. Video also caught Mayweather saying, "I'm gonna kill that motherf*****."
After the incident, Mayweather spoke to The Athletic, saying: "Jake Paul wanted some attention, and he got it. And so did I."
Logan Paul said they have 24/7 security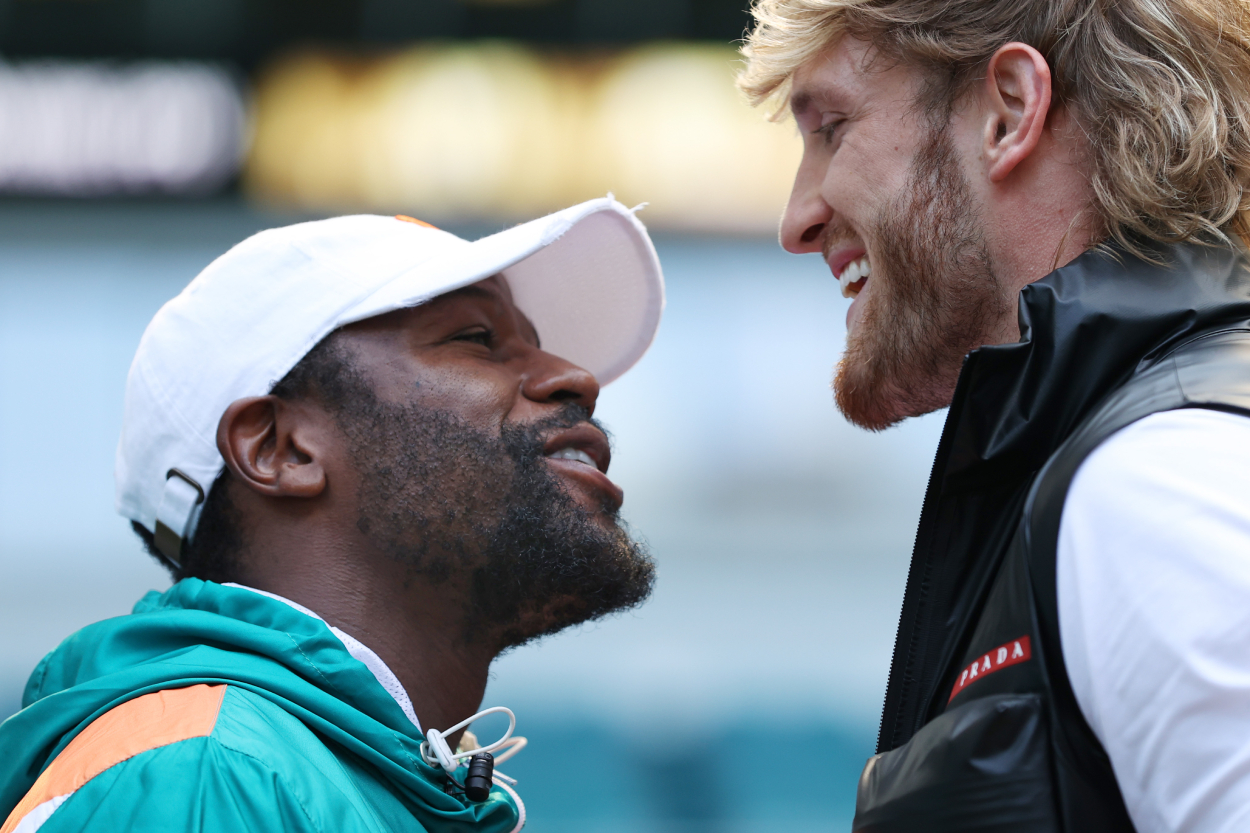 RELATED: Jake Paul Says His Brother, Logan Paul, Stands No Chance Against Floyd Mayweather and Also Takes a Few More Shots at Him
Logan wasn't at the center of the melee, but he revealed he's taking Mayweather's threat seriously.
"Everywhere at all times," Logan said of security to TMZ. "… When you have a guy with the resources and wealth that Floyd Mayweather has and the connection and the network and he's saying s*** like, 'I'ma kill that motherf*****.' Kill? Death? You're gonna kill my brother over a f***ing hat? Yo, we take that s*** seriously, man."
The internet stars are definitely taking extra precautions, but Logan scoffed at the idea of them going to the cops. Whatever moves the Paul brothers or Mayweather make from now on, though, will just get more and more eyes on their event; an event Paul should desperately be preparing for over the next month.
Logan Paul discussed his upcoming boxing match with Floyd Mayweather
RELATED: Joe Rogan Only Sees 1 Way Logan Paul Can Beat Floyd Mayweather
While discussing the recent incident, Logan also spoke about his upcoming fight. He said he thinks going against an angry Mayweather could be beneficial for him.
"I think fighting an angry, riled up Floyd, trying-to-knock-me-out Floyd is going to be better for me," he said, per TMZ. "I'd like for him to bring some emotion into the fight. I don't think it'd be smart for him."
Logan said he understands that he's outmatched statistically, but he still likes his odds given his six-inch height advantage.
"I just think, my strength, my power, my height, my length, and now my skill three years into the sport and my athleticism — which has finally contributed to how good I am at the sport [with] just the guys I'm sparring and beating, by the way — I think momentum's on my side; I think the universe is on my side. And I think I'm going to do the impossible," he said.
Logan also added that he could make $20 million from the fight, which is really what this is all about. The Paul brothers might be two athletic guys who are favorably much younger than Mayweather (Logan is 26 and Jake is 24), but Mayweather is one of the greatest boxers in the history of the sport. He has beaten some of the best athletes on the planet and has experience dating back to over 20 years.
Jake has maybe had success, and the bros have certainly hyped up their skills, but it's going to be extremely hard for Logan to beat Mayweather, and he most likely knows it.
But who would turn down a chance to potentially make $20 million?