Following Stephen Curry's Diet Would Be a Big Mistake For Us 'Regular People'
If there's one thing the Curry household is known for outside of basketball, it's food. After all, Stephen's wife Ayesha has made a name for herself as a successful food blogger and cook. Needless to say, Steph eats well on a day-to-day basis, but his diet is not average.
A day in the life of Stephen Curry's stomach
According to Delish, the Currys typically start their day with a five-minute breakfast smoothie. This allows Steph to get out the door with a portable, easy meal that supplies him with all of the fuel he needs for practices and games.
For lunch, Ayesha fills 10 containers full of vegetables, proteins, and starch so her husband has a balanced lunch as soon as he gets home to hold him over until 7:30 pm or so. This prep allows Ayesha to do everything at once and avoid getting overwhelmed with a daily meal.
If Steph is home, Ayesha prepares sandwiches and salads for lunch, so that the labor is limited but the food is good. Occasionally, the salads will include chicken or seafood. One of her favorite proteins is chicken, and she breads chicken tenders with an unusual, antioxidant-rich ingredient: flaxseed.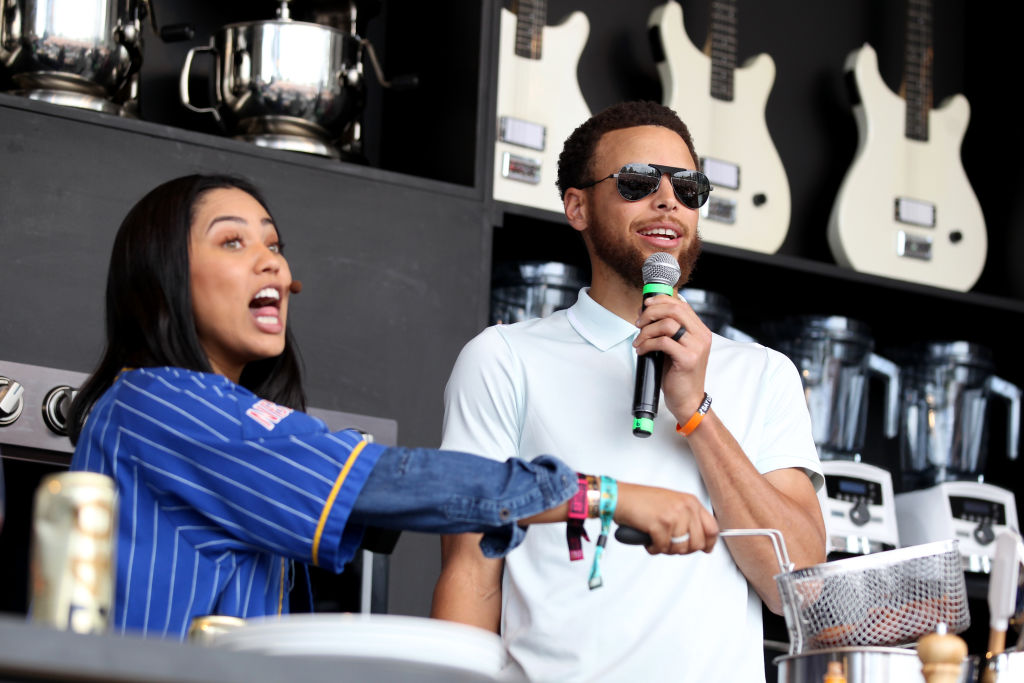 For these proteins, Ayesha swears by a simple marinade that includes apricot marmalade, soy sauce, and garlic or ginger. She especially likes this for seafood.
One of Steph's favorite dinners, spaghetti, is a dangerous one for an athlete trying to stay in shape. Ayesha puts a strange ingredient in her spaghetti, though: brown sugar. She claims it helps to bring out the other flavors.
For dessert, Ayesha says bananas foster is the biggest hit with her family and friends, so she makes it often. This seems like a balanced diet, but some of Steph's other diet habits may shock people.
Steph's schedule and gameday habits
Ayesha's food schedule accounts for normal days, but on game days, Steph follows a strict routine. Going into a game, Curry does not eat a light salad or steak, but a bowl of pasta.
It's been his pregame ritual since he and Ayesha got married, and it often involves the aforementioned spaghetti. However, the pasta isn't an entire detriment.
A person who works a sedentary job is not able to burn off carbs like a professional athlete, and with Ayesha's carb-heavy pasta, Steph is getting a carb overload. In a 48-minute basketball game with constant running, the carbohydrates act as fuel for Curry and give him energy as he runs up and down the court.
Snack time for Steph Curry
Steph adds to his carb overload with another gameday tradition. According to the point guard, he immediately heads to the popcorn table when he arrives at Oakland Arena. Steph claims he is a popcorn addict.
The 31-year-old eats the junk food before, during, and after games if he can. He claims that his love of popcorn goes back to the days when he watched his father play in the NBA, often doing so with popcorn in his hand.
Steph may not have a typical athlete diet. Players like LeBron James adhere to a strict diet prepared by a professional chef, but Curry prefers to stay at home and eat his family's food. It must work; Curry just completed his fifth-straight Finals appearance. With a broken hand, however, he may need to watch it without the popcorn and pasta.