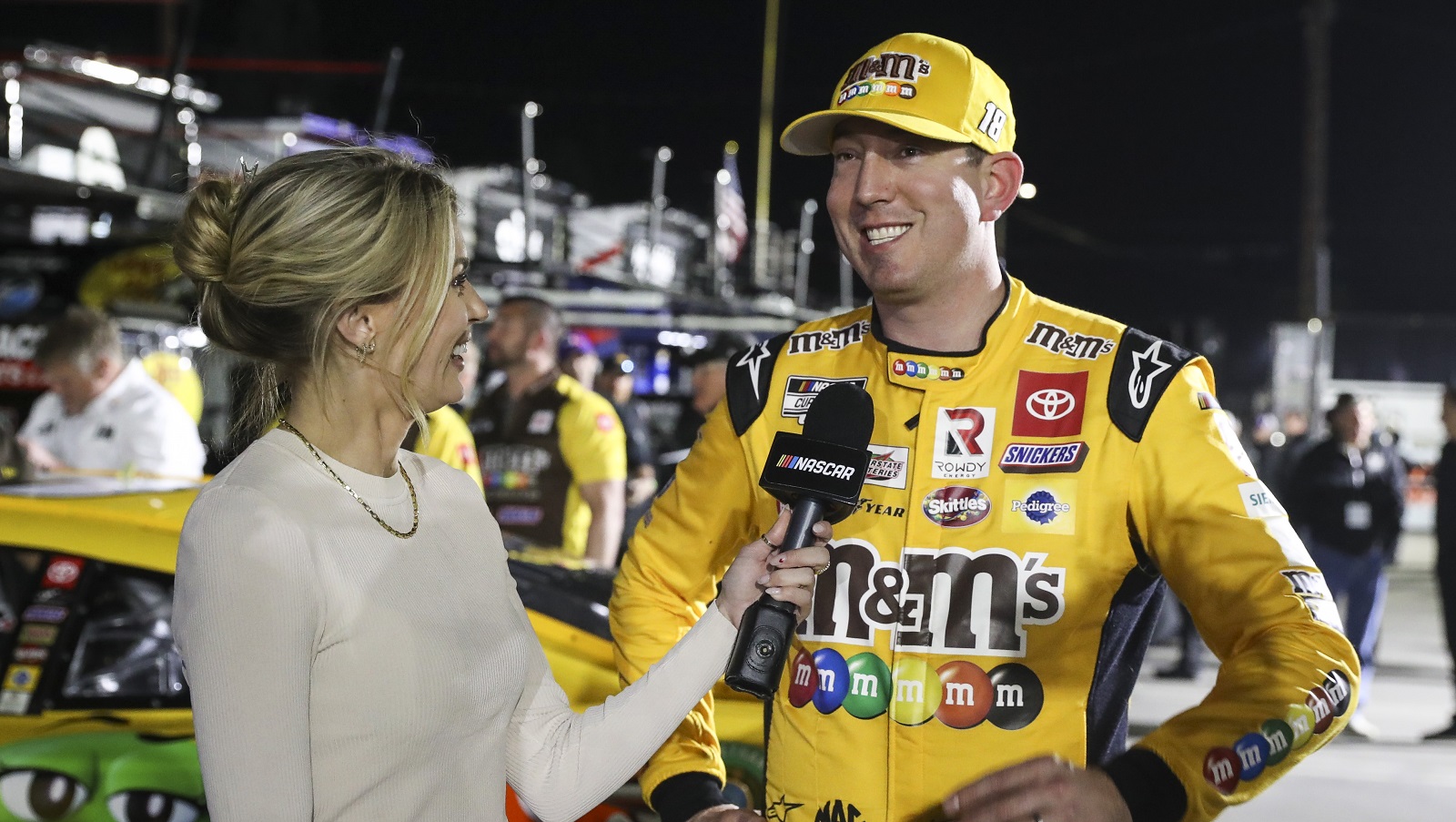 Fontana Revisited: Kyle Busch's First Winning Cup Series Car Was 'The Loosest I Think I've Ever Driven a Race Car That Was Still Moving Forward'
Future NASCAR Hall of Famer Kyle Busch's first Cup Series victory came at Fontana, the site of this week's race.
We don't mean to suggest Kyle Busch owns the Auto Club Speedway oval, but he could get away with posting a sign on Victory Lane that says showings are by appointment only.
NASCAR is back at the Fontana, California, track this weekend after a one-year absence, and Busch is looking to add to fond memories there. Auto Club Speedway is where he scored his first Cup Series victory as well as the 200th win of his NASCAR career.
Kyle Busch welcomes NASCAR's return to Auto Club Speedway in Fontana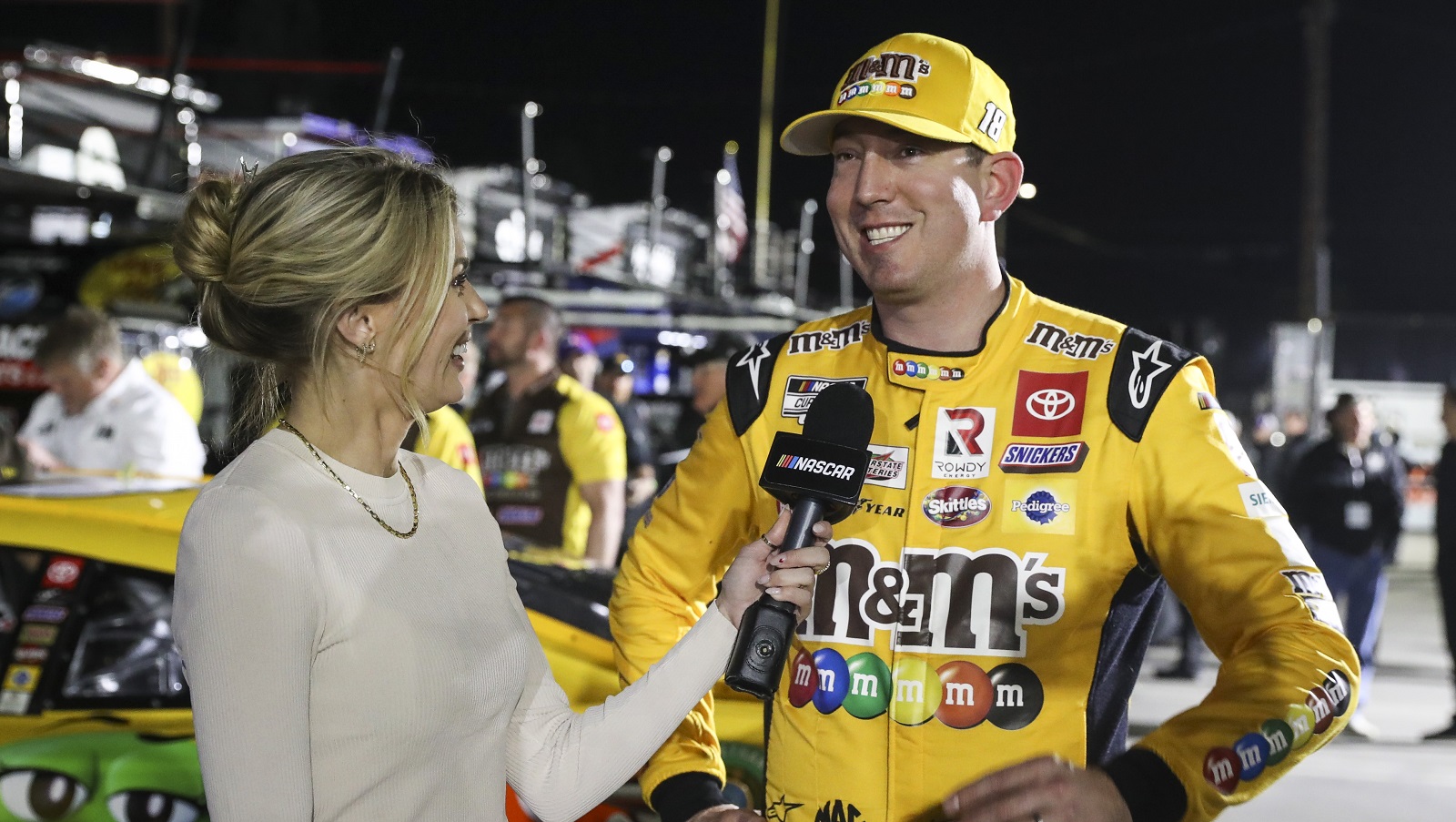 NASCAR came to Fontana, California, for the first time in 1997, when future Hall of Famer Jeff Gordon triumphed. Jimmie Johnson, Kurt Busch, and Tony Stewart are among the standouts who followed Gordon onto Victory Lane in subsequent years.
There was no big-name winner last season. In fact, there was no winner at all as the Cup Series skipped Auto Club Speedway in the face of ongoing uncertainty regarding protocols and restrictions during the ongoing pandemic.
Now, the sport's top series returns to the two-mile oval this weekend for the Wise Power 400. Without a doubt, Kyle Busch is high on the list of drivers happiest to be back.
Busch scored his first career victory in the Cup Series there in 2005, two years after his brother won at Fontana. More recently, he took the checkered flag in 2013, '14, and '19. In 22 starts in NASCAR's top series, Busch owns four victories, two runner-up finishes, and four third-place showings on that track.
Kyle Busch's first triumph at Fontana was particularly sweet
Kyle Busch's first attempt to race at Fontana in the Camping World Truck Series turned out to be a no-go in 2001. An accomplished short-track driver out of Las Vegas, Busch signed with Roush Racing as a 16-year-old and had a couple of ninth-place finishes to his credit in six starts. The team traveled to what was then California Speedway for the Auto Club 200 in November, but team owner Jack Roush had to pull Busch from the lineup because NASCAR imposed an 18-year-old minimum age requirement at big tracks.
Three years later, Busch got has his much-awaited opportunity at Auto Club Speedway, this time driving a Cup Series car for Hendrick Motorsports. He only finished 24th, but it set the table for career Cup Series triumph No. 1 almost a year to the day later.
"The first ones (in each NASCAR series) are special because they're the first," Busch said, according to Autoweek. "Fontana was extra sweet because of what had happened there before, but it's hard to actually give it a ranking. It was special, for sure."
The breakthrough NASCAR Cup Series victory was an adventure
The first Cup Series victory in Kyle Busch's 18-plus seasons in NASCAR's top circuit came on Sept. 4, 2005, at Fontana in the Sony 500 under the guidance of crew chief Alan Gustafson.
Starting from 25th, he took the lead from brother Kurt Busch on Lap 82 and ran in the top five for much of the race. Busch retook the lead four more times, including on Lap 244 of the scheduled 250.
It was exciting and nerve-wracking all at once because the No. 5 Chevy was giving the team mixed signals. The car displayed impressive speed running from the front, but the handling was a different matter, according to SpeedwayDigest.com.
"It was really cool to have a really dominant race car. I remember having to drive the car really loose. That was the loosest I think I've ever driven a race car that was still moving forward. It was crazy because I came over the radio and told the guys I couldn't believe how loose I have to drive the car. But it was fast."

Kyle Busch
He survived that and an overtime finish, all of which made it easy to get over the disappointment of being turned away his first time at the track.
"As it's turned out," he said, "I've had pretty good success there. I enjoy going out to California."
All stats courtesy of Racing Reference.