Football Cards: The Most Expensive NFL Cards out There
In one form or another, collectable football cards have been around for more than a century. Though the first known set (featuring Ivy League athletes) debuted in the late 19th century, the hobby didn't really begin to boom until the 1950s and 1960s. While older cards like the Bronko Nagurski can go for six figures at auction, it's the more recent, exclusive prints that are really tipping the scales. Before the 21st century, prints like the 1-of-1s that have been breaking the football and basketball markets were rarely printed.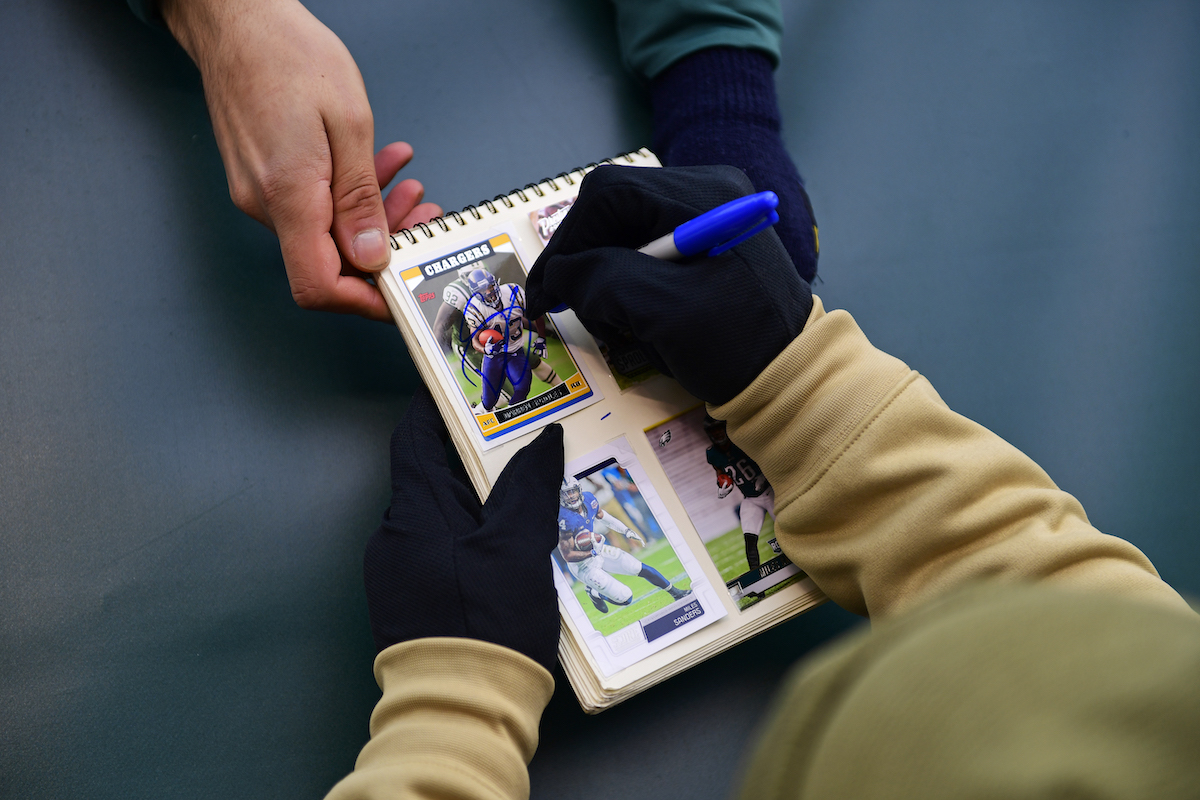 What football cards from the '90s are worth money?
The '90s were a great time for the NFL gunslingers like Brett Favre and Steve Young enthralled the viewers as they led their teams to Super Bowls, but the collectable cards from that era left something to be desired. According to an estimate from Nerdable, only one card — a 1998 rookie Peyton Manning — cracks the five-figure barrier. The rest of the cards are certainly cool, but they're not worth the prices we see today.
Are old football cards worth money?
Older football cards can be worth money in some cases, especially if they're rare or misprinted. But basketball cards are becoming more popular, eclipsing the small amount of demand that might be out there for football. Since both sports entered the mainstream around the same time, it makes sense that the basketball legends of the past are competing with football's all-time greats for card popularity. Both sports have soared in popularity through the 2000s and cards printed today have hit the seven-figure mark in both sports.
What is the highest paid football card?
While Bronko Nagurski tops the list of 20th century cards, plenty of other cards can go for five or six figures. Legends like Jim Thorpe, Jim Brown, and Johnny Unitas all feature on the front of cards that see eye-popping prices at auction. Lesser-known players also make the list, usually because of supply or quality issues leaving few copies of their cards available: Chuck Bednarik, Bobby Layne, Sid Luckman, and Doak Walker.
What is the most expensive football card in the world?
At the time of writing, Patrick Mahomes has edged back in front of Tom Brady. In July 2021, a Mahomes rookie card sold for the staggering sum of $4.3 million, according to ESPN. Even as Brady chases an unprecedented seventh ring, Mahomes has the potential to catch him someday. Mahomes is a young, exciting QB who can run and throw like nearly no other player ever. He hasn't been involved in any off-field trouble and doesn't appear injury prone. Seven rings aren't out of the question for Mahomes, either.
What Tom Brady cards are worth money?
In June 2021, Brady's 2000 Playoff Contenders Championship Rookie Ticket Autograph card sold for $3.107 million. In April, the same edition sold for $2.25 million, and before that $1.32 million in March. The Playoff Contenders Autograph edition is by far the most expensive Brady card, but the GOAT has plenty of other cards in the five- and six-figure price range:
2000 Playoff Contenders Championship Ticket #144 Autograph
2000 Playoff Contenders #144 Autograph
2000 Bowman Chrome Refractor #236
2000 SP Authentic #118
2000 Donruss Elite Aspirations #183
2000 Fleer Showcase #136 Tom Brady Football Card
2000 Playoff Contenders #RN11 Tom Brady & Marc Bulger Round Numbers
2000 Leaf Rookies and Stars #134 Longevity
2000 Playoff Momentum #180
2000 Leaf Limited #378
2000 Bowman Rookie of the Year Promotion
2000 Leaf Certified Mirror Red.
Whether it's a 1-of-1 Mahomes or a damaged Ryan Leaf, there's a type of football card out there for everyone. Soaring prices have made it a hobby for the very rich, but it's never too late to pick your favorite and start collecting.