Football Fans Should Thank Dak Prescott for Giving Us Tony Romo
Few athletes have experienced a smoother transition from athlete to TV analyst than Tony Romo. What was once a stroke of unfortunate luck for the quarterback might've made him more money and preserved his body for life after football. Reflecting on the rise of Dak Prescott, Romo should thank his former backup for streamlining his broadcasting career. 
The situation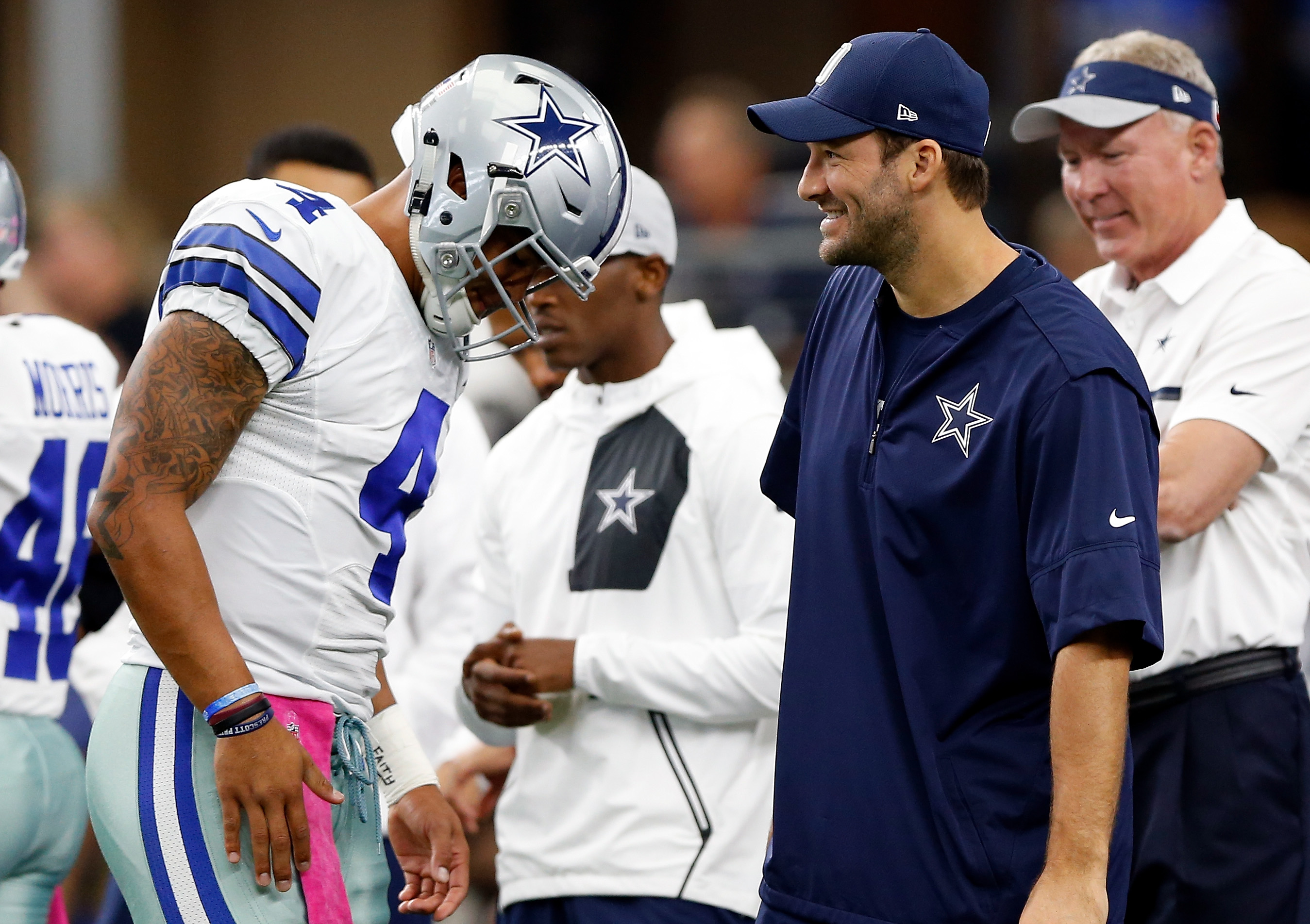 Romo was the starting quarterback for the Cowboys for over a decade. During that time, he guided several mediocre teams to minimal success. But he was rarely surrounded by enough talent to get over the hump. By 2015, Romo struggled to stay on the football field after a Slew of injuries.
The team relied on Matt Cassell's services during the 2015 season after Romo went down. But he wasn't ready to call it quits. The following season, Prescott impressed the team, details NFL.com. Despite contemplation over what to do when Romo got healthy, Prescott kept the spot over his mentor. It was clear that the team was moving on from Romo.
While he got to appear in one set to say goodbye to the Cowboys, the writing was on the wall; the Romo era was over. Rather than stick around as a backup or try to find success elsewhere, he decided to retire. He spoke about this with Graham Bensinger. 
Tony Romo on Dak Prescott
RELATED: Tony Romo Is Smart Not to Talk About His Record-Breaking Contract
Romo harbored no ill will toward the Cowboys, Jason Garrett, or Prescott after being forced to turn over the keys. Although it's hard for any athlete to admit that they are past their expiration date, Romo took it in stride and decided to use his final year to teach Prescott everything he knew. Speaking with Bensinger, details USA Today, Romo explained his reasoning behind this approach. 
"Football is really not about any individual, but we all want to be the best … one of the major reasons you're winning and being great," Romo told Bensinger. "You know, as you become a dad and you get older, you can kind of see there are rare multiple sides. It's just not about me. It's about so many more people. I just feel like when your team is playing well and everybody is playing really good football, it's just a team sport. It's not about an individual."
It all worked out for both sides of the situation. On the one hand, Romo got to move over to broadcasting, and on the other, Prescott became the new young face of the Cowboys and, were it not for Lamar Jackson and Patrick Mahomes, he might be the brightest young quarterback in the entire league. Retired NFL player Pat McAfee saw this situation as a blessing for all involved.
A blessing in disguise
RELATED: Jay Cutler Could Be Following in Tony Romo's Footsteps
Always opinionated, McAfee spoke about Prescott's deal with the Cowboys and how the quarterback was owed more money after signing his franchise tender. However, the retired punter quickly shifted gears and spoke about how America should be grateful for Prescott in one particular way.
"Congrats, America," McAfee said. "We should be thanking Dak Prescott for giving us the gift that is Tony Romo in the booths on Sunday, on Thursdays, and whenever the hell he calls anything."
Sports can be hard to predict. For some players, losing a starting job at quarterback can be a death knell on their playing career. For others, it can be the start of something beautiful.
In the case of Romo, that beautiful light at the end of the tunnel was a gig on television. Prescott may not have known it, but by performing as he did as a rookie, he changed the NFL's television coverage for years to come. As McAfee said, fans should be thankful that he unknowingly gave us this gift.