For 76ers Coach Doc Rivers and Guard Seth Curry, the Blockbuster Acquisition of Star Guard James Harden Separated Their Family
The Philadelphia 76ers pulled off the season's most significant deal before Thursday's NBA Trade Deadline when they boldly acquired James Harden. Pairing the former MVP guard with superstar center Joel Embiid — the leading candidate for this season's MVP award — should make the 76ers a top favorite to win the Eastern Conference.
While those aspects of the deal rightly dominated the biggest headlines, a very real and human element also bubbled below the surface with the involvement of Philadelphia 76ers head coach Doc Rivers and shooting guard/son-in-law Seth Curry. It served as a great reminder to fans with "win-at-all-costs" mentalities that professional athletes are regular people with families and raw emotions as well. Though they are supremely skilled and handsomely paid, NBA players and coaches are more than just chess pieces on the basketball board, cold and heartless mercenaries or salary-cap filler in trades. Trades have real-life consequences that affect their careers, families, and personal psyches.
Before the trade, Doc Rivers and Seth Curry had quite the family affair in Philadelphia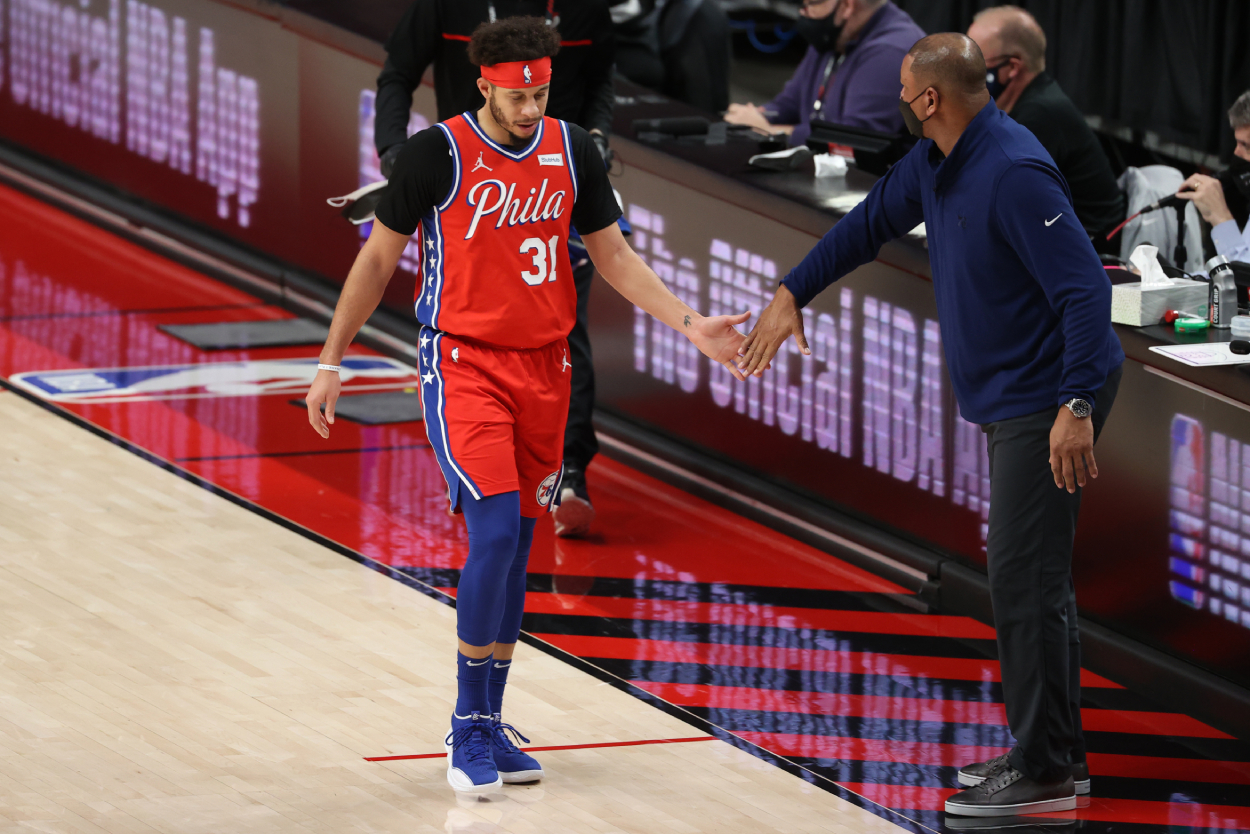 Philadelphia 76ers coach Doc Rivers, the man whose job will be to make sure Joel Embiid and James Harden mesh, has been in and around the NBA for the past 39 years as a player, broadcaster, and head coach. He has ties throughout the league, having played with or for various executives. Also, he played with or coached some of the fathers of some of his present-day players. Rivers even once got to coach his son, guard Austin Rivers, for four seasons while both were with the Los Angeles Clippers.
Rivers' daughter, Callie, married shooting guard Seth Curry, who played for the 76ers in 2020-21 and 45 games this season before Thursday's blockbuster trade. In recent years, Seth Curry has taken big strides in stepping out of older brother, Stephen Curry's enormous shadow and has become a solid NBA player in his own right. Rivers tells a great story about about the scene in the hospital waiting room before Callie and Seth's first child was born in May of 2018.
"So, the doctor walks out to the waiting room, and there is Dell (Curry), Steph (Curry), Seth (Curry) and me, and he said he had never felt more pressure to deliver a healthy baby in his life," Rivers recalled with a big laugh. "The doctor said he felt like it was Game 7 of the NBA Finals for him."
Seth Curry and Callie had their second child, a son, earlier this season while still a member of the 76ers. With Seth playing for Philadelphia, Rivers had his daughter, son-in-law, and two grandchildren nearby, allowing for frequent visits. Rivers recently joked that the only reason Philadelphia signed Seth before the 2020-21 season was for his own personal gain.
"I didn't see crap in Seth," joked Rivers, when asked about Philadelphia's addition of the shooting guard. "I Just wanted to see my daughter more. … If he was a bum, I still got to see my grandkids."
The blockbuster trade had some real-world consequences for Doc Rivers and Seth Curry
To land a talent such as James Harden from the Brooklyn Nets, the Philadelphia 76ers had to unload several pieces in the trade. Of course, disgruntled guard Ben Simmons — who hasn't played since last spring's playoff meltdown — was central to the deal. That probably came as a relief to Rivers, whose frustration over Simmons' holdout became increasingly apparent as the season wore on.
To land Harden and veteran forward Paul Millsap, the Sixers also had to surrender backup center Andre Drummond, and two future first-round picks. However, the final piece of the deal had to hit Rivers and his family the hardest.
The Nets also demanded a shooter in the deal, which meant Seth Curry's inclusion. Finally, after bouncing around professional basketball for years, Curry has evolved into a solid NBA player — as evidenced by his 15 points, 4.0 assists, and 40% accuracy from three-point range this season.
Brooklyn reportedly pushed for the inclusion of dynamic young guard Tyrese Maxey or defensive ace Matisse Thybulle in the deal, but Philadelphia balked at dealing those assets. That led to Curry's inclusion in the trade to Brooklyn, meaning Rivers' daughter, son-in-law, and grandchildren would move out of Philadelphia. Understandably, it hit the veteran coach hard.
"I've been in these situations many times," Rivers said to SixersWire. "As a coach, and I think what people will never understand about coaching and, it's funny I had this conversation recently, it's amazing how many times your heart gets broken as a coach. Not only just from — you have to fall in love with your team and get everything out of them, and I do it every year … then it's also with individual players, and it's amazing how many times a player will break your heart. They'll go somewhere, and all of a sudden, they're mad at you, but that's fine."
Rivers is hopeful fans realize trades have real effects on players and coaches lives
The situation with Doc Rivers, guard Seth Curry, and his family is a reminder for fans that NBA athletes are more than just robots who play basketball for a living. They have families, and emotions and trades have significant consequences on their real-world lives.
Rivers said he talks to young coaches all the time about how some of the most challenging parts of the business have nothing to do with Xs and Os. Coaching players throughout a long NBA season requires them to pour themselves into their players and commit to them fully. So, when it's time to trade or release that player, it's often a cruel sort of punishment. And when that player also happens to be a member of your family, it's even more difficult. But as long as everything happens for the betterment of the team, Rivers is hopeful that everyone understands the need for the transaction.
"I tell coaches, young coaches, that all the time (personal feelings) don't matter," Rivers said. "You still open your heart up. You still do it over and over again. And you understand if you're in the business to win and you sell yourself to win titles, you're gonna have to also open yourself up to moments like this and trades. Not winning and getting hurt over and over you just have to keep getting back up. That's part of the journey of a coach."
As delighted as Rivers has to be to have James Harden onboard in Philadelphia, and for his 76ers to have a chance at winning a championship, Rivers has to hurt a bit by breaking up his family. Such is life, he knows, in professional sports where nothing can ever stand in the way of trying to win it all — not even family ties.
All statistics are courtesy of ESPN.com. 
RELATED: Kevin Durant Admits to Being Duped by James Harden Before Blockbuster Trade