For Michael Strahan, the Decision to Retire from the NFL Was a Slow, Arduous Process
Michael Strahan was one of the best defensive players of his NFL generation. He spent his entire Hall of Fame career in the largest U.S. market, playing for the Giants. Like most athletes, when Strahan finally decided to retire from the NFL, it was not an easy decision. The defensive end faced a long, slow process before deciding his fate.
But since he retired in 2007, Strahan gained even more fame by becoming a TV star outside of the sports world. He believes his post-football TV career may have even transcended his playing career.
Michael Strahan's Hall of Fame NFL career
Strahan made seven Pro Bowls in his 15-year career. This includes the single-season sack record when he recorded 22.5 in the 2001 season. (This was one of two times he led the league in sacks in a season.) Strahan's 141.5 career sacks are the sixth-most in NFL history.
In 216 games, including 205 starts, he had four interceptions and returned two of them for touchdowns. Strahan forced 24 fumbles and recovered 15, returning one to the end zone. He finished his career with 854 tackles, 131 for a loss. He entered the Pro Football Hall of Fame in 2014.
Strahan avoided major injuries throughout his career, but a torn pectoral muscle in 2004 ended the prime of his career, which began with his breakout season in 1997. Over time, though, he racked up a number of smaller injuries as you would expect from an NFL player.
Bleacher Report writes that Strahan paid for his lengthy career with his fingers, which Strahan says would get injured a lot while trying to grab opposing players on the field. He played through those relatively minor injuries, but his fingers can now do things that fingers shouldn't be able to do because of those injuries.
Michael Strahan retires from the NFL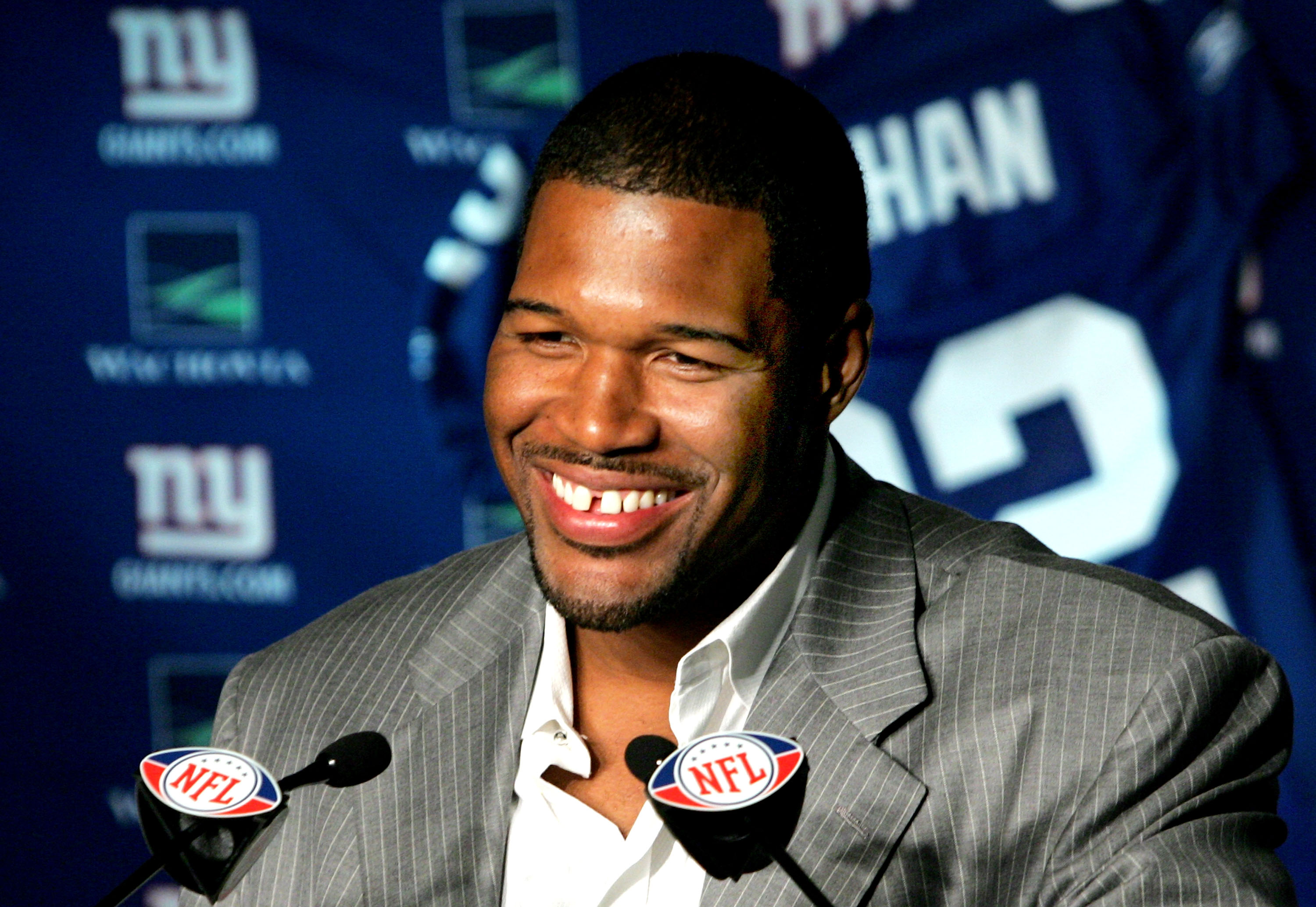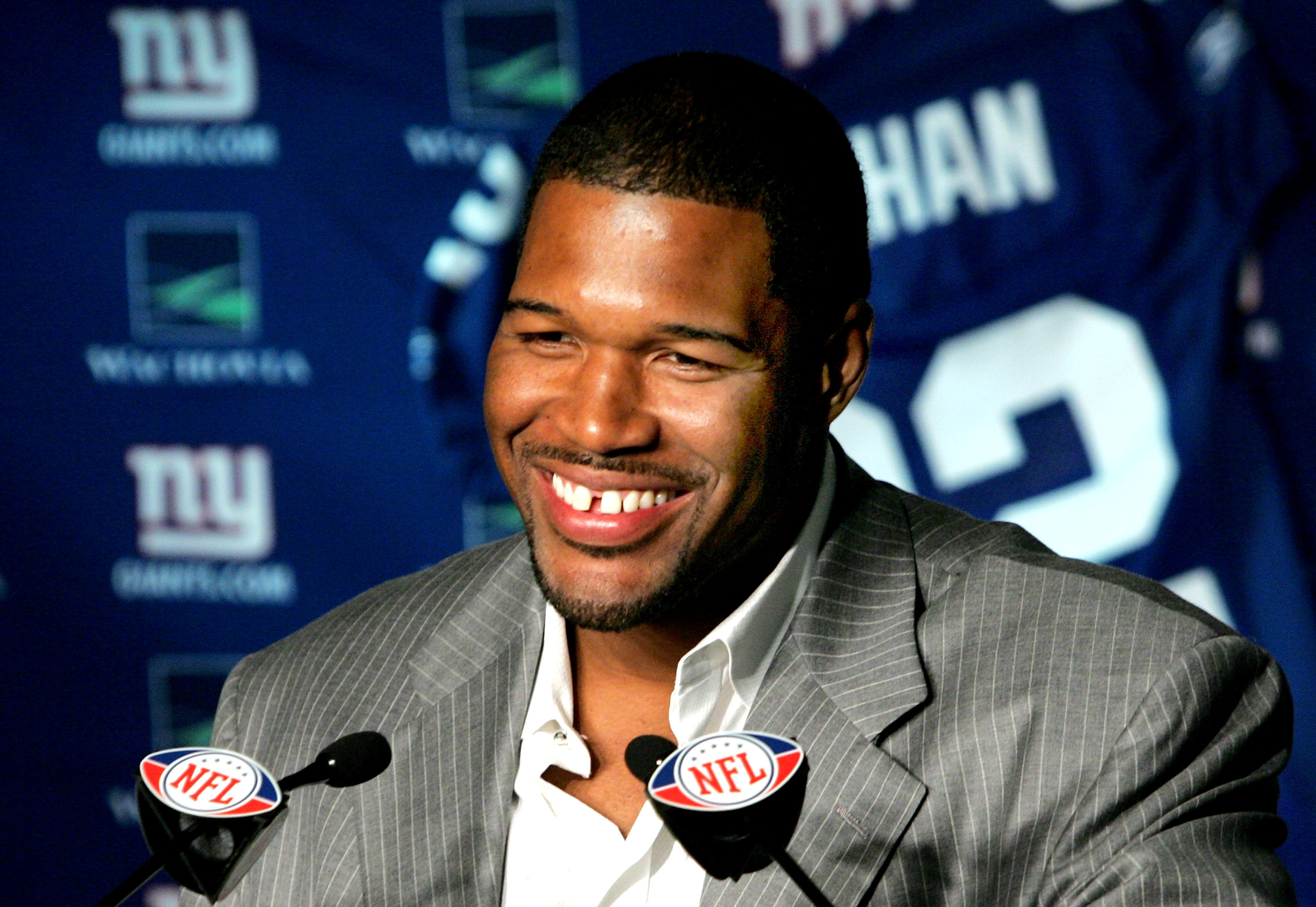 Strahan was part of the Giants team that won Super Bowl XLII in February 2008. Just months later, in June, Strahan announced via Fox Sports that he'd retired from the NFL with the simple words, "It's time. I'm done." Fox described Strahan's process of deciding to retire as a "lengthy … up-and-down decision-making process."
But he reached the decision when he did because he wanted to come to a final resolution before his teammates got together for mini-camp that summer. Strahan decided to retire about a week before his announcement. But he wanted to take a few extra days before announcing his decision to make sure he was 100% comfortable with his ending.
Strahan's father Gene played a role in his decision to retire because he had always taught Strahan to "finish everything he'd started," according to ABC News. So Strahan decided winning a Super Bowl was the best finish he could have had to a NFL career that began 15 years earlier.  Teammates weren't necessarily surprised by Strahan's announcement, but they were disappointed while being happy for him.
Eli Manning said Strahan "had a tremendous career" and "picked a great season to go out on." Strahan even wrote about his long decision-making process in his book, Wake Up Happy, with what he called Rule No. 4: "It's natural to have doubts. But hit pause before you out-and-out quit." Strahan certainly did that. He took months to decide to hang up his cleats.
Strahan's post-NFL career
Just weeks after he retired, Strahan was hired to be part of the Fox NFL Sunday pregame show — just the start of a TV career that vaulted him into the mainstream media, as he discussed with Harvard Business Review. In 2010, he started filling in for Regis Philbin on Live. In 2012, Strahan became the show's regular co-host with Kelly Ripa following Philbin's 2011 retirement from the show.
Four years later, Strahan left Live to co-host ABC's Good Morning America, a role he still holds today. He also serves as host of the network's classic game-show revival, The $100,000 Pyramid, which premiered in 2016. With all of his non-football TV work, Strahan says his media career "has transcended" his playing career in the NFL. He first realized this fact when he found out there were kids today who didn't know he played in the NFL.