Forget LeBron James; Michael Jordan Doesn't Want You Ever Comparing Him With Bill Russell
Michael Jordan has spent at least a decade hearing him and LeBron James mentioned in the same sentence. Enough has to be enough at some point, right?
Jordan is fully aware why people, including ESPN's Stephen A. Smith and his band of hot-take artists always have to make comparisons. Just don't try mentioning the Chicago Bulls great in the same sentence as Boston Celtics legend Bill Russell — and that request, by the way, comes straight from Jordan's mouth.
Michael Jordan doesn't want anyone comparing him to Bill Russell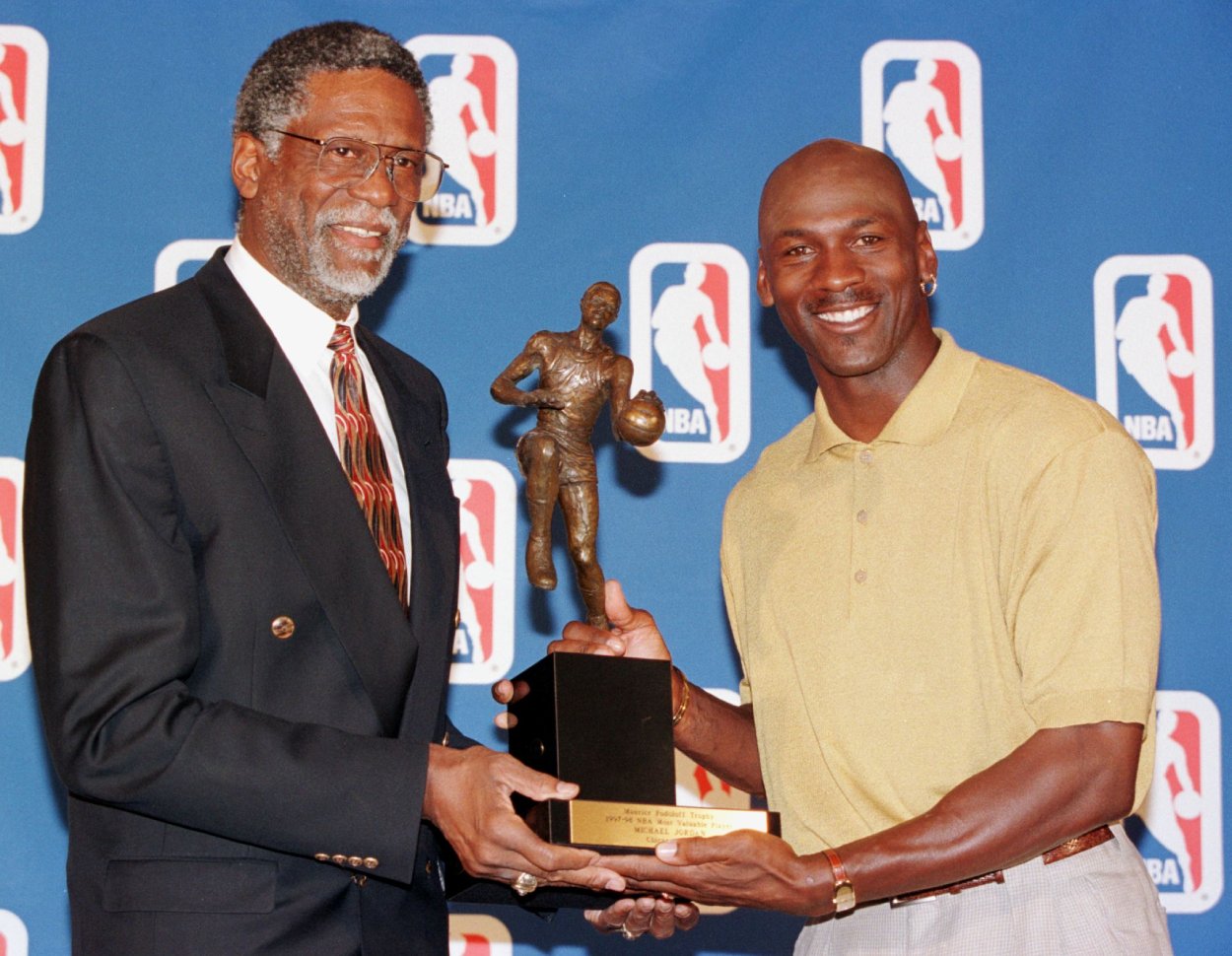 Jordan understands that comparisons and the "greatest of all time" conversations will always be held. However, he will draw the line in some areas.
In a 2020 interview with Cigar Aficionado, Jordan discussed the comparisons between golf legends Jack Nicklaus and Tiger Woods. After saying he didn't believe in the 'GOAT' argument because it's "more for selling stories and getting hype," Jordan criticized how people cite championships when picking one player over another when trying to determine the greatest.
Jordan, who won six championships with the Bulls, used himself as an example.
"I won six championships. Bill Russell won 11. Does that make Bill Russell better than me and make me better than him? No, because we played in different eras. So when you try to equate who's the greatest of all time, it's an unfair parallel. It's an unfair choice."

Michael Jordan
If you're still skeptical, think about this. When Russell won his final title during the 1968-69 season, the NBA had 14 total teams. The Eastern and Western Conferences each had at least 14 teams during the 1997-98 season, which was the last time Jordan won a championship.
Russell gets easily forgotten in the NBA's 'greatest of all time' conversations
Anyone who's watched a second of ESPN over the last five years knows the 'GOAT' debate almost always involves Jordan and James. Others, such as Kareem Abdul-Jabbar and Shaquille O'Neal, will find themselves included on top-10 rankings or Mount Rushmore lists.
History has been unkind to Russell, at least in that department. The 11-time champion averaged 15.1 points and 22.3 rebounds — your eyes do not deceive you — across 963 career games. He added 16.2 points and a staggering 24.9 rebounds per game across 165 career playoff games.
Jordan is correct that Russell played in a much different era. There was no 3-point line in the 1960s, and teams played a far more physical brand of defense than they do now. That worked out for Russell, who used his 6-foot-10 height to his advantage.
It would be a fool's errand comparing Russell's numbers to what Kevin Durant or Stephen Curry have done since entering the NBA. And if Jordan himself said comparing him and Russell is difficult … well, who's going to argue with His Airness?
Will basketball fans ever use the same logic when discussing Jordan and James?
Now in fairness to those at ESPN, some have invoked the 'different era' argument at times in the James-Jordan debate. Even Smith, who has profited off yelling about that debate for years, has said so on First Take.
Yet, people still measure championships as a way of trying to determine who's the best. Smith even said in October 2020, right after James and the Los Angeles Lakers won the NBA Finals, that he'd only choose James as the greatest of all time if the Lakers star could erase his six losses in the NBA Finals.
As much of a cop-out as this is, maybe there doesn't need to be a 'GOAT.' Jordan was easily the best of his era, and no one is going to challenge James as the greatest all-around player of the last 20 years. Others, including Kobe Bryant, have been tremendous in their own right, but none measure up to James.
Ah, but that's not what drives Twitter interactions and people turning in to watch First Take or Undisputed. No one wants to use the logic Jordan tried applying, and we're all destined to suffer for it.
Like Sportscasting on Facebook. Follow us on Twitter @sportscasting19.