A Forgotten NFL Wideout Boldly Claims He's a Top 5 Route-Runner of All Time: 'I'm the Jadakiss of Route Running'
To be a great NFL player, one has to exude confidence in their abilities. That's especially true for the wide receiver position. Route-running is one of the most valuable skills any wide receiver can have. Former Cleveland Browns and Cincinnati Bengals receiver Andrew Hawkins believes he's the cream of the crop. Hawkins recently claimed he's one of the best ever to do it while drawing a comparison to rapper Jadakiss.
Andrew Hawkins played six seasons in the NFL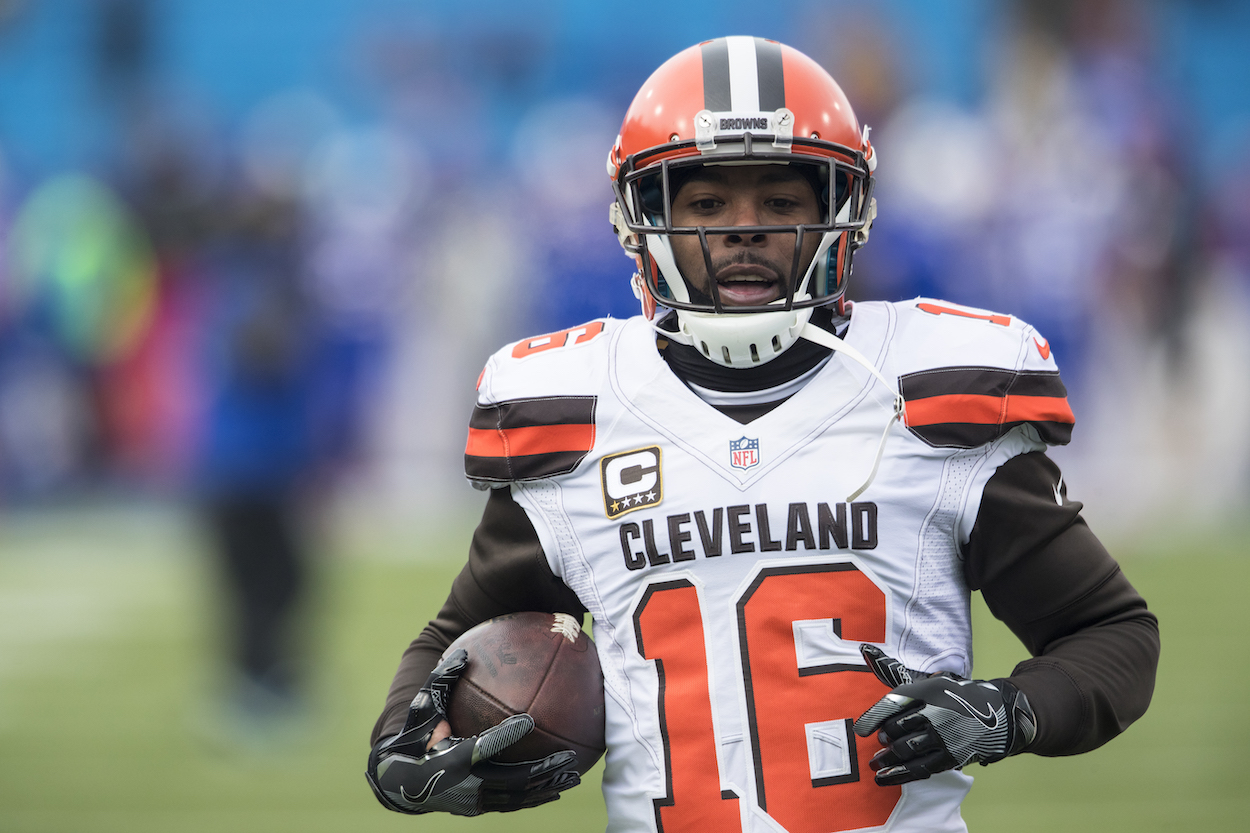 Andrew Hawkins took a unique path to the NFL.
He played high school football at Bishop McCort High School in his hometown of Johnstown, Pennsylvania. He earned a two-star cornerback prospect rating from 247 Sports as a member of the class of 2004.
Hawkins secured a scholarship offer to play at Toledo, where he played on both sides of the ball. He finished his college career with 67 receptions, 634 receiving yards, and four touchdowns. Usually, those numbers won't get you to the NFL.
After being away from the game for a year, Hawkins competed on Michael Irvin's 4th and Long and was the runner-up. Soon after, he signed with the Montreal Alouettes of the CFL.
He signed a contract with the St. Louis Rams in 2011, but the team waived him. The Cincinnati Bengals claimed Hawkins off waivers, and he'd finally found an NFL home.
Hawkins spent three seasons with the Bengals before heading across town to play another three seasons for the Cleveland Browns.
The Toledo product caught 209 passes for 2,419 yards and nine touchdowns in six NFL seasons.
Hawkins claims he's a top 5 all-time route runner
Andrew Hawkins now appears as an on-air analyst for NFL Network, but some people forget he actually enjoyed some success as a player first.
The former wide receiver recently was a guest on Getcha Popcorn Ready with T.O. and Hatch. In the interview, the guys discussed several aspects of being a receiver. Hawkins revealed his thoughts on his own route-running skills.
"Regardless of mathematically whatever, I think I'm a top five route-runner to ever play the game of football," he said. "A lot of the guys you see in the league now, they got that because of me."
Hawkins has supreme confidence in his ability to run routes and even took things a step further. "I'm like the Jadakiss of route running," he added. "Never quite hit the mainstream success but, you know, top five dead or alive."
Not only did he have to gumption to compare himself to a legendary rapper in Jadakiss. He also was bold enough to say it while sitting in the same room as a Hall of Famer like Terrell Owens.
"I can say that with my chest out," said Hawkins.
Hawkins' route-running abilities and his 4.34 speed helped him earn a spot on NFL rosters.
Who are some of the greatest route-running wideouts in NFL history?
A wideout's goal is to beat the coverage, get open, and make the catch when the opportunity presents itself. We see the highlight reel catches, but it's important to recognize the work that receivers do to put themselves in position.
Andrew Hawkins believes he's a top-five route-runner in NFL history. However, countless talented wide receivers have played in the NFL.
The Pro Football Hall of Fame features some great route runners.
Jerry Rice is arguably the greatest wide receiver of all time. While he wasn't the most elite athlete, he was a technician and ran routes with great precision. Marvin Harrison was a smaller receiver, but he always found ways to get open.
Chad Johnson and Larry Fitzgerald are two of the best from the 2000s. Johnson possessed some of the best footwork of any wideout in NFL history. Fitzgerald wasn't as fast, but he was precise with everything he did.
Today's NFL also features some elite route-running talents. Antonio Brown is still making defenders look silly at 33 years old. Amari Cooper, Keenan Allen, Stefon Diggs, and Davante Adams are artists at work on the gridiron. Cooper Kupp has now entered that conversation as well.
You have to love Andrew Hawkins' confidence. Still, he has stiff competition to get past for the Jadakiss comparison to make sense.
All stats courtesy of Pro Football Reference.