A Former 49ers Pro Bowler Calls Out Jimmy Garoppolo for Poor Leadership and Warns That Trey Lance is On His Heels: 'A Lot of Excuses'
The San Francisco 49ers underachieved through the first six games of the 2021 NFL season. They're currently sitting at 2-4 and don't appear to be legitimate contenders in the crowded NFC West. Jimmy Garoppolo's future in San Francisco is uncertain, with Trey Lance waiting in the wings.
A former 49ers Pro Bowler weighed in on Jimmy G's performance thus far and knocked how he's responded to adversity.
Jimmy Garoppolo has done little to secure 49ers starting quarterback job
The 49ers acquired Jimmy Garoppolo from the New England Patriots to be their potential quarterback of the future. However, the Eastern Illinois product hasn't panned out the way they'd hoped.
Garoppolo has made 35 starts in five seasons with the team. He's thrown for 8,458 yards, 52 touchdowns, and 30 interceptions. The 49ers have posted a 24-11 record with the 29-year-old under center.
Kyle Shanahan named Jimmy G the starting quarterback for 2021 ahead of Trey Lance, but he's not blowing anyone away. Since arriving in San Francisco, he's become more of a game manager. However, that's not enough if they want to win moving forward.
According to Pro Football Talk, Shanahan has been saying that there is no open competition for the 49ers' starting quarterback job. San Francisco has lost four straight games, so the head coach should probably reconsider his stance.
Lance may not be the answer right now, either. Still, if the team loses a couple more games, the 2021 season is a wash for the 49ers.
Former Pro Bowler Donte Whitner is tired of excuses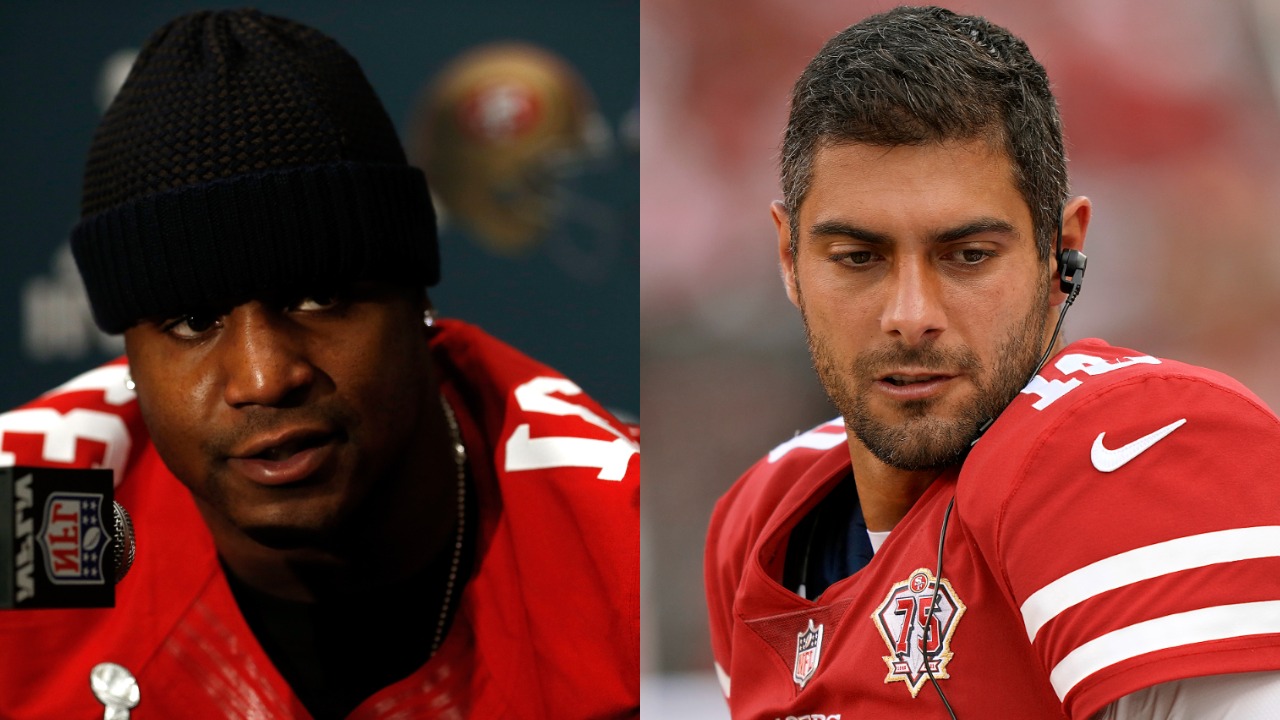 Donte Whitner played three of his 11 NFL seasons in San Francisco. Now, he works as an analyst for NBC Sports Bay Area, covering the 49ers.
The former Pro Bowl safety addressed Jimmy Garoppolo's post-game comments after the Week 7 loss to the Indianapolis Colts on Sunday Night Football.
Jimmy G referenced the ups and downs of an NFL season but suggested that the 49ers aren't out of it. Whitner didn't care for those remarks and criticized the eighth-year signal-caller.
"I hear a lot of excuses coming out of Jimmy's mouth," said Whitner per NBC Sports Bay Area. "Jimmy, we understand that. You've been saying that forever. 'We have to execute.' Yeah, you can't throw the ball to the defense. You have to take care of the ball when you're in the pocket. You understand the ball is slippery, and you're holding the ball like nobody's going to tackle you."
"These are things that lead to losses," added the player-turned-analyst. "With better leadership, better throws, with a better understanding of the offense, with a little more fire, they possibly get out of here with a win today."
Whitner also suggested Jimmy G needs to fix these mistakes quickly, or "it's going to be Trey Lance time."
Jimmy G must do more to fend off Trey Lance
The San Francisco 49ers spent high draft capital to select Trey Lance with the No. 3 overall pick in the 2021 NFL Draft. It's hard to imagine that the front office traded up to grab a player just for him to sit most of the season.
The regular season is almost at the halfway mark, so naturally, speculation will arise regarding when we will see Lance in a full-time capacity.
The North Dakota State product made his first NFL start against the Arizona Cardinals while Jimmy Garoppolo was nursing a calf injury. Lance wasn't spectacular, but that's the rookie learning curve.
The 21-year-old has spent most of the 2021 season as Jimmy G's backup. Like Justin Fields and Andy Dalton in Chicago, it's not a matter of if, but when the rookie takes over.
Garoppolo is not a bad quarterback, but he's had his chance to prove that he can be the starter for the 49ers. If he did, the front office would not have drafted Lance.
Trey Lance suffered a knee injury against the Cardinals, opening the door for Garoppolo to command the starting job. He didn't do enough to stake his claim.
Kyle Shanahan doesn't trust Jimmy Garoppolo, and it's easy to see why.
All stats courtesy of Pro Football Reference.
RELATED: A Controversial 49ers Draft Decision Is Under Fire Following Terrifying Reports of Potential Season-Ending Surgery