Former Alabama Crimson Tide Star, NFL Bust Trent Richardson Is Going to Play Where?
The NFL career of Trent Richardson played out in a sad but familiar fashion. Richardson, a consensus All-American for the Alabama Crimson Tide, was a can't-miss pro prospect who, well, missed. The 2011 Doak Walker Award winner as the nation's best running back washed out of the NFL the last time in 2016 and hasn't played an NFL game since 2014.
But Richardson has reportedly found a new place to play in 2021. He hadn't played anywhere professionally since 2019 when he was with the Birmingham Iron of the short-lived Alliance of American Football. Richardson was with the Saskatchewan Roughriders in the Canadian Football League in 2017. Much of his NFL earnings were squandered by family and friends.
While Richardson's new opportunity may not be out of this world, it's not necessarily close to home either.
It's south of the border for Trent Richardson
According to the Tuscaloosa News, Trent Richardson has signed up to play for Caudillos de Chihuahua in the Liga de Fútbol Americano de Mexico. Yes, it's an American football league in Mexico. It launched in 2018 and played its first season the following year. Chihuahua is one of two new teams joining the circuit as it restarts in 2021. There was no 2020 season due to the COVID-19 outbreak.
Richardson won't be getting rich in the circuit. The salary cap is $1.3 million (Mexican), which translates to only $66,000 for the season. That's for the entire roster, not just a single player.
"A lot of people don't get this opportunity," Richardson said. "It's huge, and I know they think I'm doing them a favor, but they're definitely doing me a favor."
Richardson will be 31 in July and is a long way from being the third player taken in the 2012 NFL draft.
Richardson waited his turn at Alabama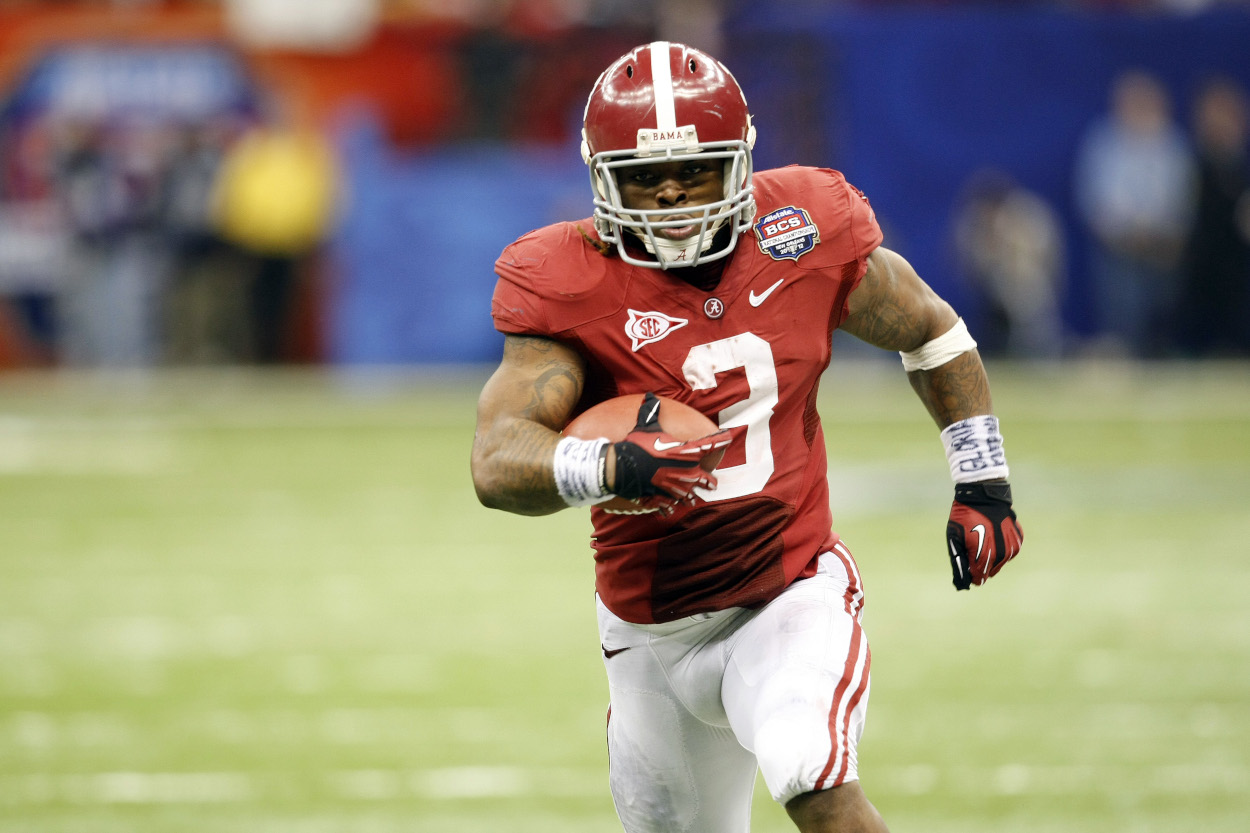 As a freshman in 2009, Richardson played behind Heisman Trophy winner Mark Ingram. He rushed for 751 yards on 145 carries, scoring eight touchdowns for a Crimson Tide squad that went 14-0 and beat Texas 37–21 to complete a 14–0 season and a BCS Championship. Richardson missed two games with a knee injury during his sophomore season. Splitting time with Ingram, he had 700 yards, and six touchdowns on 112 carries to go with four scores on 23 receptions.
Richardson had the featured-back role in 2011 and responded with 1,769 yards and 21 touchdowns on 283 carries. As a pass-catcher, he gained 338 yards with three TDs on 29 catches. Alabama again reached the top of the ladder, avenging a 9–6 overtime loss to LSU during the regular season to beat the Tigers in the BCS title game, 21–0.
At that point, Richardson declared for the NFL draft. He didn't go to the best situation.
Trent Richardson's tough road as a pro
Selected by the Cleveland Browns, Richardson started 15 games as a rookie, averaging 3.6 yards per carry and scoring 11 touchdowns. He had 950 yards on 267 attempts and caught 51 passes for 367 yards and a touchdown. Traded to the Indianapolis Colts two games into the 2013 season, Richardson's NFL career went into a downward spiral.
Indianapolis cut Richardson — for whom they gave up a 2014 first-round pick — in March 2015. He got a chance with the Oakland Raiders but didn't make the regular-season roster. In 2016, the Baltimore Ravens signed Richardson. They cut him loose in early August after Richardson reported to camp unable to play.
He caught on in Canada for the 2017 season but was third on the depth chart at running back, gaining 259 yards on 48 carries. With the AAF's Iron in 2019, Richardson had 366 yards on 125 carries — a paltry 2.9 yards per carry — but scored 11 touchdowns. The team was 5–3 when the league shut down.
For a player who boasted, after signing with the Ravens, he planned on ending his career "putting on a yellow jacket" (a reference to induction into the Hall of Fame), going to Mexico to play for almost nothing has to be something of a shock.
Statistics courtesy Pro Football Reference and SRCFB.