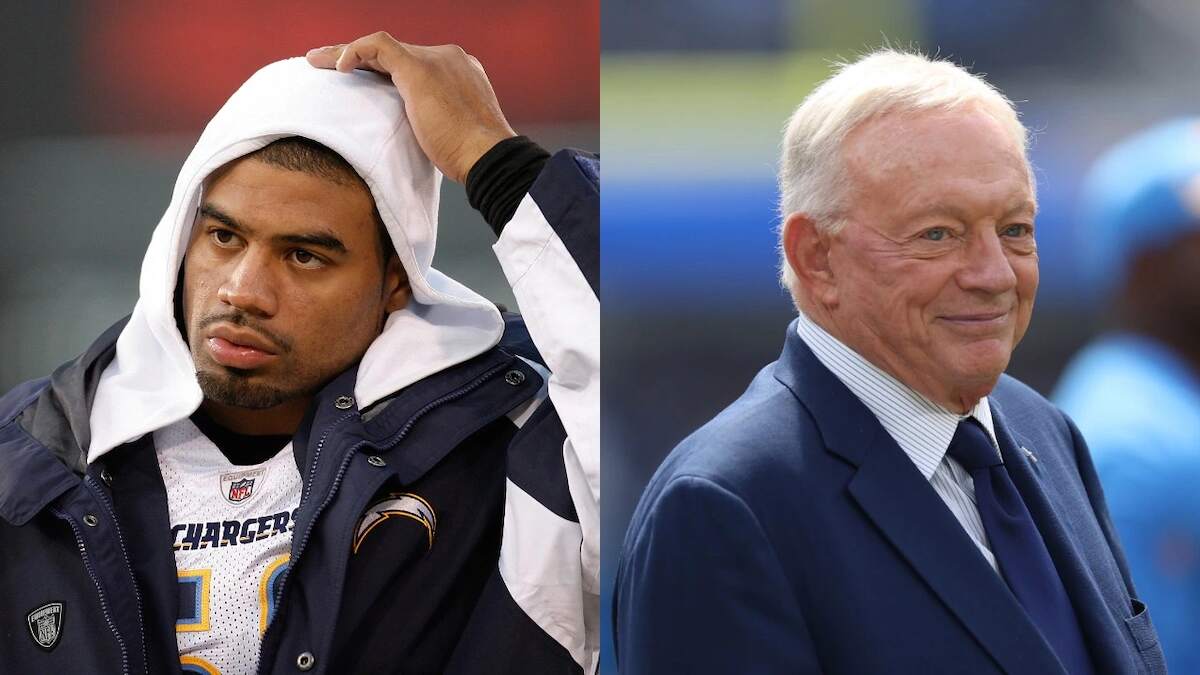 Shawne Merriman Reveals Jerry Jones and the Dallas Cowboys Betrayed Him on Draft Day: 'You Could Hear a Pin Drop'
Shawne Merriman told the story of how Jerry Jones and the Dallas Cowboys misled him going into the 2005 NFL Draft.
Over the years, Jerry Jones and the Dallas Cowboys front office have proven to have a good eye for football talent. They have a lengthy history of bringing talent in through the NFL draft.
But it's not always smooth. Now-retired linebacker Shawne Merriman detailed an interesting story about how Dallas almost drafted him in 2005.
Shawne Merriman says the Dallas Cowboys promised to draft him
Shawne Merriman earned a 3-star rating from 247 Sports after starring at Frederick Douglass High School in Upper Marlboro, Maryland.
Merriman landed a scholarship offer from the University of Maryland and committed to play college football for the Terrapins. After a productive college career, the outside linebacker flew up draft boards.
Merriman was a guest on Catchin' Fades with Aqib Talib in 2021 and detailed a story about how the Dallas Cowboys betrayed him before the 2005 NFL Draft.
The former Maryland standout said the Cowboys flew him out to Dallas, along with other players high on the team's draft board.
"We're all in the locker room. Jerry Jones and Bill Parcells sent somebody downstairs to get me, just me," Merriman explained. "They say, 'Hey, we've got the No. 11 pick. We don't think you're going to be here. We think you'll go somewhere in the top five. But if you're there, we're going to draft you.'"
After the meeting, Merriman thought his Dallas future was basically a done deal. However, the draft rolled around, and the Cowboys seemed to have a change of heart.
"The No. 11 pick came up, and they called DeMarcus [Ware]," he said. "I'm sitting there like … you could hear a pin drop. Everybody's like, 'What happened? What the f— is going on?'"
The San Diego Chargers selected Shawne Merriman with the No. 12 pick, and Dallas passing on him motivated him for the rest of his career.
DeMarcus Ware made Jerry Jones and the front office look good
Jerry Jones and the Dallas Cowboys got Shawne Merriman's hopes up in 2005, but they made the right choice by drafting DeMarcus Ware.
Ware didn't play college football at a Power Five conference school. Instead, he played at Troy. Even without a tough slate of opponents, he produced such special film that the Cowboys front office fell in love with him as a prospect.
The Auburn, Alabama, native spent 12 seasons in the NFL, and he played nine in Dallas. For several years, he was one of the fiercest pass-rushers in the league.
The nine-time Pro Bowl outside linebacker finished his impressive career with 657 tackles, 171 tackles for loss, 138.5 sacks, and 35 forced fumbles. He led the NFL in sacks twice, including 20 in 2008.
Ware's efforts eventually paid off in his second season with the Denver Broncos. He helped lead the Denver Broncos to a victory in Super Bowl 50.
Despite his success in Denver, DeMarcus Ware's best individual years came while he served as an essential piece of the Dallas Cowboys defense. That, more than anything else, helped him earn induction into the Pro Football Hall of Fame.
The Cowboys have drafted well in recent years
The Dallas Cowboys franchise has a rich history of talented players, even before Jerry Jones became the general manager in 1989.
Players like Herschel Walker, Tony Dorsett, and Michael Irvin were all Cowboys draft picks. And since Jones has taken over, the team has continued to find success in building talent through the draft.
The Cowboys drafted the famous trio of Irvin, Troy Aikman, and Emmitt Smith in back-to-back-to-back years from 1988 to 1990. Even more recently, the front office has hit the jackpot with some of its picks.
Running back Ezekiel Elliott, quarterback Dak Prescott, and cornerback Anthony Brown were part of the 2016 draft class. The Cowboys selected them in the first, fourth, and sixth rounds, respectively.
Tony Pollard (No. 128 overall in 2019), CeeDee Lamb (No. 17 in 2020), Trevon Diggs (No. 51 in 2020), and Micah Parsons (No. 12 in 2021) have also been successful recent members of high-quality draft classes, and Tyler Smith (No. 24 in 2022) started all 17 games during his rookie season.
Shawne Merriman may not be a Dallas success story, but that doesn't exactly leave the franchise with a shortage of success in the annual prospect pageant.