Former NBA All-Star Is Fed up With the Non-Stop Michael Jordan-LeBron James Comparisons: 'Kobe Was the Closest Thing'
If the debate between which player is greater, Michael Jordan or LeBron James, feels like it never ends, it's because, well, it doesn't. One can almost recite the resumes by heart: six championships, six Finals MVPs for Jordan; four titles, four Finals MVPs for James. James has passed Jordan in the counting stats due to a longer career. MJ never lost in the Finals; LeBron's teams are 4–6.
The best, or worst depending on your perspective, part of it is there is no winner. It's a matter of opinion, and despite current trends to the contrary, an opinion is, by definition, not a statement of fact. But at least one former NBA All-Star thinks the whole Jordan-James debate is flawed from the start and should just go away.
Michael Jordan and LeBron James are not particularly similar in style of play
Michael Jordan took dominance from the wing to new levels during his brilliant career. Along with Scottie Pippen, Jordan and the Chicago Bulls took the traditional notion of winning with dominant big men and tossed it out the nearest window.
The Bulls with Jordan won six NBA titles, three with Bill Cartwright and Horace Grant as the bigs and three with Luc Longley and Dennis Rodman up front. Rodman is a Hall of Famer and deservedly so, but he was not a prototypical dominant big man, either. Cartwright was in the twilight of his career by the time he got to Chicago. Grant was a high-level role player, while Longley was the same, just not as at high a level.
Meanwhile, LeBron James wasn't a generational iteration of Jordan. Instead, he was cut more from the cloth of Oscar Robertson and Magic Johnson. James is a large-sized wing who is most comfortable running the offense. He's been the de facto point guard for every team with which he's played. Heck, he even led the NBA in assists in 2019–20.
So rather than an apples-to-apples comparison, MJ vs. LBJ turns into more of a stylistic jambalaya. While they could do some similar things on the court, they have never been the same type of player.
Shawn Marion takes issue with the Jordan-James debate
During a recent appearance with Brandon "Scoop B" Robinson of Bally Sports, former All-Star Shawn Marion had two points he wanted to make about the infinite loop that is the comparison between LeBron James and Michael Jordan.
For starters, according to The Matrix, James has never tried to be Jordan. Beyond that, however, Marion knows that LeBron's career is winding down and we need to be aware that what we're getting to see is special:
"LeBron, by far, has been one [of] the best athletes that we've witnessed to see right now, and we've got to appreciate it. Stop trying to compare the two."
Marion only got to see Jordan first-hand four times, all when MJ was with the Washington Wizards from 2001–03. The Wizards went 3–1 in those games and Jordan averaged 24.0 points a night.
By contrast. Marion and James did battle 23 times from 2003–14 and were on opposite sides during the 2011 NBA Finals, when The Matrix's Dallas Mavericks topped The King's Miami Heat.
Finally, they were teammates in Marion's final season in 2014–15, though Marion was not in the playoff rotation for the Cleveland Cavaliers.
Besides, the two-time All-NBA forward says there's a more direct line between Jordan and another player.
Michael Jordan vs. LeBron James? Marion has another idea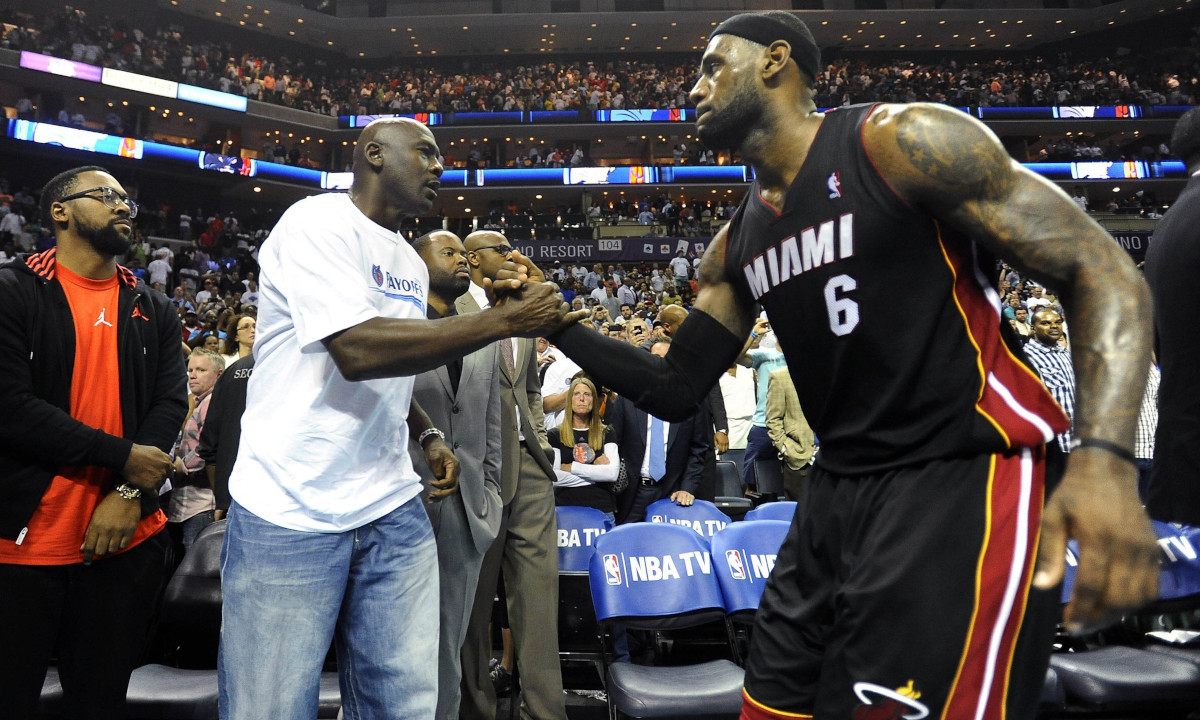 There is another NBA legend who compares more closely to Michael Jordan, according to Marion. He remembers 46 regular-season games and 21 playoff battles against a guy much more aligned with Jordan's DNA. Or as he put it succinctly:
"Kobe was the closest thing."
It's no secret Kobe Bryant modeled much of his game and demeanor on Jordan. He was a ruthless score-first, score-second, take-no-prisoners superstar. He could share the ball, but when push came to shove, Bean wanted the rock in his hands. You don't tell Shaquille O'Neal to rebound your misses if he wants the ball when your first instinct is to be a facilitator.
Bryant was in seven NBA Finals, with the Lakers winning five times. Kobe finished with two Finals MVP awards. Jordan comes out ahead there. But stylistically, they were quite similar.
The LeBron James vs. Michael Jordan debate will never go away. But when a veteran of 16 years who played against James, Jordan, and Bryant lays it out that the comparison is faulty, maybe we should think about heeding his advice.
Statistics courtesy of Basketball Reference and Stathead.
RELATED: Michael Jordan, LeBron James GOAT Debate Got Harsh Reaction From Charles Barkley: 'LeBron Has Stacked His Teams, Let's Be Realistic'