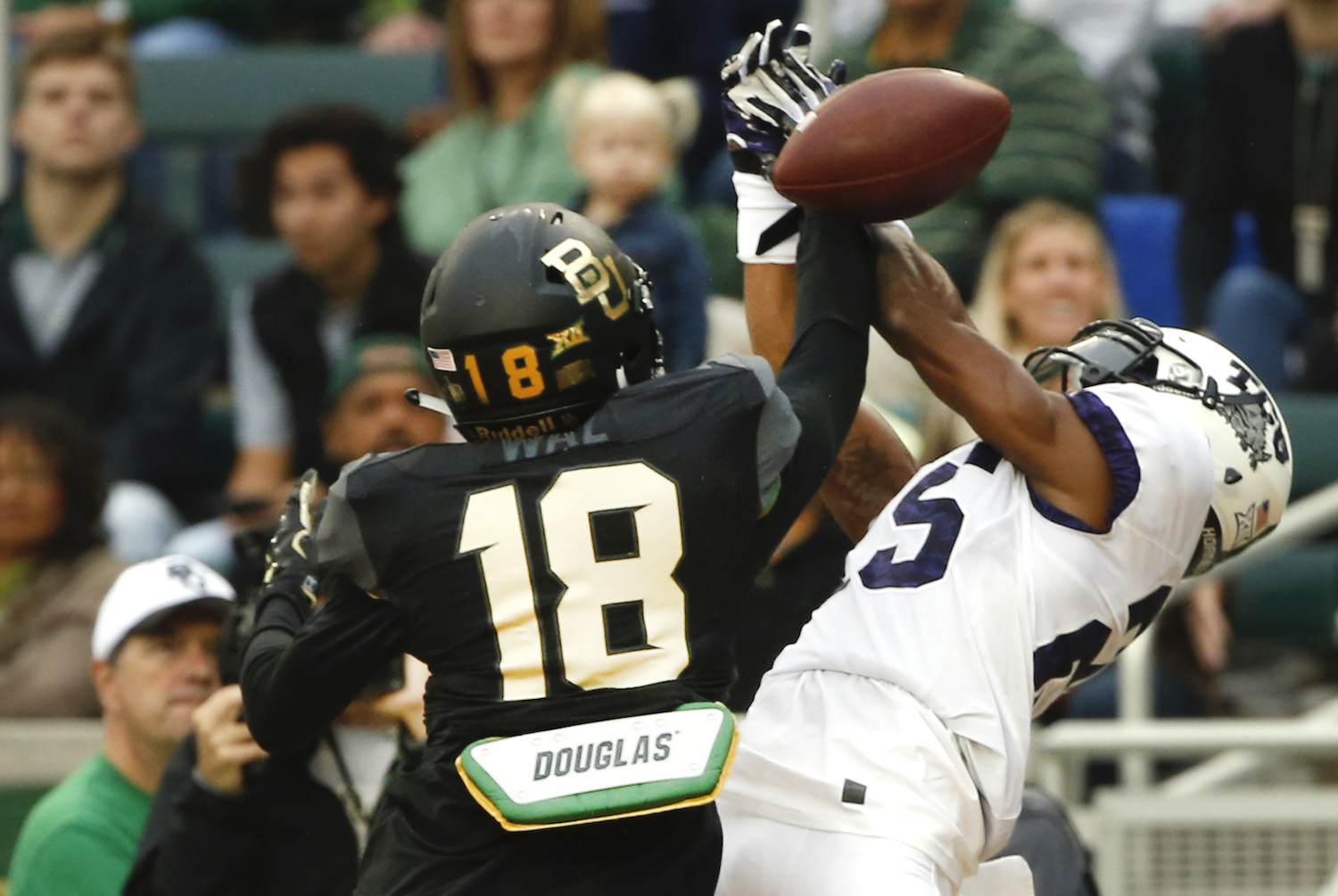 Former Baylor Bears Defensive Standout Chance Waz Dead at 25
Five years ago Chance Waz earned All-Big 12 honors as a member of the Baylor Bears' secondary. Tragically, he died this weekend at age 25.
Chance Waz signed with the Baylor Bears in 2014. He could have never imagined what would unfold in the next four years of his life in Waco. During that time, he played for three different coaches. Despite the coaching carousel, Waz persevered and was a standout defensive back for the Bears, earning All-Big 12 honors in 2015. Tragically, just five years later, Chance Waz has died at age 25. 
Chance Waz earns All-Big 12 honors at Baylor
Coming out of high school at Pflugerville Hendrickson, a school in the suburbs of Austin, Chance Waz had options. After a pair of initial commitments to Colorado and then Nebraska, the Austin-area 5A all-state safety settled on the Baylor Bears. 
Waz saw limited action during his first season in Waco, playing in five games and recording 10 tackles. In 2015, he introduced himself to the Big 12 and was a stalwart for the Baylor secondary in his second season under head coach Art Briles. That season he registered 70 tackles and added a fumble recovery and three pass deflections. He received All-Big 12 honorable mention honors. 
During his junior season in 2016, under new head coach Jim Grobe, Chance Waz had another productive season, although it got off to a delayed start as he missed the first game and a half due to a violation of team rules. In 12 games, he recorded 51 tackles and three pass deflections. 
In Waz's senior year, his numbers declined as he played in just seven games under new head coach Matt Rhule. He finished the season with 15 tackles. 
Rumors of Chance Waz death spread on Twitter
On Sunday, word of Chance Waz's unexpected death began circulating on Twitter with the hashtag #RIPChanceWaz. Multiple former teammates offered thoughts on the former Baylor Bears safety, including former linebacker Taylor Young, who played with Waz all four years in Waco.  
"Chance I Love you brudda never stopped! I'm sorry I didn't understand why you was acting like that today.. I'm sorry I didn't tell you the right things…You will be remembered forever.. Rest Easy Brudda!"
Former Baylor offensive lineman Jarell Broxton, who played with Waz in 2015, had a message to all of his former teammates. 
"I know I don't talk to all my former teammates just know I love y'all man stay safe, take care of your mental."
Baylor confirms death
On Monday, Baylor University confirmed Chance Waz's death on Twitter with a succinct message — "Heartbroken. Forever a member of the Baylor Family" — and it included a graphic with Waz. 
Other players offered their thoughts on the passing of Waz, including former Baylor quarterback Seth Russell. 
"No words will be able to explain the loss of a teammate, friend, family, brother in Christ," Russell said. "Chance always had a positive attitude towards life. Prayers are lifted high for the Waz family in this time of mourning and celebration of his life."
As of this time, there has been no official cause of death confirmed. 
Stats courtesy of College Football Reference.