Former Bengals Receiver Mohamed Sanu Was Thrilled to See Cincy Reach Super Bowl, Still Has Tremendous Love for Loyal Fan Base: 'I Was so Happy'
People always say you have to pay your dues to have success, but Cincinnati Bengals fans forked over a lot more than just that. They had to feel heartbreak after heartbreak after heartbreak for over three decades before finally getting to another Super Bowl this season.
And while former Bengals receiver Mohamed Sanu played on the Cincy teams that couldn't quite get over the hump, he was still thrilled to see his old squad win its way to the NFL's championship game. That long wait is finally over.
Mohamed Sanu started his NFL career with the Bengals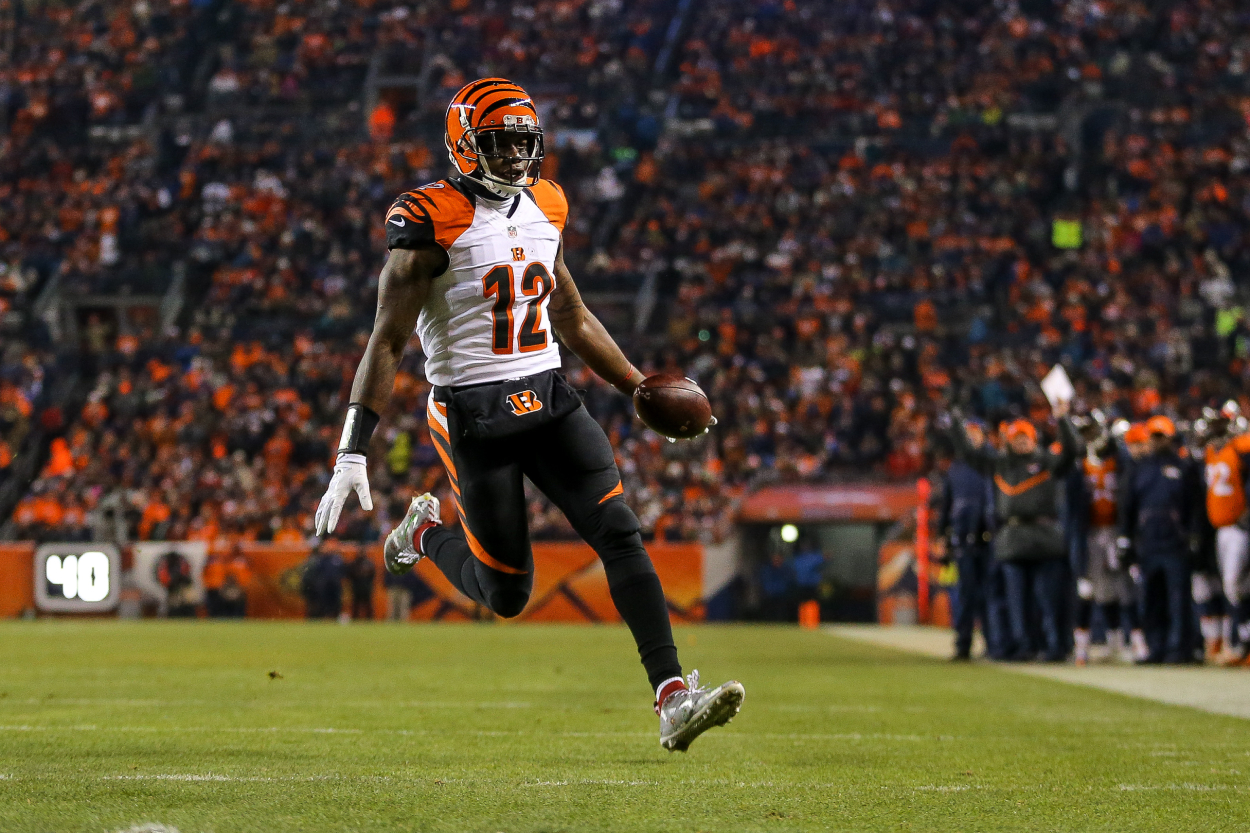 Mohamed Sanu entered the NFL after a stellar career at Rutgers. The Bengals selected him in the third round of the 2012 NFL draft, and he went on to become a reliable pass-catcher in Cincinnati.
Sanu caught 152 passes for 1,793 yards and 11 touchdowns in four seasons with the team. His best year came in 2014 when he had 56 catches for 790 yards and five TDs, only trailing Pro Bowl receiver A.J. Green that season, who had over 1,000 yards in 13 games.
Sanu played on some stellar squads during those four years. The Bengals won at least 10 games each season and even went 12-4 in 2015. But they couldn't find success in the postseason, losing in the Wild Card Round each time.
"It was a great experience," Sanu said in an interview with Sportscasting while discussing his work with CTS Trucking. "We had such a talented group. Those four years, I had so much fun. We won a lot. We didn't win when we wanted to in the playoffs. But we made it to the playoffs every year. There's people that play their whole entire careers without even making it to the playoffs. So, I was grateful to make it to the playoffs."
Sanu eventually found postseason success once he left Cincy. He played for the Atlanta Falcons for three-and-a-half years and reached the Super Bowl during the 2016 campaign, even catching a touchdown in the NFC Championship Game. He also later teamed up with Tom Brady on the New England Patriots before spending some time on the Detroit Lions in 2020 and the San Francisco 49ers in 2020 and 2021.
His 49ers squad was just one win away from reaching this year's Super Bowl, losing to the Los Angeles Rams in the NFC Championship Game. But his old team, the Bengals, finally made it back to the big stage. They beat the Kansas City Chiefs in a thrilling AFC title game to reach their first Super Bowl since the 1988 season. They will face off against the star-studded Rams on Feb. 13.
The former Bengals pass-catcher is thrilled for his old team
During Mohamed Sanu's time with the Bengals, he played in front of a loyal fan base. Despite not winning a playoff game from the 1991 season until the 2021 campaign, they still stuck by their team.
And Sanu has a tremendous amount of love for them.
"I loved playing in front of the Bengals' fan base," Sanu said. "They had that stadium rocking every time. You see it in how they had the stadium rocking this year. … It's a great fan base. I'll always love the Bengals' fan base."
So, how did it feel to see those die-hard supporters and members of his old team finally reach a long-awaited Super Bowl?
Sanu was thrilled.
"I was so happy to see them make it," he said. "Not gonna lie, I was very excited. I know a lot of those guys that I played with; got a couple of guys that are still on the team, you got a lot of the new guys. Some of the people that are in the organization still, they deserve that experience. I hope they win. Everybody, they earned that right to be there."
How does Mohamed Sanu feel about this current Bengals squad?
Mohamed Sanu's Bengals teams had stacked rosters with guys like A.J. Green, Andy Dalton, Carlos Dunlap, and others. But this current version has a ton of tremendous young talent in quarterback Joe Burrow (a man with many nicknames), wide receivers Ja'Marr Chase and Tee Higgins, running back Joe Mixon, and various defensive stars like Trey Hendrickson and Jessie Bates III.
Sanu, like many others, appears to be a big Burrow fan.
"He's very confident, he always stays calm in situations. He knows what he wants and goes out and gets it," he said. "Quarterbacks that are able to command themselves and know how to move in certain situations is what makes them unique, what makes them great."
Of course, as a receiver, Sanu loves guys like the record-breaking Chase, Higgins, and Tyler Boyd, a trio that has become arguably the best receiving corps in the NFL.
"One of my favorite receiving cores, they just play really, really well," Sanu said. "They play together. They feed off each other, they all do stuff differently. Ja'Marr is big, physical, fast, tough, go makes the tough catches. Him and Joe (Burrow) got a great connection. They understand each other, they know where each other's gonna be. … They're relationship, you can see that on the field. Same thing with T. Higg and T. Boyd. You can tell they put in the work to build chemistry these past two years."
Sanu doesn't have a prediction for the Bengals-Rams Super Bowl matchup just yet. Cincy will have its hands full with Aaron Donald, while LA will also have a tall task of trying to stop Burrow and company.
However, he thinks his old squad has a shot, especially if they can get their playmakers the ball.
"You gotta hold up (against Donald and Von Miller) as much as you can, as best as you can, get plays that are able to get your playmakers the ball, get it in space," Sanu said. "Being able to attack the weak points of the defense, and if you're able to do it consistently, Bengals have a shot."
Stats courtesy of Pro Football Reference
RELATED: The Cincinnati Bengals' Super Bowl Appearance Puts Pressure on the Reds to Finally Abandon Their Losing Ways