Former Bengals Star Pacman Jones Had to Forfeit Over $2 Million in Fines
Adam 'Pacman' Jones' NFL career can be interpreted in one of two ways. It is easy to see him as a troubled defensive back who constantly ran afoul of the league and its personal conduct policies.
On the other hand, Pacman Jones was an excellent player who, after early off-field issues, turned himself into a key member of the Cincinnati Bengals' defense.
That complicated legacy, and the over $2 million Jones forfeited from his nearly $40 million in career earnings, makes him a fascinating player in hindsight.
Pacman Jones was a controversial, yet effective safety
Considering Pacman Jones' NFL career nearly ended when he was 25, it is a testament to his hard work that he played until he was 35.
A first-round pick of the Tennessee Titans in 2005, Jones totaled 17 interceptions, 92 pass breakups, seven forced fumbles, and 12 fumble recoveries in 12 seasons.
Jones played eight years with the Cincinnati Bengals. He earned All-Pro honors in 2014 and a Pro Bowl selection a year later.
Pacman Jones was also an underrated return specialist. He returned four punts for touchdowns in his first two NFL seasons and brought another one back for a score in 2012.
Jones also turned two interceptions and a fumble into touchdowns.
Jones owed the NFL a lot of money in fines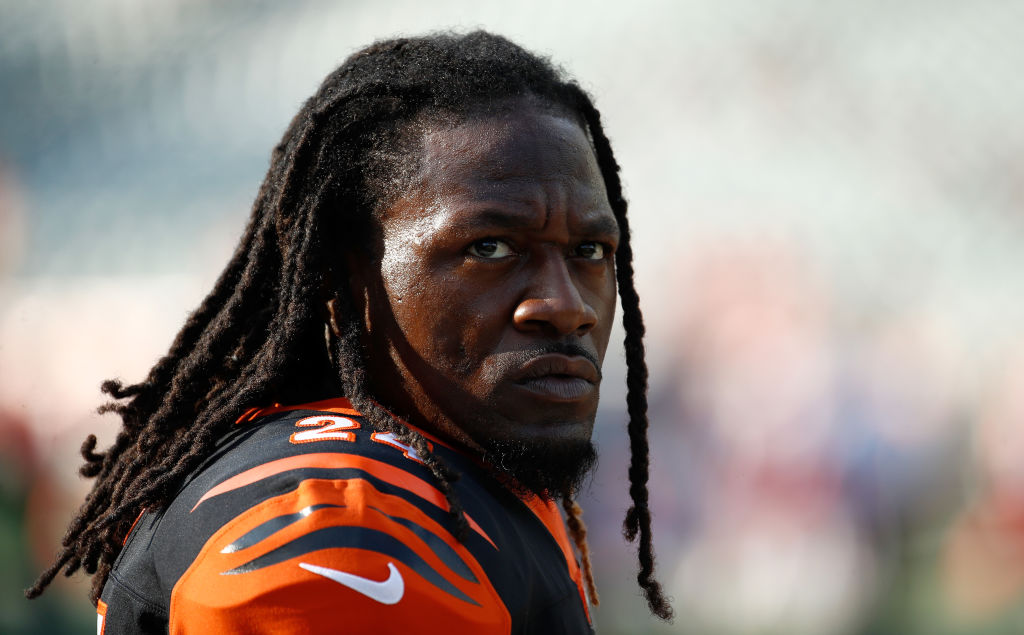 Officially, Adam "Pacman" Jones forfeited close to $2.2 million for on and off-field behavior. Nearly $1.3 million of that came when Jones missed the 2007 season following an altercation in Las Vegas.
Jones and the rapper Nelly were part of a party that showered the stage at a strip club with hundreds of $1 bills.
When a dancer began collecting the money, Jones allegedly slammed her head on the stage. Jones was also accused of threatening a security guard's life.
Pacman Jones accepted a plea deal on two felony charges stemming from the incident. He later pleaded no contest to one charge of conspiracy to commit disorderly conduct and served 200 hours of community service.
Jones served a four-game suspension in October 2008 after an altercation with his bodyguard in a Dallas hotel. Jones entered an alcohol rehabilitation center over a week later and returned to the field that December.
Pacman Jones forfeited over $50,000 in fines related to on-field conduct. The NFL fined him $15,750 in September 2012 for a horse-collar tackle against Redskins rookie running back Alfred Morris.
Three years later, Jones forfeited $35,000 after an unnecessary roughness call against another rookie, Oakland's Amari Cooper.
Pacman Jones' most famous penalty came in a January 2016 playoff game against the Pittsburgh Steelers. Pittsburgh assistant coach Joey Porter argued with Pacman Jones after Jones' teammate, linebacker Vontaze Burfict, delivered an illegal hit on Steelers receiver Antonio Brown.
Jones served a one-game suspension and forfeited a $431,250 game check in 2017. Jones pleaded guilty to a misdemeanor charge relating to assaulting a hotel employee.
Will there ever be another Pacman Jones?
The NFL has slowly but surely moved to eliminate the controversial hard-hitting players from the league. Pacman Jones retired last year and his former teammate, Oakland Raiders linebacker Vontaze Burfict, served a suspension for most of the 2019 season after a late hit.
There will always be players fined for rough hits so long as football is in its current form. But both the NFL and the NFL Players Association agree that players who put others at risk should not be allowed to see the field without consequences.
As for the off-field issues that led to Pacman Jones' early departures from Tennessee and Dallas, the NFL is no stranger to problematic players. Ex-Steelers receiver Antonio Brown may never play again for a myriad of legal issues.
Injuries and off-field problems have already impacted Redskins linebacker Reuben Foster's career.
When Pacman Jones was playing and away from a courtroom, he was one of the NFL's most underrated cornerbacks. But the history of off-field problems sealed Jones' legacy more than any clutch interception ever could.