Former Bills TE Buster Barnett's Mistress Kidnapped and Killed His Wife After Learning of the Couple's Planned Trip to Vegas
Buster Barnett did not play in the NFL for very long. He ultimately played tight end on the Buffalo Bills for just four seasons after playing college football at Jackson State.
However, after his playing career, Barnett was involved in an incredibly tragic incident. In 2015, Barnett's wife sadly died after she was kidnapped and then killed by his alleged mistress.
Buster Barnett played on the Buffalo Bills for four seasons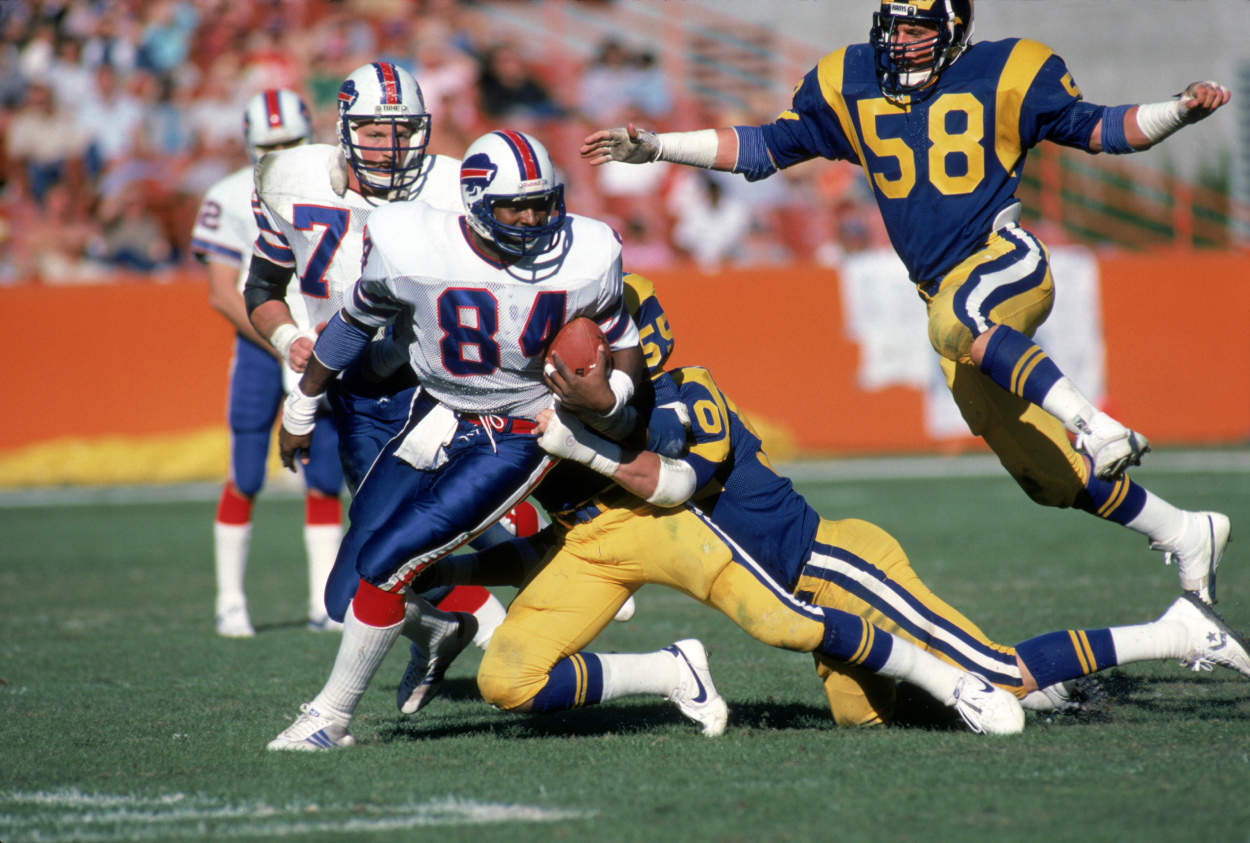 The Buffalo Bills drafted Buster Barnett in the 11th round of the 1981 NFL draft out of Jackson State. 
He didn't play in the NFL for very long, but Barnett was on a Bills team in 1981 that went 10-6 and made the playoffs. The team's run to the postseason that year ultimately came in large part because of Buffalo's dominant defense, as it only allowed 17.3 points per game. The Bills also had a Pro Bowl running back in Joe Cribbs, as he ran for 1,097 yards and three touchdowns.
Buffalo then won in the wild-card round of the playoffs that season before losing in the divisional round to the Cincinnati Bengals.
After that 1981 campaign, though, Barnett, who just caught four passes for 36 yards and a touchdown that year, only played on the Bills through 1984. Buffalo missed the playoffs in each of his last three seasons, too, and even went 2-14 in his final one.
Barnett eventually finished his career with 26 catches for 236 yards and a touchdown, and played in 56 total games, only missing one game in his entire career.
However, following his playing days, Barnett's life ended up taking quite a turn.
Buster Barnett's alleged mistress kidnapped his wife
According to a 2015 Associated Press report on ESPN, Buster Barnett told police that he and a woman named Lisa Brown were in a relationship. He also owned both her vehicle and her home. This was all while he was still married to Sandra Barnett.
On July 15, 2015, Brown ended up going to Buster's place of work, and she was upset about a trip to Las Vegas that Buster had planned with Sandra, police said, per ESPN. After that, Brown then went to Buster's home in Georgia and ultimately abducted his wife.
During her abduction, Sandra had actually been on the phone with her friend, Ruby Chester. Chester told the Associated Press that she heard a woman yelling at Sandra to open the door. The woman then threatened to kill Sandra if she didn't open it.
Chester also said that she and Sandra had known of Buster's affair with Brown and that Brown had harassed Sandra before. 
"Lisa Brown had been aggressive toward Barnett and had been bothering Barnett off and on for some time — showing up at the house, texting her, calling her," Chester said, according to ESPN.
Despite the harassment, Sandra always just left it for Buster to handle, according to Chester.
On the day of Sandra's abduction, Chester, who was not in the same county at the time, had a friend drive to the home. He then called 911. Before the police arrived, though, an SUV drove off from the house.
His alleged mistress ultimately killed his wife before killing herself
After police issued a lookout for the SUV, authorities later spotted the vehicle the next day, according to USA Today. They then chased it into Alabama, where a standoff occurred.
The AP's report says that Brown eventually reached into the backseat, according to police, and grabbed a gun. She then killed Sandra before ultimately killing herself. They were both dead once officers got to the vehicle.
After the tragic incident, Buster then later won control over Sandra's estate, according to a Law.com report on Yahoo. This was despite the fact that he had filed for divorce the month before her death.
Prior to her murder, Sandra had been a teacher for over 20 years.
"Everybody just remembers this bubbly, happy spirit — just happy," Sandra's co-worker Nimet Muhammad said of her, per USA Today. "Every day at work, you could just count on her."
How to get help: In the U.S., call the National Suicide Prevention Lifeline at 1-800-273-8255. Or text HOME to 741-741 to connect with a trained crisis counselor at the free Crisis Text Line.
Stats courtesy of Pro Football Reference