Former Bulls Coach Doug Collins Was Actually a Better NBA Player Than He Was a Coach
Doug Collins had some success coaching Michael Jordan and the Chicago Bulls in the 1980s. However, his success was not enough to keep him around as he was only with the Bulls for three seasons. Collins went on to coach three other teams in his coaching career and did decent at all of those stops. However, Doug Collins was actually a better basketball player than he was a basketball coach.
Finding success on the Chicago Bulls
Doug Collins first coached Michael Jordan and the Chicago Bulls during the 1986-87 season. Despite having a losing record of 40-42, the Bulls still got to the playoffs that season. They ultimately lost in the first round, though.
Collins, however, helped them become an excellent team during the next two seasons. The Bulls went 50-32 in 1987-88 and reached the Eastern Conference Semifinals. They then went 47-35 in 1988-89 and went all the way to the Eastern Conference Finals. The league could certainly tell that the Bulls were on their way to the top.
If they got to the top, though, Collins was not going to be there for it. The Chicago Bulls fired Doug Collins in 1989 and then turned to future Hall of Fame coach Phil Jackson the next season.
Collins had some success as a coach on some other teams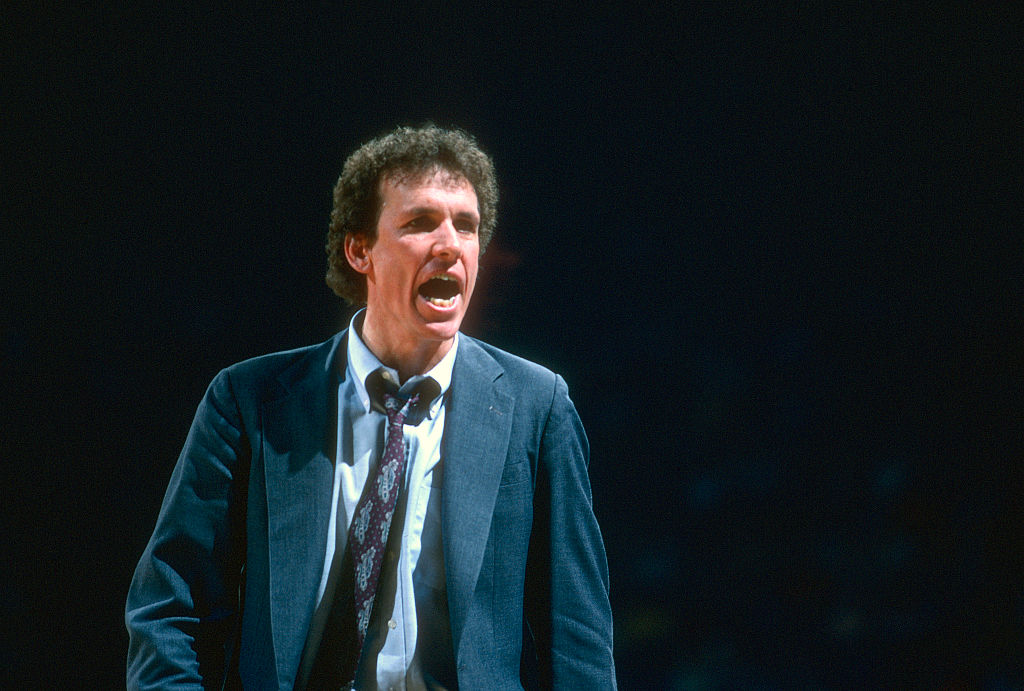 Doug Collins coached three other teams over the course of his coaching career. He coached the Detroit Pistons for two-and-a-half seasons from 1995-96 to 1997-98. After going 28-54 the season before hiring Collins, the Pistons went 46-36 in 1995-96. They made it to the playoffs too and lost in the first round. The team then went 54-28 in 1996-97 but lost in the first round again.
During the 1997-98 season, though, the Pistons got off to a 21-24 start and then ultimately fired Collins.
Collins then coached the Washington Wizards for two seasons in 2001-02 and 2002-03, reuniting with Michael Jordan. They ultimately went 37-45 in each of those seasons, though, as they failed to reach the playoffs. He then coached the Philadelphia 76ers for three seasons from 2010-11 through 2012-13. The 76ers reached the playoffs those first two seasons with Collins. They even reached the Eastern Conference Semifinals in 2011-12. In 2012-13, though, the 76ers ultimately went 34-48 and missed the playoffs.
Collins resigned as head coach of the 76ers in April 2013 and retired from coaching, according to ESPN.
Doug Collins was actually a better player
The Philadelphia 76ers actually selected Doug Collins with the No. 1 overall pick in the 1973 NBA draft. He was an outstanding player for them too. In his second season, Collins averaged 17.9 points per game. In fact, for five straight seasons from 1974-75 through 1978-79, he didn't average under 17 points per game. Collins also earned four consecutive All-Star selections from 1975-76 through 1978-79. His best season statistically was probably in 1975-76 when he averaged 20.8 points per game and four rebounds.
Collins and the 76ers had a lot of success too, as he helped them get to the NBA Finals in 1976-77 and 1979-80. However, he ultimately only played in eight seasons as knee and foot injuries cut his career short, according to NBC Sports Philadelphia.
Doug Collins was a pretty successful coach. No, he never won an NBA championship, but he helped guide some teams to a lot of success. However, Collins might have been an even better NBA player than he was an NBA coach. Looking at his stats, and looking at the fact that he had a lot of potential being a No. 1 overall pick, Collins could have been looked at as one of the greatest players of all-time had injuries not cut his career short.