Former Cardinals WR Larry Fitzgerald Is Hinting at a Kyler Murray Trade
After a disappointing 2021 NFL season that resulted in the Arizona Cardinals exiting the playoffs in the Wild Card Round, quarterback Kyler Murray decided to make some waves on social media.
Muray deleted everything Cardinals-related on his personal Instagram account, leading many to believe he could be on the way out of town this offseason. Significant change occurring in Arizona certainly feels likely. It's just a matter of who will be leaving and when.
Legendary Cardinals WR Larry Fitzgerald didn't rule out the possibility of Kyler Murray leaving
When asked about the purging of Cardinals' content on Instagram, Murray's agent offered no comments about what it means or doesn't mean. However, that hasn't stopped speculation from running rampant by people connected to the organization.
When questioned about the incident, legendary Cardinals wide receiver Larry Fitzgerald didn't rule out the possibility of a trade occurring this offseason. In fact, he even slightly hinted at it.
"I haven't talked to Kyler in a while, but he looked good in the Pro Bowl, looked like he was having a great time, throwing touchdowns out there," Fitzgerald said on Tuesday at the WM Phoenix Open. "I just hope everything works out the way both sides want it to work out. That's really what it's all about for me. I love Kyler, I love the Cardinals, and I want the best for everybody."
Fitzgerald didn't give any insider information one way or the other. However, his comments about wanting "the best for everybody" certainly allude to the possibility of a divorce happening at some point.
Wanting the best for everybody is undoubtedly different than wanting everybody to stay together. What's best for Murray could be leaving, for example.
Why would the Arizona Cardinals trade Kyler Murray?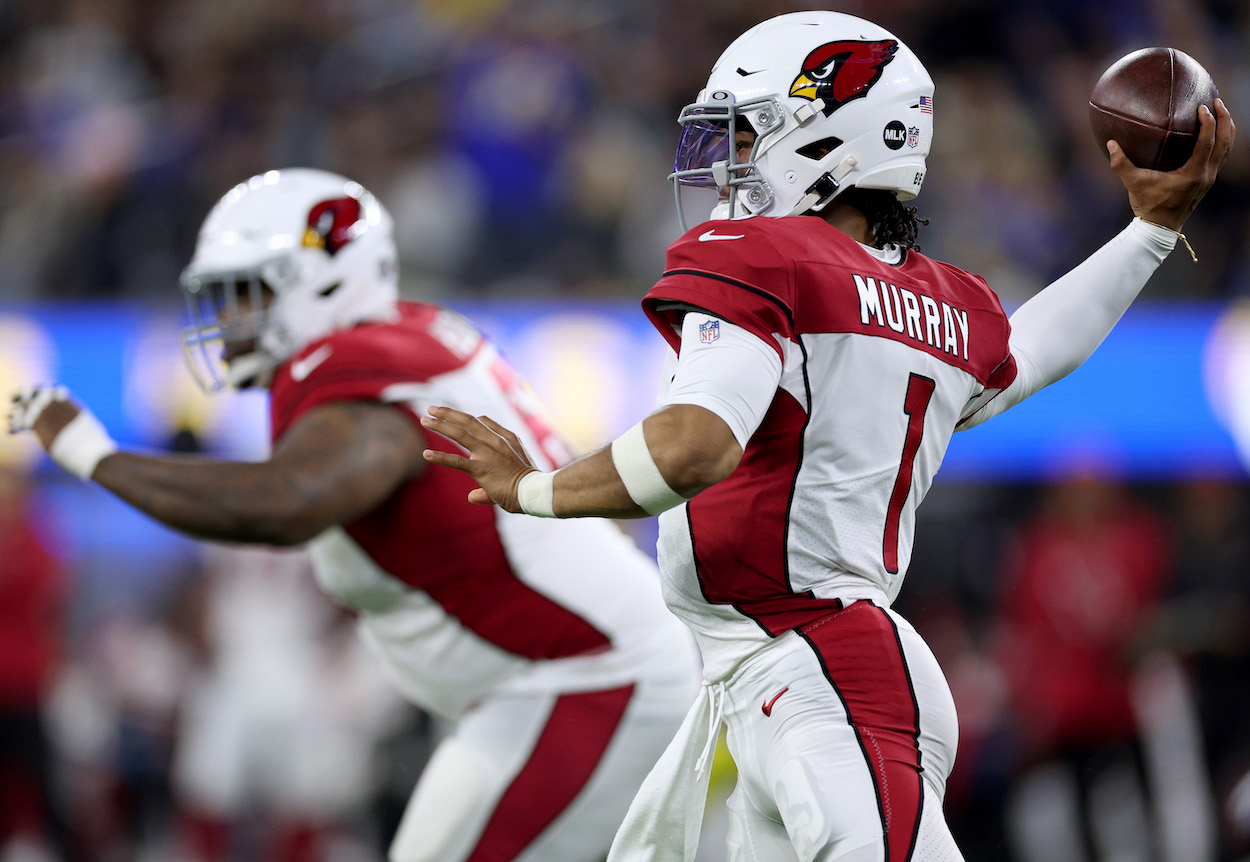 From the outside looking in, it's hard to imagine why the Cardinals would give up on Kyler Murray. They selected him No. 1 overall just a few years ago, and he's largely transformed their previously anemic offense.
However, money talks, and there's a half-decent chance Arizona is simply not interested in handing Murray a massive contract extension. Murray is entering year four of his rookie deal. The time to ink an extension is now.
Seeing as the Cardinals have yet to win a playoff game with Murray under center. There's a possibility the front office is deeming him part of the problem and not worth a large payday.
Arizona should part ways with Kliff Kingsbury first
Before kicking their franchise quarterback to the curb, it'd make a lot more sense for Arizona to see what Murray can do with a new head coach. Kliff Kingsbury was heavily praised coming out of the college ranks. However, his results in the NFL have been lackluster.
The Cardinals have experienced back-to-back second-half collapses the past two seasons, and Kingsbury looked seriously outmatched against Sean McVay and the Los Angeles Rams in the Wild Card Round.
Arizona needs to change things up moving forward. That makes perfect sense. However, bailing on a 25-year-old QB who was in the MVP conversation as recently as last season seems foolish.
One can only assume Larry Fitzgerald agrees.
All stats courtesy of Pro Football Reference.
RELATED: Former NFL DB Ryan Clark Completely Destroys Russell Wilson Amidst Trade Rumors