A Former NBA Champion Wonders Why Tim Duncan Is so Egregiously Overlooked by History
Hall of Famer Tim Duncan got his deserved spot on the NBA 75th anniversary team. But one former NBA champion wonders why the greatest player to ever lace them up for the San Antonio Spurs doesn't rate in higher-level discussions about the best to play the game. Duncan is generally viewed as the greatest power forward in NBA history with a resume as impressive as it is long. But The Big Fundamental seldom is mentioned when pundits throw out their all-time top-five lists.
Duncan was a 15-time All-NBA selection, tied for second-most all-time. The other names on that shortlist are all in the top-five talk: LeBron James leads with 17 All-NBA nods. Kareem Abdul-Jabbar and Kobe Bryant join Duncan with 15 berths. Yet Duncan doesn't seem to get the same respect afforded the other three.
Tim Duncan hurt his case with his consistency for the San Antonio Spurs
As his most common nickname implies, Tim Duncan wasn't a flashy NBA player. He made his money at the bank, with his midrange jumper dropping in off the glass with regularity. He rebounded well, was an all-time great defender, and won early and often in his career.
Duncan played 19 seasons with the San Antonio Spurs, averaging 19.0 points, 10.8 rebounds, 3.0 assists, and 2.2 blocks per game. But he never led the NBA in any of the major categories. His career-best scoring average was 25.5 points, and he topped out at 12.9 rebounds.
He wasn't so much a bolt of lightning that struck at the heart of opponents as much as he was a steady drip of Novocain that eventually put foes to sleep.
Despite the lack of flash, Duncan won two NBA MVP awards, was a three-time NBA Finals MVP and helped the Spurs to all five of their NBA championships. He was also a Rookie of the Year in 1997–98. Nineteen of San Antonio's record-tying 22 straight postseason berths came after Duncan arrived at The Alamo.
How consistently good were the Spurs with Duncan? They won at least 50 games every season but one while he wore the black-and-silver, which came in the lockout-shortened 1998–99 season. San Antonio was 37–13 that season, a 61-win pace over 82 games.
But a former foe who did battle with Duncan 27 times over the 10 seasons they were in the NBA together wonders why Timmay doesn't get more respect.
Like many former foes, Channing Frye seldom got the best of Duncan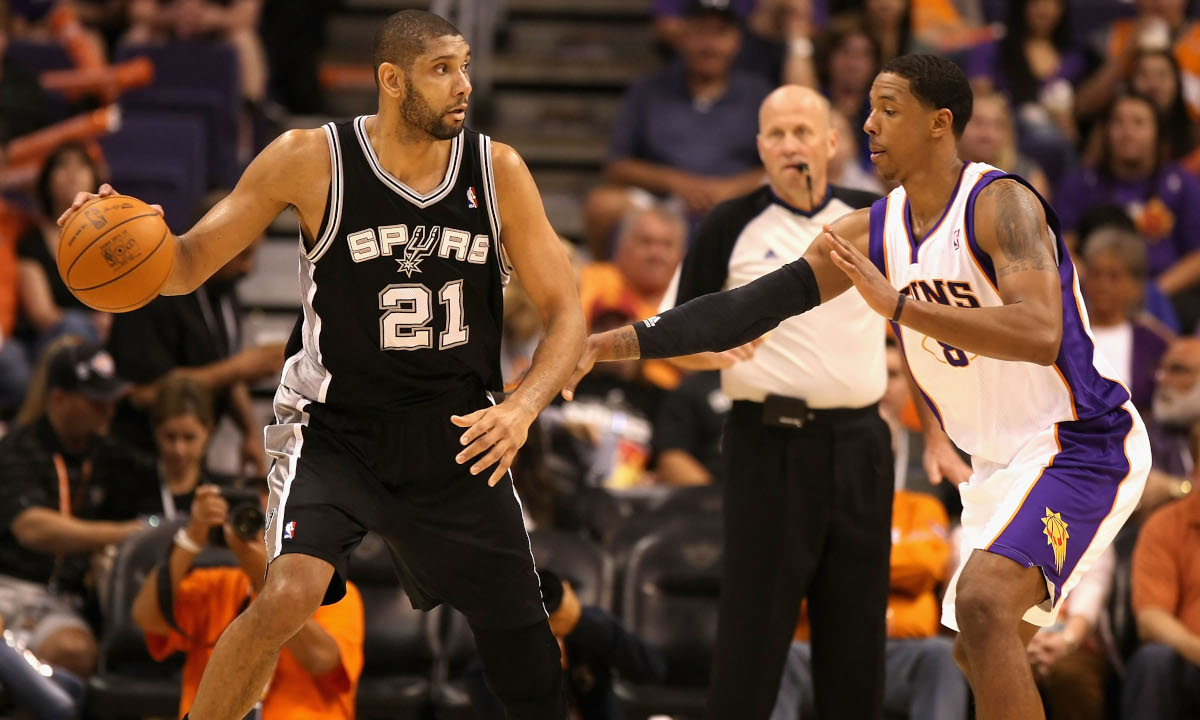 Channing Frye played 14 seasons for six teams from 2005-19. Head-to-head against Tim Duncan, his teams were 6–17 in the regular season against the San Antonio Spurs. In their one playoff meeting, Frye's Phoenix Suns got the upper hand in a Western Conference semifinal sweep in 2010.
Frye pointed out on Twitter how good Duncan was and wondered why Duncan gets overlooked as a top-five player.
"If Tim Duncan is the greatest power forward of all time why don't more people have him on the top-five list? Just curious."

Channing Frye
Over the first 10 years of Duncan's career, he averaged 21.8 points and 11.9 rebounds in 37.5 minutes per game, a workload almost unheard of in today's NBA. His role diminished over his final nine seasons both due to age and San Antonio's depth.
Could it be as simple as Duncan's consistency overshadowing his greatness? There's a case to make that this is the case.
Tim Duncan didn't have the gaudy numbers
When comparing Tim Duncan to other great power forwards, players like Karl Malone and Charles Barkley had more significant individual numbers.
But Duncan was the best player on four San Antonio Spurs championship teams. Malone and Barkley famously combined for zero NBA titles and reached the Finals just three times (two for Malone, one for Barkley, three wins by the Chicago Bulls).
Malone is a fascinating case. Like Duncan, he played 19 seasons. The Mailman delivered 14 All-NBA berths and two NBA MVPs but was named All-Defensive only four times. Duncan has that beat by a decade plus one.
It almost seems like calling Duncan the greatest power forward of all time is a consolation prize since most all-time top-five lists don't follow a positional logic.
Tim Duncan was the less-than-exciting face of a less-than-exciting franchise. But while he was short on style, he was enormous with substance. Five rings, two MVPs, and 15 All-NBA and All-Defensive selections should be all the evidence necessary to include him as a top-five player in NBA history.
Statistics courtesy of Basketball Reference and Stathead.
RELATED: Bill Russell Once Told Tim Duncan He Was His Favorite Player in the NBA: 'You've Played Hard, Played Smart, and Won Championships'