Former Cowboys Fan Favorite Lucky Whitehead Has Stunning Pandemic Workout
Although he went undrafted in 2015, Lucky Whitehead's versatility and speed made him an instant favorite in Dallas. When Whitehead took the field, everyone turned their eyes to see what the former Florida Atlantic standout could do.
Now playing in the CFL, Lucky Whitehead recently went viral for the right reasons. The one-time Cowboys receiver's pandemic workout needs to be seen to be believed.
Lucky Whitehead played two seasons with the Dallas Cowboys
RELATED: Emmitt Smith Has 'No Doubt' Dak Prescott Can Lead Cowboys to a Super Bowl
Lucky Whitehead began his career at Dean College, a Division III school in Massachusetts, before he transferred to Florida Atlantic. Whitehead caught seven passes for 190 yards and two touchdowns in 2013.
Whitehead broke out as a senior in 2014 and put himself in the NFL draft conversations. The 5-foot-10 speedster totaled 76 catches, 706 receiving yards, and six touchdowns for the Owls.
Lucky Whitehead added 210 rushing yards and two touchdowns on 21 carries. Whitehead contributed on special teams and registered 863 combined yards on kick and punt returns.
The Dallas Cowboys signed Whitehead as an undrafted free agent and he immediately contributed. Dallas utilized Whitehead as an all-purpose weapon; he had six catches, 107 rushing yards, and averaged 28.3 yards on kick returns.
Whitehead also had a 28-yard punt return. His electrifying speed quickly made him a fan favorite in Dallas.
Lucky Whitehead had similar numbers in 2016 when he averaged 8.2 yards per carrry, caught three passes for 48 yards, and averaged 23.2 yards on 25 kick returns.
Whitehead now plays in the Canadian Football League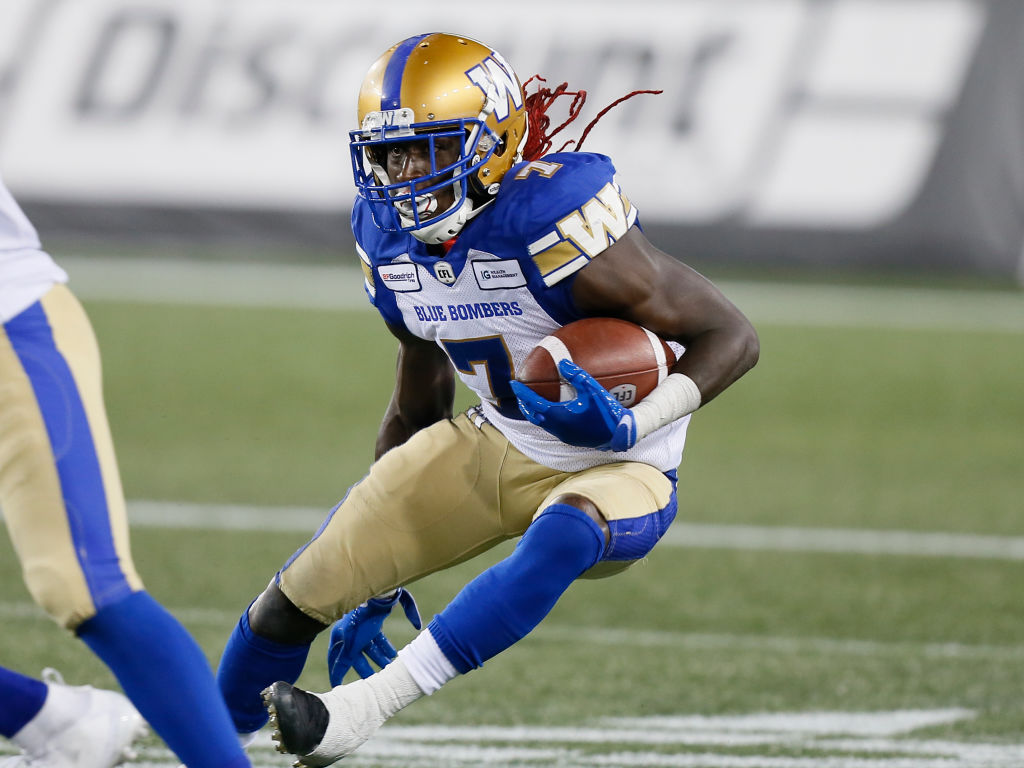 RELATED: How Cameron Wake Used the Canadian Football League to Kick Start His NFL Career
Dallas released Whitehead in July 2017 and he immediately signed with the New York Jets.
Injuries kept Whitehead from ever playing with the Jets, though, and he joined the Canadian Football League's Winnipeg Blue Bombers last year.
Whitehead had 52 catches for 521 yards and two touchdowns last season. He totaled 92 yards and a touchdown on nine carries and averaged 30 yards on kick returns, including a 104-yard touchdown.
Lucky Whitehead was expected to play a crucial role for the 2020 Blue Bombers. It is not yet known when the CFL will return, though the league said in April they didn't expect the season to start before July.
Lucky Whitehead's pandemic workout went viral
RELATED: Andy Dalton Will Join a Long List of Big Names Who Have Been Backup QBs for the Dallas Cowboys
Lucky Whitehead is nearly four years removed from his last NFL game. Still, that didn't stop the former Cowboys fan favorite from recently going viral for his pandemic workout.
Whitehead strapped himself to an 18-wheeler and pulled it across a road. He avoided injury and kept dragging the truck.
For reference, the average weight of a semi-truck is approximately 35,000 pounds. The CFL's official website listed Whitehead at 5-foot-10 and 177 pounds.
When or if the CFL season returns, Lucky Whitehead is definitely a name to know. The ex-Cowboy could easily find himself back in the NFL within the coming years.