Former Cowboys Pro Bowler Everson Walls Made a Huge Sacrifice to Save the Life of 1 Former Teammate
Everson Walls was an excellent cornerback during his NFL career with the Dallas Cowboys, New York Giants, and Cleveland Browns. He not only made quarterbacks afraid to pass the ball in his direction, but he was also a big reason that the New York Giants won the Super Bowl during the 1990 season. However, Walls' sacrifices to help his teams find success aren't even the biggest sacrifices that he has made in his life. He made one huge sacrifice to save the life of a former teammate.
Everson Walls was an All-Pro cornerback on the Cowboys
Walls was an undrafted free agent out of Grambling State, but he ultimately signed with the Dallas Cowboys and had a ton of success, even as a rookie. In his first season in the league in 1981, Walls played in 16 games, starting in 12 of them, and he led the NFL with 11 interceptions. He ultimately earned Pro Bowl honors in that season too.
In 1982, Walls only played in nine games. He still, however, led the NFL in interceptions again with seven, and he earned his second consecutive Pro Bowl selection. Walls earned another Pro Bowl selection in 1983 and was a First-Team All-Pro. Then in 1985, he led the NFL in interceptions yet again as he had nine. He earned his fourth Pro Bowl selection that season too.
Walls played for the Cowboys from 1981 through 1989. He then played for the New York Giants in 1990 and 1991, and part of another season in 1992. Walls had six interceptions in 1990, and he ultimately helped the Giants win a Super Bowl that season. Not only did he have an interception in the playoffs, but Walls had a clutch tackle in the Super Bowl. The tackle came on Buffalo Bills running back Thurman Thomas as he kept him from scoring or getting deep inside New York territory during the fourth quarter, according to Sporting News.
Bill Belichick was the defensive coordinator on the Giants that season. He told the Boston Herald that the Giants "wouldn't have won if (Walls) didn't make that tackle," according to Sporting News. He also said that it was the play of the game.
Walls finished his career with the Cleveland Browns in 1992 and 1993. He had 57 total interceptions in his career, which currently ranks 13th all-time.
Walls donated a kidney to his former teammate Ron Springs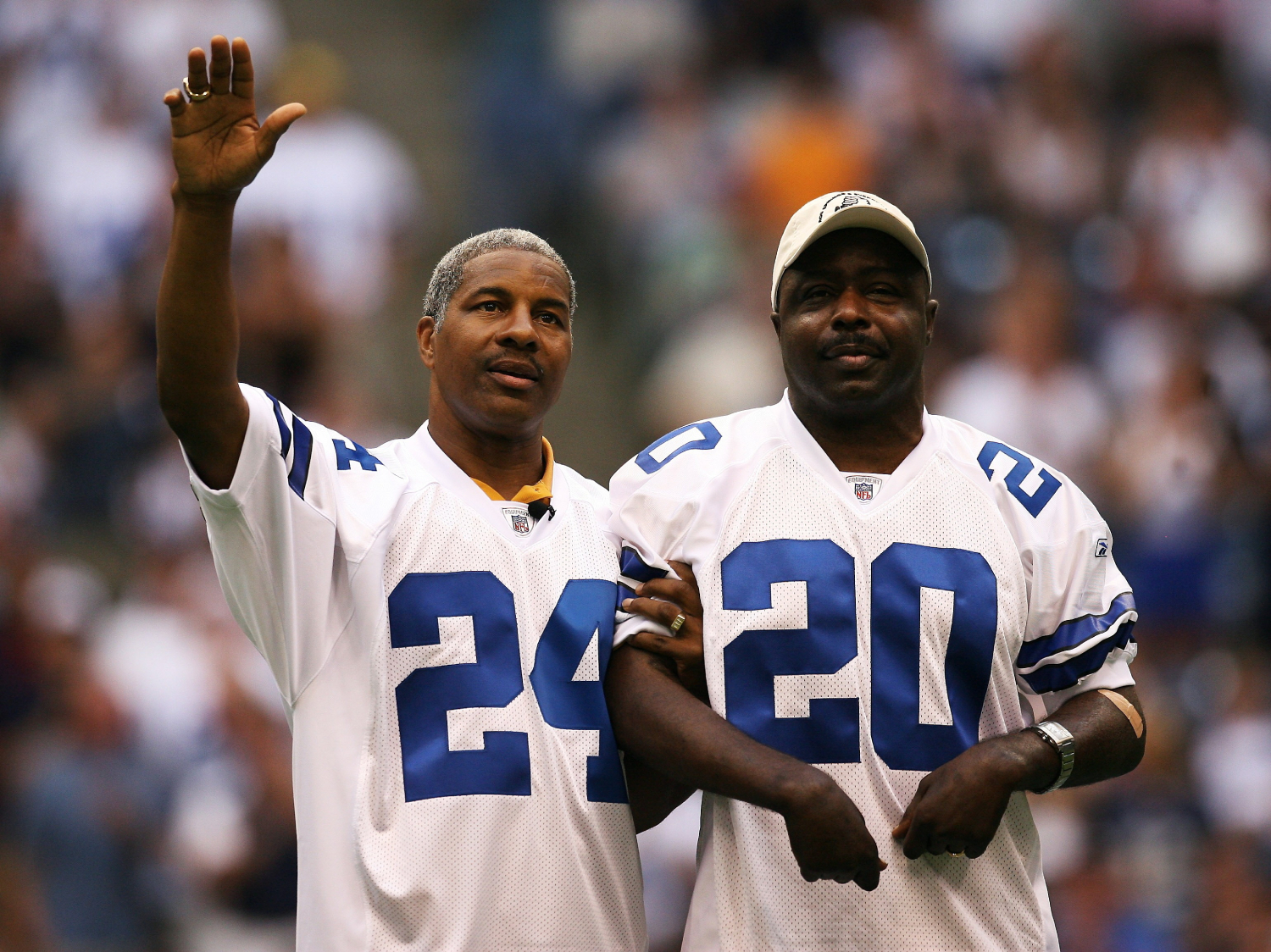 Former Dallas Cowboys running back Ron Springs suffered from diabetes for 20 years. It ultimately led to kidney failure, the amputation of his right foot, and the amputation of his big and middle toes on his left foot, according to CBS News.
Walls was good friends with Springs as the two were both on the Cowboys from 1981 through 1984. In 2004, Springs needed a kidney, and he refused to take one from his son, Shawn Springs, because it would have ended his NFL playing career, according to ESPN. Walls then ultimately made a massive sacrifice for his friend. He donated his kidney to Springs in 2007, according to Sporting News.
Springs sadly died, however, in 2011. 
Springs tragically died after being in a coma
About seven months after receiving Walls' kidney, Springs underwent surgery in 2007 to remove a cyst from his forearm, CBS News reported. He then slipped into a coma.
Then in May 2011, without ever regaining consciousness, Springs died at only 54 years old, according to CBS News. He ultimately died of a heart attack, ESPN reported.
Despite the outcome, Walls would not take back what he did for his friend.
"Still to this day if I could do it again I would," Walls said, according to Sporting News. "Those few months that Ron had after our surgery were just amazing because the strength that you saw in him you saw returning."
He went on to say, "I couldn't have lived with myself if I wouldn't have done everything I could have done and looked his family in the eye afterwards."
Everson Walls was a great cornerback in the NFL. His greatest performance, though, was helping his best friend by donating his kidney.
Stats courtesy of Pro Football Reference