Former Dallas Cowboys Coach Jimmy Johnson Was Awful at 1 Job
One of the most legendary coaches in the history of the Dallas Cowboys is Jimmy Johnson. He was not the head coach of the Cowboys for very long, but he led them to three straight playoff appearances, and two consecutive Super Bowl wins. Johnson indeed had a lot of success as a head coach. He has since done well as an analyst on FOX. However, despite being one of the greatest NFL coaches of all-time, Johnson had one job that he was absolutely awful at.
Jimmy Johnson was an excellent college coach
RELATED: The Tragic Death of Former Cowboys Receiver Terry Glenn
For years, Johnson was an assistant coach, a defensive line coach, and a defensive coordinator at several college programs. He then became a head coach at Oklahoma State in 1979. Oklahoma State was decent under Johnson as he went 29-25-3 while he was there, but he really excelled at Miami (FL) once he began coaching there in 1984.
Miami went to the Fiesta Bowl in the first season Johnson coached the Hurricanes. They then went 10-2 in his second season and lost in the Sugar Bowl. The Hurricanes then continued to get better in Johnson's third season, as they went 11-1 and ranked as high as No. 1 in the country. They, however, lost in the Fiesta Bowl. 
Then in 1987, Johnson led the Hurricanes to a 12-0 record. Miami ultimately won the Orange Bowl that season and finished the year as the No. 1 team in the AP poll. The Hurricanes then followed that up by going 11-1 in 1988, winning the Orange Bowl again, and finishing the season ranked No. 2 in the country.
Johnson finished his time at Miami with a 52-9 record.
Johnson excelled in the NFL, and then later became a successful analyst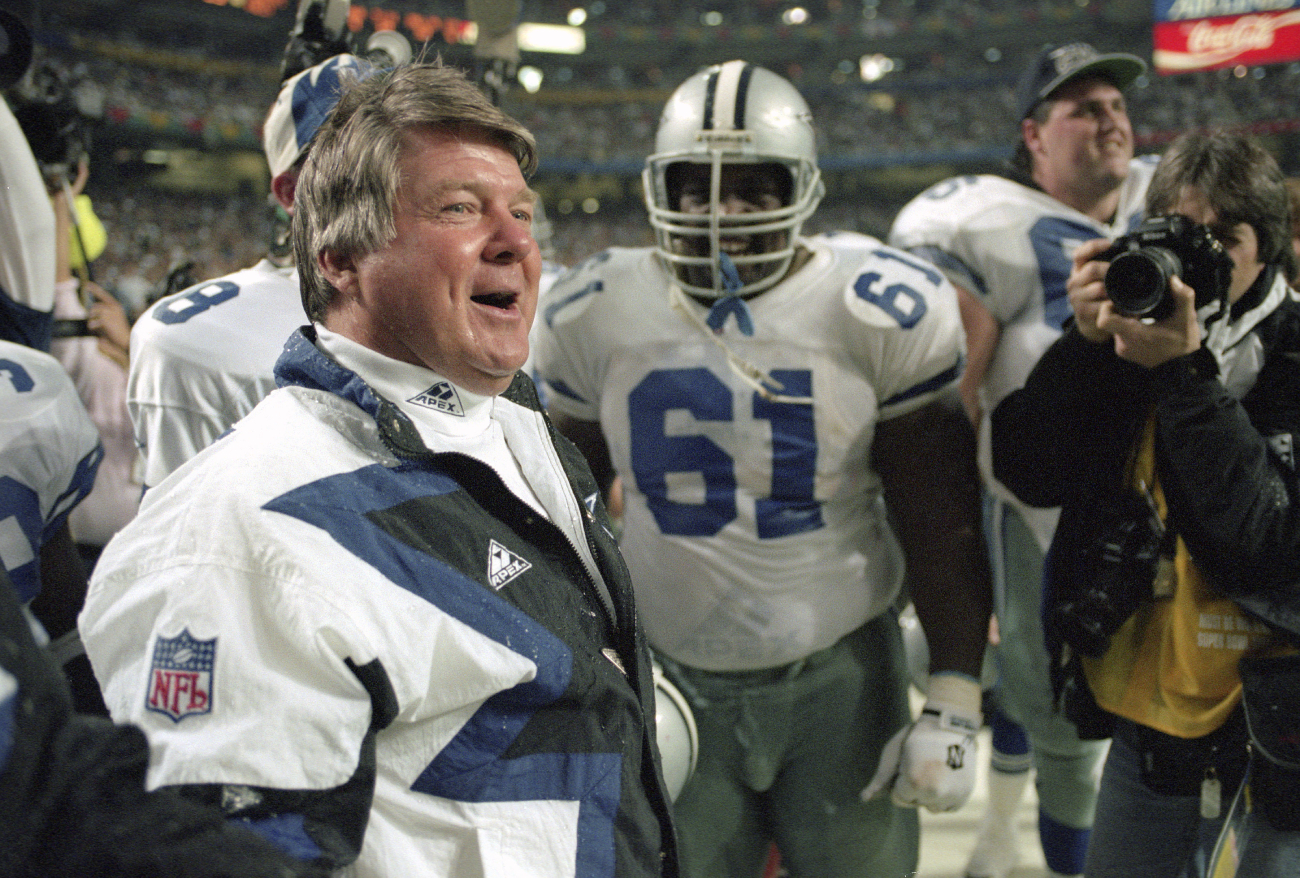 RELATED: Jerry Jones Ruined the Dallas Cowboys Dynasty With a Single Drunken Comment
In 1989, Johnson began coaching the Dallas Cowboys. They only went 1-15 in his first season and then 7-9 in his second season. However, they went 11-5 in 1991 and won a playoff game over the Chicago Bears.
Then in 1992 and 1993, Johnson helped the Cowboys become one of the most dominant teams of all-time. They went 13-3 in 1992, and 12-4 in 1993, and ultimately won back-to-back Super Bowls.
However, Johnson left the Dallas Cowboys after the 1993 season, and he then coached the Miami Dolphins from 1996 through 1999. The Dolphins did not have a losing record in any of the seasons under Johnson. They also made the playoffs in three of those four seasons.
In years since his head coaching days, Johnson has been an analyst on FOX NFL Sunday. He has been pretty successful in that role as well, but there was one job he had in his life that he was horrible at.
He competed on 'Survivor' in 2010
RELATED: The Unexpected Death of Former Cowboys and Ohio State RB Ron Springs
In 2010, Johnson competed on Survivor: Nicaragua on CBS. His time on the show did not go well. 
He finished 18th out of 20 contestants that season, according to Fandom, as he was the third person voted off the show.
"I was completely drained," Johnson said, according to ESPN. "Energy-wise I was really at rock bottom. But there was obviously disappointment I didn't go further. Being voted out on Survivor is the first time I've ever gotten fired."
Johnson also said that some people viewed him as a threat.
"I went into it trying to convince everyone that I wasn't going to win a million dollars and so I wasn't a threat," Johnson said to TV Guide. "Some of the guys in particular didn't believe me and they felt like I was still a threat. Had I known that, I would have gone ahead and formed an alliance with the women, which I think I could have done. Had I done that, I think I could have gone on further in the game."
He is certainly a hall of fame coach and a pretty good TV analyst. Jimmy Johnson, however, was not a good Survivor player.
Stats courtesy of Sports Reference and Pro Football Reference