Former Duke Star Tom Emma Sadly Fell 11 Stories To His Death After Helping Lay the Groundwork for Duke's Dominance
The Duke Blue Devils were not yet the dominant college basketball program everyone knows them to be until Mike Krzyzewski became the head coach. However, since Krzyzewski took over in 1980, the Blue Devils have consistently reached the NCAA Tournament and consistently contend for championships. One player who helped lay the groundwork for Duke during Krzyzewski's first few years with the program was Tom Emma. However, after helping make Duke what it is today, Emma sadly died in 2011 by apparent suicide.
Tom Emma had a nice college basketball career with the Duke Blue Devils
RELATED: How Good Was ESPN's Jay Williams During His Basketball Career?
Tom Emma was a star high school basketball player in Long Island, which led to him going to Duke and playing for Bill Foster in 1979-1980.
Emma didn't play too much for the Blue Devils that season but became an important role player for Krzyzewski's teams starting in 1980-81 once Krzyzewski became the head coach. According to Duke's site, Emma scored 19 points on 6-of-9 shooting in Krzyzewski's first-ever game at Duke. He then averaged 9.6 points per game, 2.1 rebounds, and 2.4 assists in 1980-81 for the Blue Devils before starting in the majority of the games he played in at Duke in 1981-82 and 1982-83.
Emma started in 21 of 26 games during the 1981-82 season and averaged 8.3 points per game, 3.3 assists, and 2.7 rebounds. He then averaged 7.5 points per game, 2.9 assists, and 2.1 rebounds in 1982-83.
Overall, Emma averaged 6.9 points per game for his college career to go with 2.2 assists and 1.8 rebounds. The Chicago Bulls then drafted him in the 10th round of the 1983 NBA draft, but he never suited up for the team.
He helped lay the groundwork for Duke's dominance
RELATED: J.J. Redick's 'Bowl of Beets' Diet Helps Him Get Results in the NBA
Duke went to the Elite Eight in Emma's freshman season. The Blue Devils, however, missed the tournament in each of the next three seasons.
In 1982-83, though, Emma was a captain on a Duke team that also had freshmen Johnny Dawkins, Jay Bilas, and Mark Alarie. Those three eventually led Duke to a 37-3 record in 1985-86 and helped the Blue Devils reach the national championship game.
After that, Duke went on a run of dominance to become one of the most feared college basketball programs in the country. They made it to the Elite Eight in each of the next six seasons and seven of the next eight. The Blue Devils also reached the Final Four in six of seven seasons from 1987-88 through 1993-94. This is in addition to making three straight national championship games from 1989-1990 through 1991-92, and four in five years from 1989-90 through 1993-94. They also won back-to-back titles in 1990-91 and 1991-92.
Overall, with Krzyzewski, Duke has been to nine national championship games and has won five championship titles. They most recently won a title in 2014-15.
Tom Emma sadly fell 11 stories to his death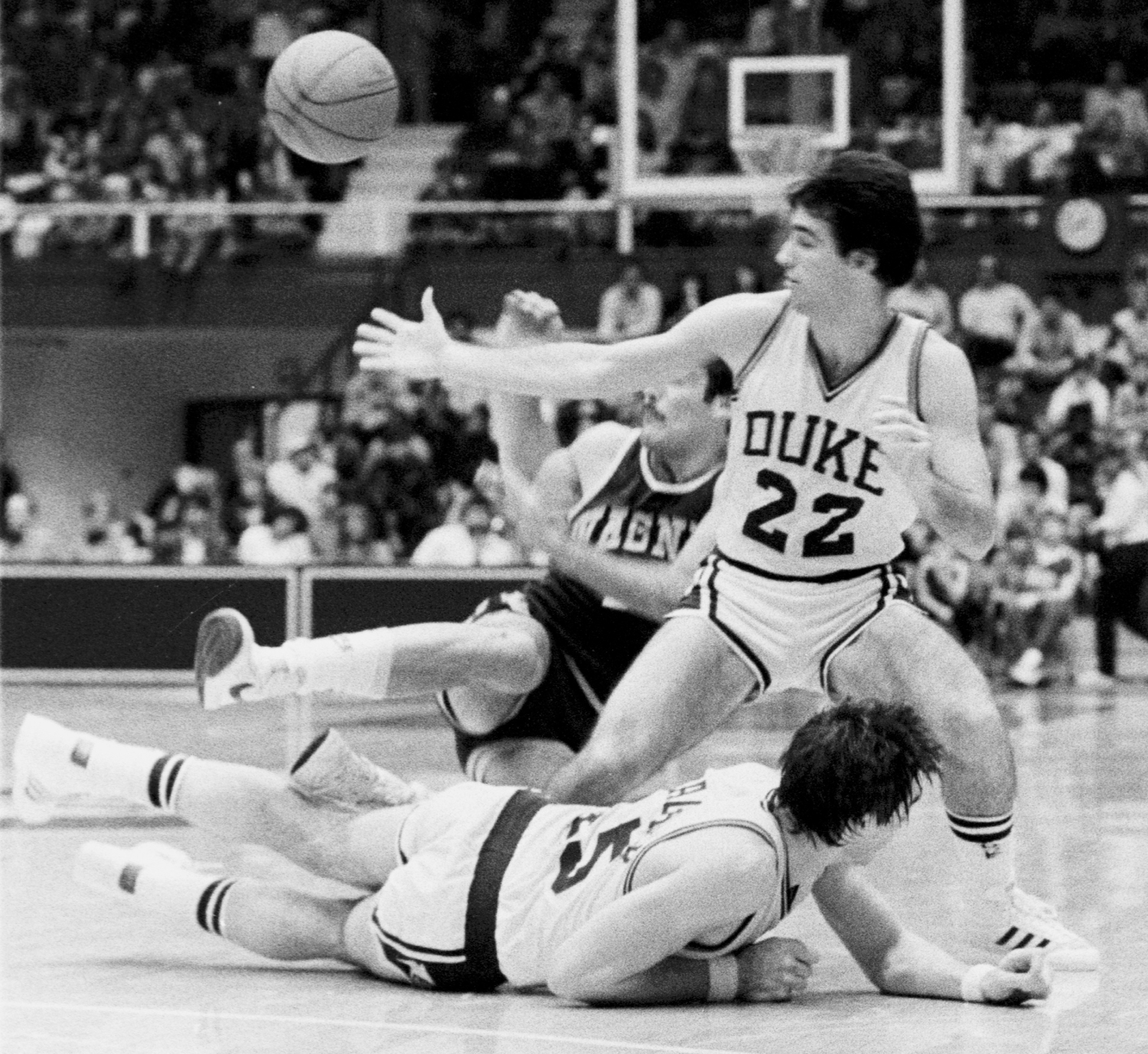 RELATED: ESPN's Jay Williams Has a Nice Net Worth Despite His Disappointing Basketball Career
Emma ultimately earned a master's degree from Columbia University. He was also the president of a company called Power Performance Inc., which trained young athletes. Emma was an author, too, as he wrote the book, Basketball Player's Comprehensive Guide to Strength Training.
However, according to ESPN, sadly, in June 2011, Emma reportedly "plunged from the 12th floor of the New York Athletic Club in Manhattan to his death in an apparent suicide." His body was reportedly found on a second-floor landing. 
"The Duke basketball family is deeply saddened to hear of the tragic passing of Tom Emma," Krzyzewski said, according to Duke's site. "He was a good man and fine representative of Duke University. Our hearts go out to his family and friends. He will be missed."
Dawkins also called him a "great guy."
"I have nothing but respect for him as a competitor. My thoughts and prayers go out to his family," he said to the New York Daily News, according to ESPN.
Additionally, Bilas had nothing but praise for Emma.
"He could light up any mood and he was very quick witted. He was always a lot of fun," Bilas said, according to the New York Post.
Tom Emma might not get a lot of credit for it, but he certainly played a large role in helping Duke become the program it is today. He was sadly only 49 years old when he died.
How to get help: In the U.S., call the National Suicide Prevention Lifeline at 1-800-273-8255. Or text HOME to 741-741 to connect with a trained crisis counselor at the free Crisis Text Line.
Stats courtesy of Sports Reference