Former Eagles Exec Rips Carson Wentz, Argues Commanders Will Be 'Disappointed' in 2022
The Washington Commanders surprised plenty of people by trading for Carson Wentz. They acquired the 29-year-old quarterback and a 2022 second-round pick from the Indianapolis Colts in exchange for two third-round picks and a second-rounder.
While the front office didn't exactly make a splash, it did was it thought was necessary to upgrade the quarterback position. There's a certain stigma surrounding the former No. 2 overall pick, though. Wentz looked like a potential MVP candidate in 2017, but he's been unable to regain that form. Hence why concerns exist around his ability to have success in Washington.
Former Philadelphia Eagles executive Joe Banner has lost all faith in Wentz and doesn't think he'll turn things around as the Commanders' starting quarterback.
Former Eagles president Joe Banner predicts Carson Wentz will disappoint Commanders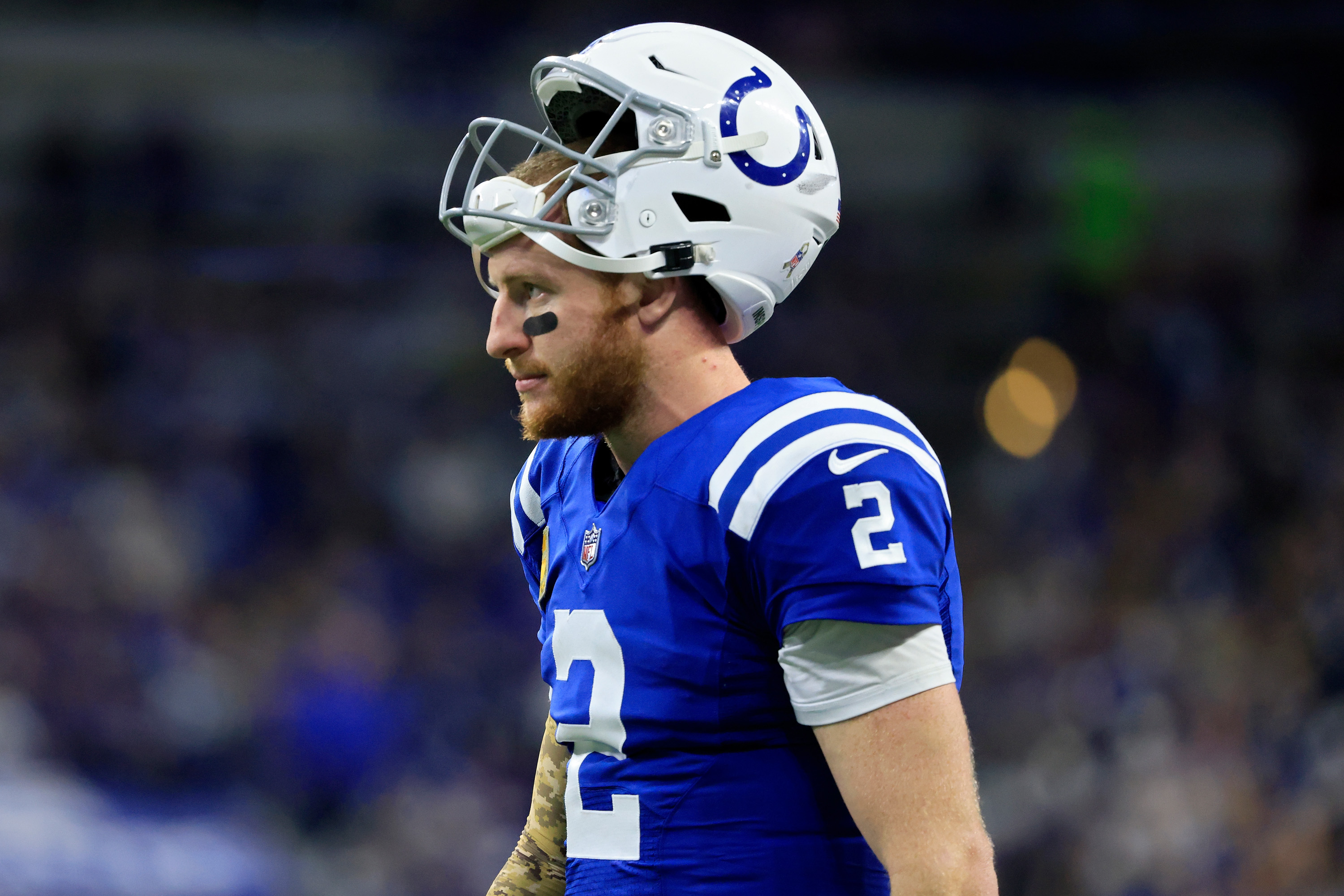 The Carson Wentz trade means he'll be playing for his third team in seven NFL seasons. The North Dakota State product signed a four-year, $128 million contract to join the Indianapolis Colts before the 2021 season. Although he was having a decent season, an abysmal showing in the Week 18 loss to the Jacksonville Jaguars erased all good from the front office's memory.
Joe Banner, the former president of the Philadelphia Eagles, suggests unraveling isn't something new for Wentz. In a recent appearance on The Rich Eisen Show, Banner weighed in on the trade and why the Commanders might regret acquiring the veteran signal-caller.
"I think at this point, there's enough evidence," said Banner. "You got two of the smartest front offices in football that were deeply invested in this guy and had to pay a huge price to not have him on their team anymore. You can see with your own eyeballs every Sunday. I just don't see how you turn around a make a bet on that guy to lead your team."
Banner doesn't buy that Washington can legitimately contend with Carson Wentz under center.
"I don't even see how they get to winning the division," he added. "Who did they think they were bidding against that they had to pay that in compensation and take on the entire contract? I've been very critical of the trade. Wentz will make some spectacular plays. But when the 17 games are done, you're going to be disappointed in his play."
The 29-year-old should be an upgrade at quarterback
The Washington Commanders entered the 2022 offseason with serious questions about the quarterback position. Ryan Fitzpatrick started the season but suffered a season-ending hip injury in Week 1. Taylor Heinicke filled in admirably and had some good moments. Still, it was difficult to imagine him being a franchise quarterback.
Washington's front office apparently believes Carson Wentz can be that guy. He's shown flashes of potential, but he's been unable to put it all together.
Wentz has thrown for 20,374 yards, 140 touchdowns, and 57 interceptions across six seasons with a quarterback rating of 90.1. The Raleigh, North Carolina native has posted a career 44-40-1 record as a starter.
Let's not forget Wentz was once an MVP-caliber player during the 2017 season. Unfortunately, he hasn't been the same player since he tore his ACL that year. Still, he comes with plenty of upside. Pro Football Focus gave him a grade of 70.9 for the 2021 season.
Sure, Wentz had an unforgivable meltdown in the Colts' season finale. However, he should be an upgrade over the guys already on the roster.
An even larger concern might be if Carson Wentz can command the locker room's respect and lead the Commanders.
Can Washington contend in 2022?
Washington finished with a 7-10 record in 2021, placing the team third in the NFC East. Ron Rivera's squad showed plenty of grit and toughness, churning out a four-game winning streak in the middle of the season. Unfortunately, the team followed it up with a four-game losing streak.
The Commanders have some solid pieces in place heading into the 2022 season. The defense failed to live up to expectations. Still, it has the upside of a top-10 unit, with players like Chase Young, Jonathan Allen, Montez Sweat, and Kendall Fuller.
Washington is also a work in progress offensively. The team ranked in the bottom half of the league, posting 323.6 yards and 19.7 points per game. The Commanders have several talented young weapons, though. Terry McLaurin, Antonio Gibson, and Curtis Samuel seem to have untapped potential. Whether Carson Wentz can unlock it or not is unclear.
Even though Wentz has upside himself, there's a reason he has been traded twice. While Washington hopes to contend in 2022, it will be challenging unless the former Eagles star takes his game to the next level.
All stats courtesy of Pro Football Reference
RELATED: Carson Wentz Trade: Why the Commanders Decided Against Jimmy Garoppolo