Former Eagles Head Coach Doug Pederson Would Make a Perfect Matt Nagy Replacement in Chicago
During a recent Chicago Bears training camp practice, Doug Pederson was spotted working with some of the team's offensive players. Yes, the very same Pederson who delivered the Philadelphia Eagles their first-ever Super Bowl.
Pederson was bluntly fired by the Eagles following a messy 2020 season and has yet to entertain future coaching gigs. He briefly spoke with Pete Carroll about becoming the Seattle Seahawks' new offensive coordinator earlier in the offseason, but talks broke down.
While Pederson might not be in the market for a new job as things currently stand, he may very well be in the process of scouting future opportunities. Such a theory could explain his recent appearance in Chicago.
Former Eagles head coach Doug Pederson was recently spotted at a Chicago Bears training camp practice
Pederson and Matt Nagy — the Bears' current head coach — are close friends on and off the field. The duo worked together on the same staff in Kansas City and have long maintained a good relationship. Pederson showing up to a Bears practice is likely nothing more than Nagy calling on an old friend to help out.
With that said, it's almost impossible to ignore the potential that lies here.
Whether he believes it or not, Nagy is on the brink of being fired. Plenty of Bears fans were calling for him to be axed this past season — it's hard to imagine his seat not being warm at the moment.
If the Bears miss out on the postseason in 2021 or rookie quarterback Justin Fields doesn't take the appropriate steps in his personal development, Nagy will likely be the one who's forced to take the fall. That's where Pederson comes into the picture.
Doug Pederson would be a fantastic hire for Justin Fields
The Bears are in a similar position to the one the Eagles were in back in 2016 when they first hired Pederson. The Eagles were looking for the right head coach/quarterback duo to guide them back into the postseason after a handful of mediocre seasons.
While Carson Wentz's tenure in Philadelphia ended on a sour note, once upon a time, the Eagles did view him as their franchise QB. Wentz threw for 33 touchdowns and recorded a league-leading 78.5 QBR in 2017. A lot of the early success and development he experienced can be attributed to Pederson and the effective coaching methods employed.
Pederson comes from the Andy Reid coaching tree, which has proven to work around the NFL.
Fields is quite similar to Wentz from a physical makeup (both players are strong-armed and mobile) and would benefit from working under Pederson long-term, especially if the two can form a connection during this year's training camp.
The Chicago Bears are going to be in the market for a new head coach eventually, so why not jump the gun and hire a recent Super Bowl champion?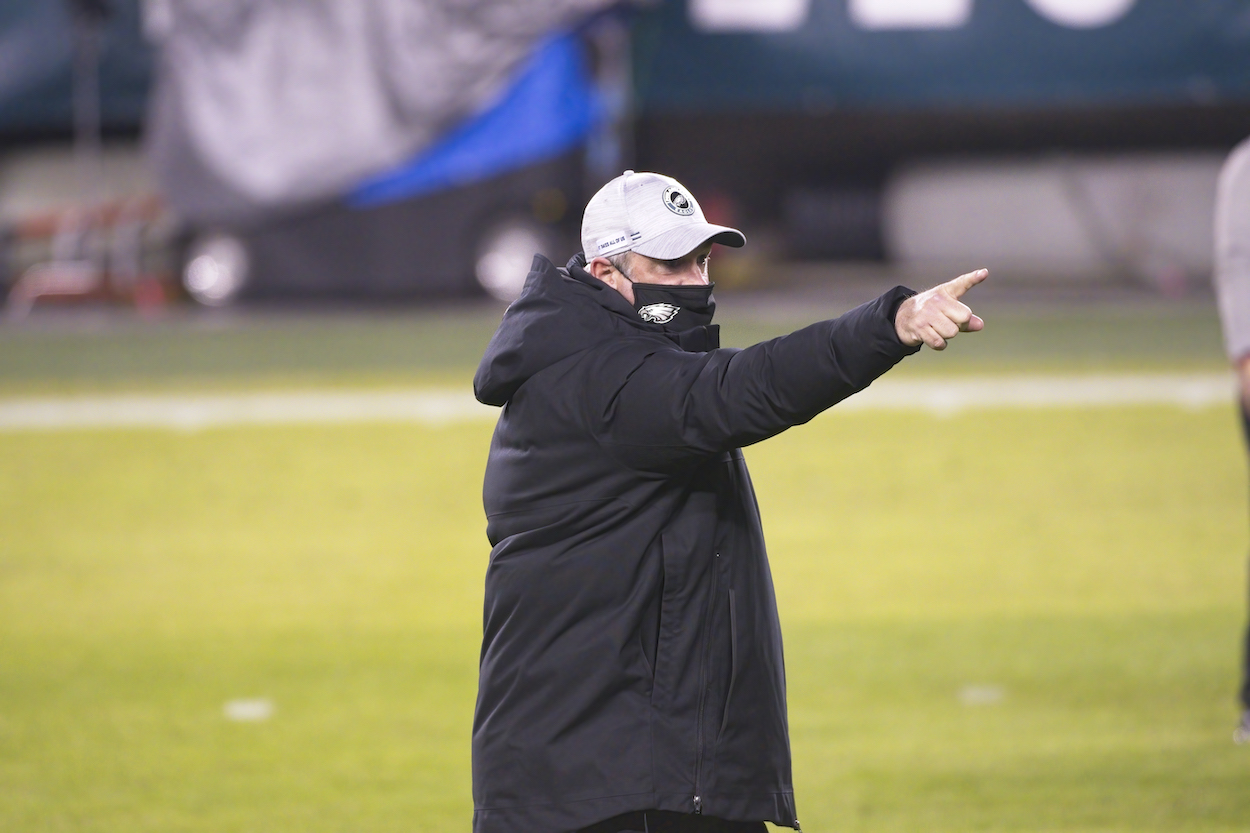 Even if Nagy isn't canned this season, one can only assume that the Bears will be in the market for a new head coach sometime soon. Nagy has been there since 2018, and Chicago has nothing to show for it.
If the Bears felt like being aggressive, jumping the gun on Pederson before he gets scooped up by another team in the offseason makes perfect sense. Even after a disastrous 2020, Pederson is still a Super Bowl-winning head coach with multiple playoff wins and two division titles to his name.
If the Bears are serious about building a contender around Fields moving forward, hiring Pederson is a no-brainer.
All stats courtesy of Pro Football Reference.