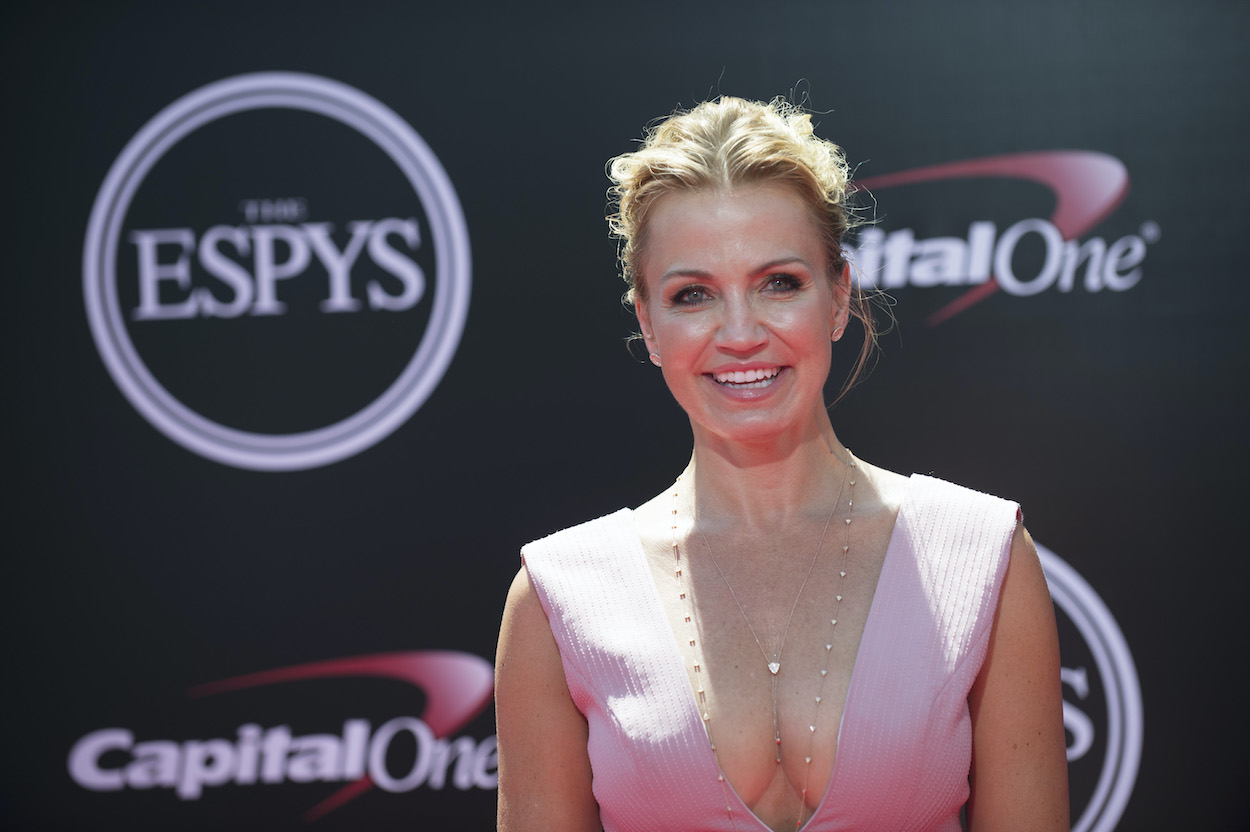 Former ESPN Personality Michelle Beadle Makes Her Return to Broadcasting and It's a Place She Feels Right at Home
Michelle Beadle has been quiet and off the air for a couple of years. She makes her return to television this NBA season and it's a place she's quite familiar.
Michelle Beadle was a familiar face for years on various ESPN shows. During her time at The Worldwide Leader, she had her share of controversial moments. In 2019, she left NBA Countdown after one dispute and, months later, was gone from the network altogether. She hasn't been on the air since. With the 2021-22 NBA season starting in just over a week, Beadle will be back on the air, and it's at a place where she's quite comfortable.
Michelle Beadle becomes star at ESPN  
Michelle Beadle began her career in sports as an intern with the San Antonio Spurs. The Texas native made her way up through the broadcasting ranks, covering various sports, including the Professional Bull Rider's circuit, MLB, NFL, and the NBA. 
In 2009, after working as an anchor for ESPN Radio, Beadle joined the ESPN television network as a co-host with Colin Cowherd on SportsNation. She stayed for three years before leaving for NBC, where she worked primarily as a host for NBCSN, including an anchor role for the 2012 London Olympics. 
She returned to Bristol in 2014 as a co-host of the show she began with five years earlier. Not long after, she was embroiled in a controversy with Stephen A. Smith after she criticized Smith for his comments on the Ray Rice domestic abuse case. Smith received a week-long suspension. 
ESPN named Beadle host of the NBA Countdown show in 2016, and she became a mainstay for the network's nightly NBA coverage.  
Things sour at ESPN, and she disappears off the air
Beadle hosted Countdown for a couple of years. During that time, network management asked her to join the morning show Get Up! with Jalen Rose and Mike Greenberg. She refused initially until the network committed to paying her $5 million per year. She started in April 2018. 
Later that year, Beadle found herself in the headlines after she announced she was boycotting college and professional football and called Urban Meyer a "liar" and said the sport "marginalized women." Several months later, the network announced she would focus exclusively on covering the NBA.
In August 2019, numerous reports indicated ESPN was buying out her contract. There was never an official announcement, but Maria Taylor and Rachel Nichols were named as the new hosts of Countdown. 
Beadle returning to the air working for the San Antonio Spurs
Since she departed from Countdown, Beadle has maintained a low profile. She hasn't appeared on television but has stayed active on social media. Earlier this week, the 45-year-old provided a life update on Twitter.  
"A story: In December I lost Leroy Jenkins, the greatest of all pugs," she wrote. "I packed up and left LA. In that time, the ol' priority list changed-to surround myself with those that make me smile…both personally & professionally. Seems easy enough. Don't worry though, I'm still an ass."
On Friday, it was revealed that those people who make her smile are the same people she started her career with as an intern and the team she's never hidden her love for through the years — the San Antonio Spurs. Beadle will work as a special correspondent for select Spurs games in the 2021-22 NBA season. 
The Spurs tip off the regular season on Oct. 20.
Like Sportscasting on Facebook. Follow us on Twitter @sportscasting19.