Former Giant Lewis Tillman Recovers His Missing Super Bowl Ring 26 Years After Earning It
Winning the Super Bowl is the ultimate goal for any player who steps onto an NFL field. Hoisting that championship trophy elevates a player's profile and brings him more respect and fame, which is especially good for athletes who aren't household names. But for some NFL players, the best part about winning the title is earning a Super Bowl ring.
The ring is the most important physical memory that champions can possess — a perpetual reminder of the championship team. But Super Bowl rings are also valuable because of the obscene amount of gold, diamonds, and other gemstones used to produce them. That's why if a player loses his ring, it's a pretty frustrating experience.
Running back Lewis Tillman's NFL career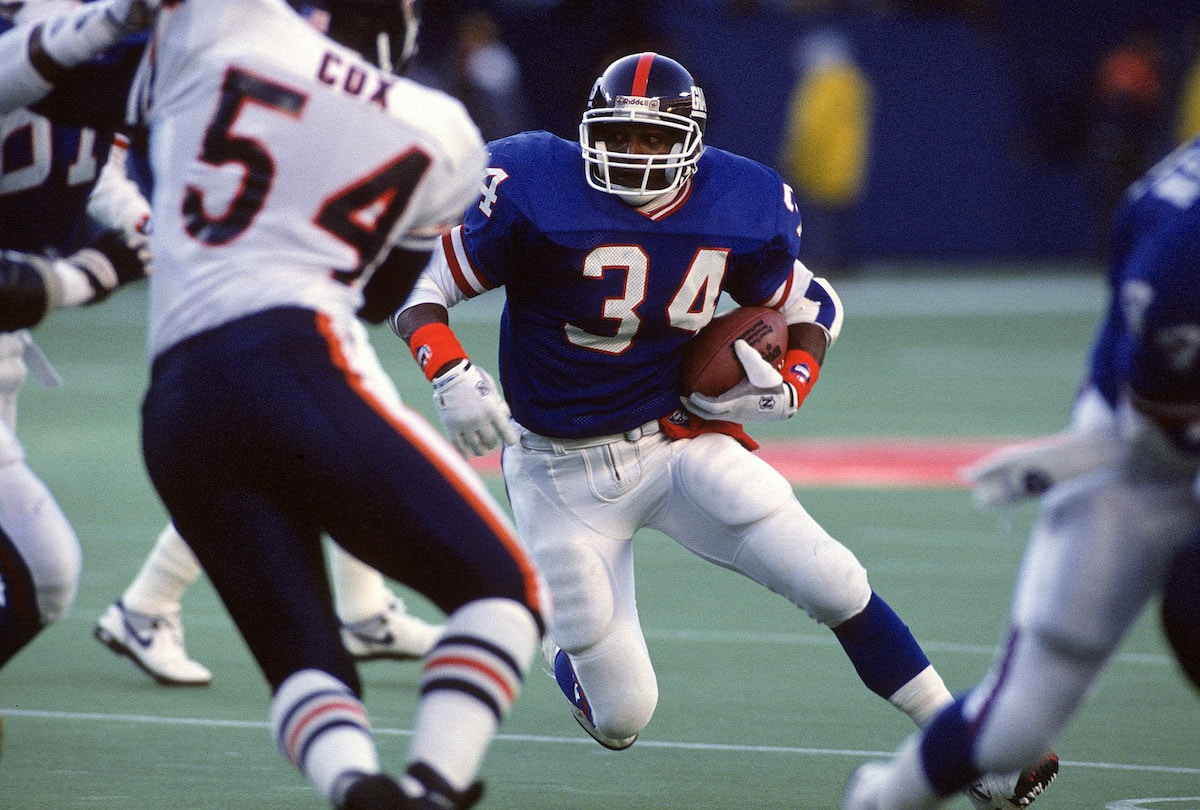 The Giants picked Lewis Tillman in the fourth round of the 1989 NFL Draft, out of Jackson State. The running back went on to play seven seasons in the NFL — five with the Giants and two with the Bears.
According to Pro Football Reference, Tillman ended his career with almost 2,400 rushing yards and 12 touchdowns. The highlight of his career was the 1994 season when he got in the end zone seven times as a member of the Chicago Bears. Tillman retired after the 1995 season and has had a lengthy high school and collegiate coaching career since then.
The saga of Lewis Tillman's lost Super Bowl ring
Tillman earned his ring during the Giants' 1991 Super Bowl championship. The now-56-year-old doesn't wear it often other than for special occasions, such as trips to New York. One of those journeys to the Big Apple could've proven costly for him, as told by Giants.com. In 2017, Tillman went to MetLife Stadium to attend a Cowboys-Giants game.
The retired running back had a layover in Minneapolis on the way back to Dallas. After boarding the plane realized his ring wasn't on his finger. Tillman recalled having the ring in the airport, "I remember seeing the ring on my finger in the Minnesota airport because I bought something from a store, and a young lady made a comment to me if she could look at it."
Tillman panicked upon realizing the ring was gone. "I went up to the front of the plane and told the stewardess I had to get off. I knew I wouldn't be able to get back on, but I wasn't calm. I had to go find my ring. So I got off the plane, and my wife went on to Dallas without me."
He looked all over the airport, including in the bathroom and in garbage cans. But Tillman couldn't find it. He filed a police report and flew to Dallas the next morning instead.
More than a week later, an officer at Cincinnati/Northern Kentucky International Airport sent Tillman a DM on Twitter, telling him the ring had been turned in. No one knows how it got there. But he received the ring, likely worth five figures, in the mail more than 26 years after he earned it.
Other stories of Super Bowl rings
Tillman isn't the only player who has lost a Super Bowl ring. Former Packers great Jerry Kramer lost his ring from the first Super Bowl during a 1981 flight, reports KTVB. (At the time, the NFL called it the AFL-NFL World Championship Game.)
Kramer got a call 25 years later alerting him it was scheduled to go up for auction. Fortunately, the auction house returned the ring to him.
Fox Sports writes about other missing rings, including one found in an airport bathroom by a Starbucks employee. There have also been occasions when down-on-their-luck former players have had to sell their rings to get some much-needed cash.
RELATED: Robert Kraft Sold His Super Bowl Ring for an Obscene Amount of Money