Former Giants Star Victor Cruz Remains Unsure of Embattled QB Daniel Jones' Future: 'In Terms of That Winnability Factor, There's Still Some Question Marks There'
Article Highlights:
Former Pro Bowl receiver Victor Cruz isn't sold on Daniel Jones' future as the New York Giants' starting quarterback
The Duke product has battled injuries and inconsistency across his first three seasons
Despite his concerns, Cruz is willing to give Jones one final year to prove his worth
The New York Giants have officially entered yet another rebuilding period. Head coach Joe Judge and general manager Dave Gettleman are now former head coach Joe Judge and former general manager Dave Gettleman after, respectively, being fired and either retiring or being forced to retire, depending on who is lending their opinion to the conversation.
Whoever leads the next regime must address several significant questions, including the long-term future of starting quarterback Daniel Jones. For his part, former Giants receiver Victor Cruz still isn't entirely sold on the Duke product.
Victor Cruz still isn't sold on Giants quarterback Daniel Jones' long-term future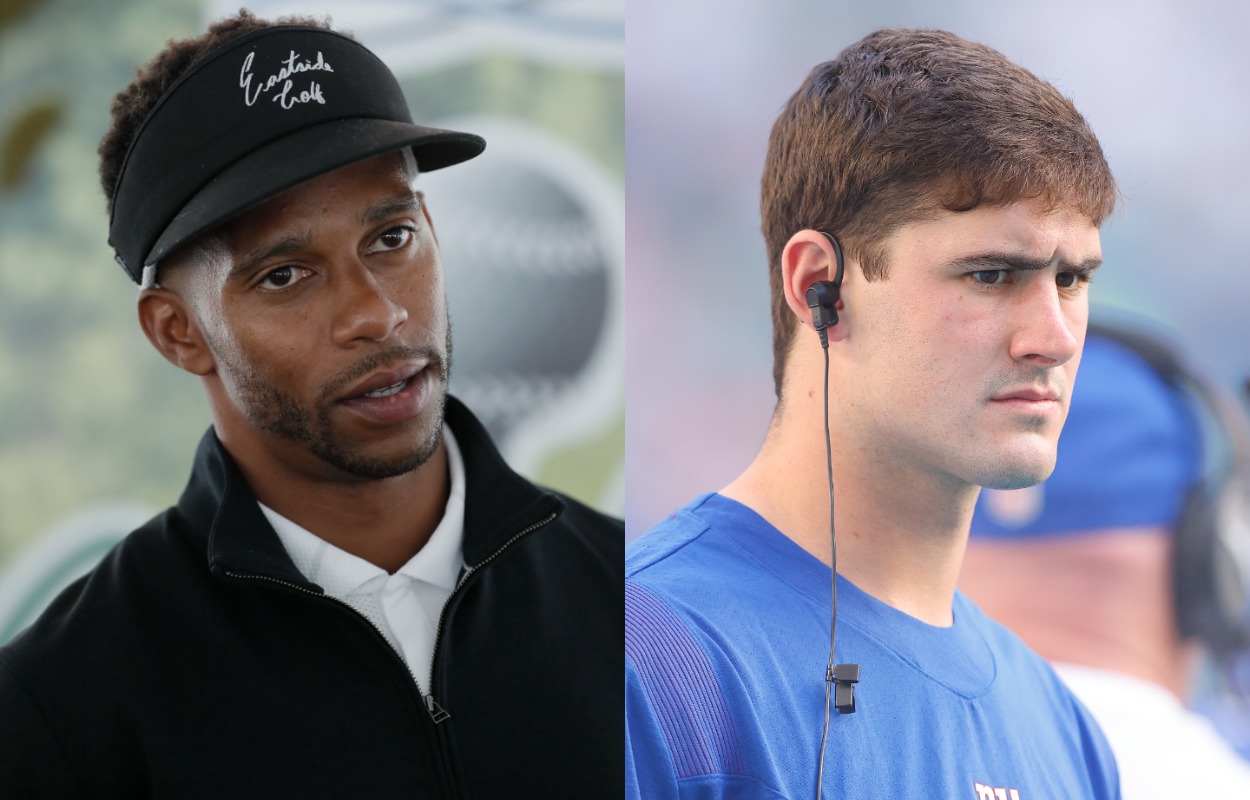 For as bad as the Giants looked at times during Cruz's tenure in New York (er, New Jersey), the team at least had a franchise quarterback in Eli Manning. There were no quarterback controversies or credible talk radio debates about if the franchise needed to consider replacing the two-time Super Bowl MVP until well after Cruz played his final down in Blue and White.
Jones, who just wrapped up his third NFL season, hasn't been as lucky. Although he's impressed at times and has done his best to handle the New York spotlight, he's still yet to win over most of the Giants' fanbase. A 12-25 record (including 5-14 on the road and 0-8 in prime-time games) as the starting quarterback will only go so far.
In a recent interview with the New York Post, Cruz acknowledged the offensive line's struggles may have played a role in Jones' mixed performance. Teams sacked Jones 105 times, or on 7.6% of the Giants' offensive plays, from 2019-21. Compare that to Manning, who went down 66 times in his first three seasons.
However, Cruz will only defend Jones to such an extent at this stage in the game.
"I think they need to get back to a [strong offensive line] to see what they've got in Jones. I think they know what they have from a skillset perspective, but in terms of that winnability factor, there's still some question marks there, and I think they're gonna give him one more year to figure it out."

Victor Cruz
Although Jones is technically under contract through the end of 2023, the Giants have not yet announced if they will pick up his fifth-year option. If the new regime does not pick the option up, Jones can become a free agent after next season.
'Winnability factor' might not be what seals Jones' fate in New York
In his first three seasons, Jones completed 62.8% of his passes for 8,398 yards, 45 touchdowns, and 29 interceptions. He also rushed for 1,000 yards and five touchdowns on 5.8 yards per carry. Considering the Giants' overall woes, especially on the offensive line, those aren't terrible numbers.
However, Jones' 12-25 record or touchdown-interception ratio might not be what decides his future in New York. The third-year quarterback suffered a neck injury in a Nov. 28 victory over the rival Philadelphia Eagles and didn't play in any of the Giants' final six games. Opponents outscored New York 163-56 in that stretch and easily handled the not-so-terrifying quarterback duo of Mike Glennon and Jake Fromm.
Shortly before Christmas, Judge publicly told reporters he wanted Jones as the Giants' starting quarterback in 2022. There's only one problem. Neither Judge nor Gettleman will be present with the Giants moving forward. 
The next head coach and general manager could easily decide they want to move in another direction and bring in a new quarterback, whether it's trying to swing a trade for Russell Wilson or attempting to find one through the draft. The fear of long-term ramifications following a neck injury might also scare the Giants from extending Jones.
Jones told reporters when the season ended that he hopes to be cleared to practice by the summer. By then, his replacement might already be in the building and taking starting reps.
The Giants must decide in the coming months what they plan to do with Jones
If the Giants placed Jones on the trading block, they'd be asking teams to essentially acquire a better version of Sam Darnold. When the Carolina Panthers acquired Darnold last spring, they added a rising fourth-year quarterback who had been a full-time starter for three years and had flashed at times but still lacked consistency. Nothing changed on that front.
Although Jones' resume and numbers look prettier, he has the neck injury lingering over him. If the Giants traded Jones within the next 12 months, it would almost certainly be during the preseason or before the deadline. No team is going to give up assets for a quarterback who is still waiting to be medically cleared.
The Giants' best move is retaining Jones without picking up his fifth-year option. If the next coach wants to move forward with him at quarterback, he can try using the 2022 season to increase his value ahead of hitting free agency. If not, Jones can at least earn over $4.1 million in total money.
By this time next year, Cruz should have an answer about Jones' future in New York. Whether or not it's the answer that Jones himself prefers is to be determined.
Like Sportscasting on Facebook. Follow us on Twitter @sportscasting19.