Former Green Bay Packers WR Greg Jennings Dishes on 'Non-Existent' Relationship With Aaron Rodgers: 'The Acceptance From His Side Has Just Not Been There'
On the field, Greg Jennings and Aaron Rodgers developed quite a connection with the Green Bay Packers.
Including five regular seasons, multiple playoffs runs, and a Super Bowl win, Jennings was on the receiving end of 42 touchdown passes from Rodgers. At one point, they were among the most dynamic quarterback/wide receiver combos in the NFL.
Nowadays, according to Jennings, they don't even communicate.
Greg Jennings and Aaron Rodgers had a falling out back in 2013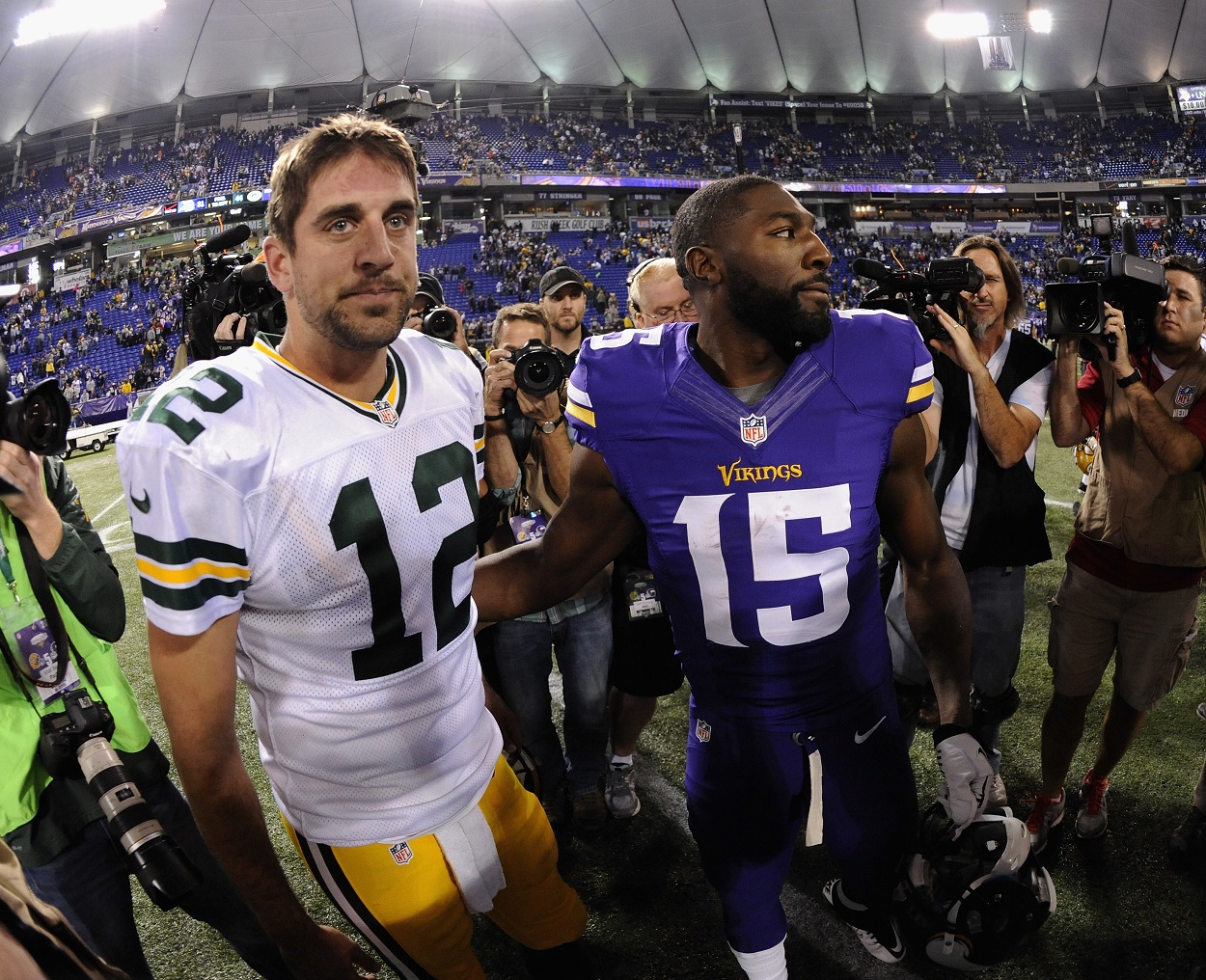 The rift between Rodgers and Jennings is not new news. They appeared to be as thick as thieves while both were playing for the Packers, but the relationship apparently went sour when Jennings signed with the Minnesota Vikings.
It wasn't just the fact that Jennings went to an in-division rival. Heck, Brett Favre played for the Vikings, and he and Rodgers are friends. Upon arriving in Minnesota, the former Green Bay wide receiver had some things to say about Rodgers that wasn't necessarily adversarial, but they sure didn't paint the quarterback in a good light as far as being a "team player" is concerned.
"A lot of times when you have a guy who creates that spotlight for himself and establishes that and takes a lot of that, it becomes so-and-so and the team. It should always be the team," Jennings told the Star Tribune in 2013.
"Don't get me wrong, '12' is a great person. But when you hear all positives, all positives, all positives all the time, it's hard for you to sit down when one of your teammates says 'Man, come on, you've got to hold yourself accountable for this.' It's hard for someone to see that now because all they've heard is I'm doing it the right way, I'm perfect. In actuality, we all have flaws."
It's worth noting that Jennings isn't the first former ex-teammate to call Rodgers out, but there have also been many who have defended him as well. He's also not above being chummy with his teammates.
He was clearly good friends with Jordy Nelson. He often-times speaks highly of young players like Marquez Valdes-Scantling and Equanimeous St. Brown. He wore David Bakhtiari's face on his socks this past weekend and the two are known to be good friends. Heck, Rodgers was in Randall Cobb's wedding.
Still, at least as it relates to Jennings, there appears to be no relationship. This is despite Jennings wanting to fix that.
Jennings says his relationship with Rodgers is 'non-existant'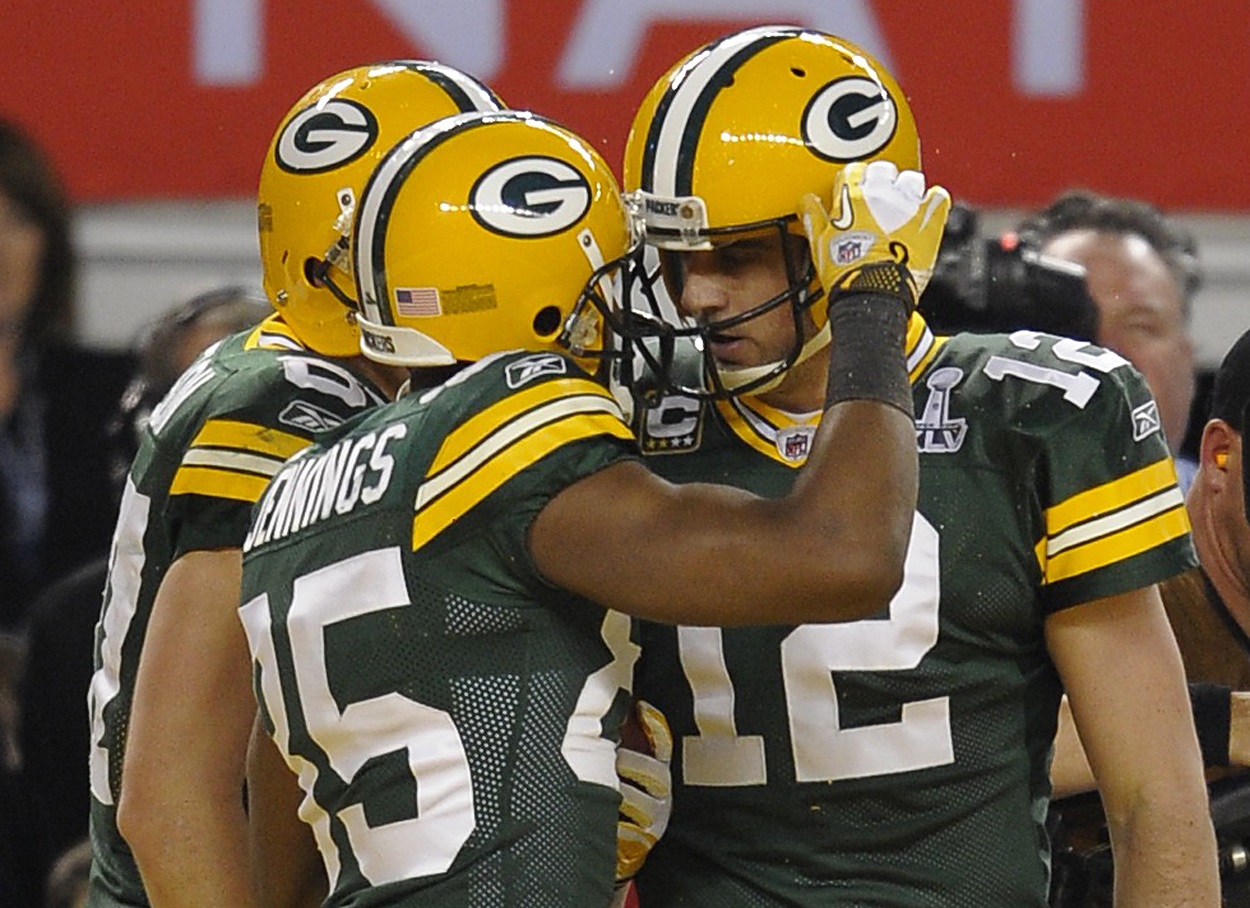 Jennings was forced back into the Rodgers conversation this past weekend when the three-time MVP beat Brett Favre's regular-season total touchdown record. Favre had thrown 442 touchdowns as a member of the Packers. In a win against the Cleveland Browns on Christmas day, Rodgers tossed No. 443, 444, and 445.
When Rodgers broke the record, a montage played on the big screen at Lambeau Field that was followed by a message from Favre to his one-time backup. The montage started with Rodgers' very first touchdown pass as a member of the Packers.
On the receiving end of that pass? You guessed it.
It was Jennings.
"I thought it was just a special moment," Jennings recently told Chris Tomasson. "It was sign of his durability, his consistency and just pure elitism. I was reminded of all he's been through, from taking over from Brett and the first time he stepped on the field at our Family Night, our first scrimmage at Lambeau Field in training camp (in 2008), he was greeted by a barrage of boos. And to see him turn into what he has is just a true testament to his ability to stick to a plan and be great."
The former Packers wideout relayed that his four children are all still Green Bay fans and that Rodgers is "talked about well" in the Jennings household. He also said that he has tried to reach out to the quarterback to right some wrongs, but Rodgers has not been receptive.
"We don't text, we don't communicate like that," Jennings said. "We haven't had an official sit down, like bring it all in for a hug, since I left Green Bay. .. We had a great relationship (in Green Bay)… Our relationship now has been non-existent. I tried to reach out to refurbish it but haven't had any success. The acceptance from his side has just not been there."
Greg Jennings is a legend for the Green Bay Packers
Despite the fallout with Rodgers, there are very few reasons, if any, to deny just how important Jennings was during his time with the Packers.
He helped bridge the transition between Favre and Rodgers and was a dominant target for both quarterbacks.
Jennings caught 98 passes for 1,552 yards and 15 touchdowns over two seasons with Favre, and played a significant role in the Packers making the NFC Championship game in 2007.
When Favre was traded to the Jets, Jennings quickly became Rodgers' favorite target, and that relationship ultimately culminated in a two-touchdown performance from Jennings in Super Bowl 45. The Packers beat the Steelers in that contest, 31-25. Rodgers was named the MVP of the game, but he couldn't have done it without Jennings' four catches and two touchdowns. Jennings will be inducted into the Packers Hall of Fame in 2022. His performance in that Super Bowl win was highlighted in detail in the announcement.
No, Jennings is not right with Rodgers, and he may never be. With that said, his relationship with the rest of Packer nation should be just fine.
Without any doubt, he's a legend for the green and gold.
Stats courtesy of ESPN and Pro Football Reference.