Former Hoops Star Makes Bold Prediction About Damian Lillard's Future in Light of Blazers' Recent Struggles: 'Where Them Other Guys At?'
Saying it has been a tough season so far for Damian Lillard and the Portland Trail Blazers would be an understatement. They have struggled significantly.
Through eight games, Dame is having one of the worst seasons of his career, and the Blazers are 3-5, sitting near the bottom of the Western Conference. Obviously, there's still a long way to go this season, but Portland's recent struggles have former hoops star Jalen Rose making a bold prediction about Lillard's future.
Damian Lillard and the Portland Trail Blazers have struggled so far this season
After making the playoffs each of the last eight seasons, the Blazers have gotten off to a rough start so far this year. They are 3-5 and have fallen to a couple of non-playoff teams from last season in the Sacramento Kings and Cleveland Cavaliers.
While fans have grown accustomed to seeing Lillard play at an elite level whether his team is struggling or not, that's not the case this season.
The six-time All-Star is averaging 19.5 points and 8.5 assists, but he is only shooting 35.3% from the field and 23.4% from 3-point range. When comparing those stats to the last couple of years, Lillard averaged 29.4 points on 45.7% shooting from the field combined the past two seasons, and he made 39.6% of his 3-point attempts.
It's difficult to say why Dame is struggling so much, but given what he has proven throughout his entire career, he will likely battle through it. It would just probably be nice if his teammates could help the squad win some games during this slump. CJ McCollum is playing well, averaging 23.4 points, but his play hasn't been enough to cover up Lillard's struggles.
And because of the lack of help, hoops star Jalen Rose isn't too sure that Lillard will continue playing in Portland.
Jalen Rose makes bold prediction about Dame's future
Jalen Rose had a successful basketball career himself. He was a big-time star in college at Michigan and averaged as many as 22.1 points in the NBA in 2002-03. He's now an ESPN analyst, and while discussing the Blazers' recent struggles on his show Jalen and Jacoby, Rose made a bold prediction about Lillard's future, saying he doesn't think Dame will finish his current contract with Portland.
Lillard is currently signed with the team through the 2024-25 season.
"I'm not saying that it's gonna happen this week, but I just believe as the jockeying in the Western Conference continues to happen, and he starts to get a little older in his career, and they start to assess if they need to go forward with their core group or rebuild, that's when you then start having those conversations," he said on the Nov. 4 episode. " … It always is gonna come back to Dame, CJ, and they looking like Tupac, like, 'Where everybody else at? Where them other guys at?'"
Rose then added that he thinks the Blazers should have found a way to keep Carmelo Anthony this past offseason, as he signed with the Los Angeles Lakers instead.
"Why ain't he on their team?" Rose said. "… Those are the type of things that make me believe that he (Lillard) won't finish his career with that team."
So, Rose thinks the 31-year-old Lillard's age and the teammates he has around him are the reasons why he won't stay in Portland. But according to Dame, he's all-in with his squad.
Damian Lillard has reiterated that he's committed to the Trail Blazers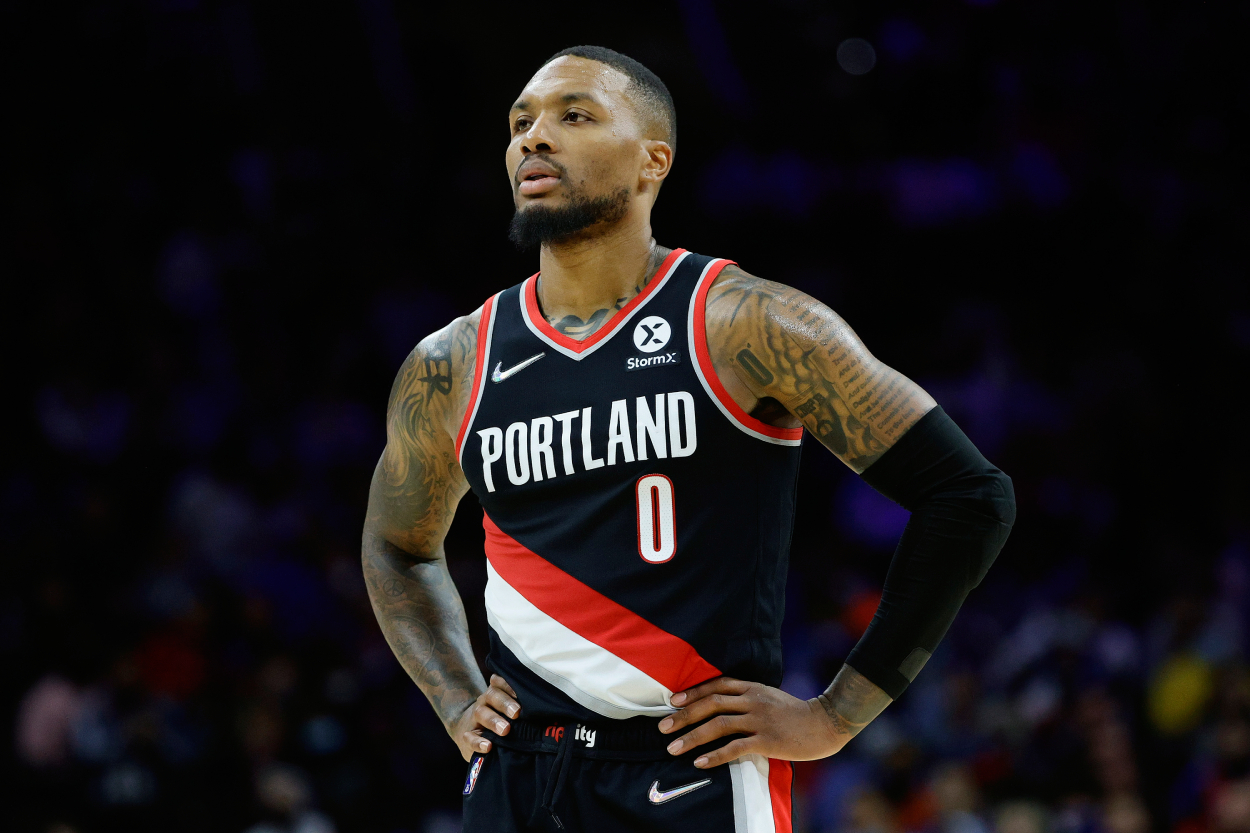 Despite speculation this past offseason that Lillard could eventually leave Portland, he has reiterated the fact that he's committed to the team. He did so even recently after Philadelphia 76ers fans chanted, "We want Lillard."
"I'm not uptight about it or acting like I don't recognize it," Lillard said, per Sports Illustrated's Fastbreak. "I know what it is and I know what it's about, but I'm a Trail Blazer. I appreciate the love, I appreciate the respect that they showed, the desire or whatever, but I am 10 toes in RIP City."
Of course, players have said they're committed to a team in the past, and they still ended up leaving, but on the surface, it seems that Lillard is in Portland for the foreseeable future.
He just needs his teammates to start picking up the slack until he breaks out of this slump.
Stats courtesy of Basketball Reference
RELATED: Damian Lillard Offers an Encouraging Description of Chauncey Billups' Coaching Style That Should Excite Blazers Fans