Former Jets QB Mark Sanchez Hasn't Given Up on Zach Wilson Just Yet: 'We Just Gotta Get Him Some Help'
Article Highlights:
Longtime NFL quarterback Mark Sanchez is trying to stay hopeful about New York Jets rookie signal-caller Zach Wilson
Sanchez, who played in New York from 2009-13, went through his own rough patches with the Jets
Wilson needs to build off some gradual growth of late and end the 2021 season on a strong note
New York Jets rookie quarterback Zach Wilson has looked raw and lost when healthy. In short, he's played like many first-year quarterbacks often do.
In a time when we've seen the likes of Justin Herbert and Russell Wilson dominate as rookies, it is easy to forget many players struggle in their first NFL seasons. Former Jets quarterback Mark Sanchez, who had his own low points as a rookie in 2009, doesn't want fans to give up on Gang Green's newest potential savior just yet.
Mark Sanchez is trying to stay hopeful about Zach Wilson's future with the Jets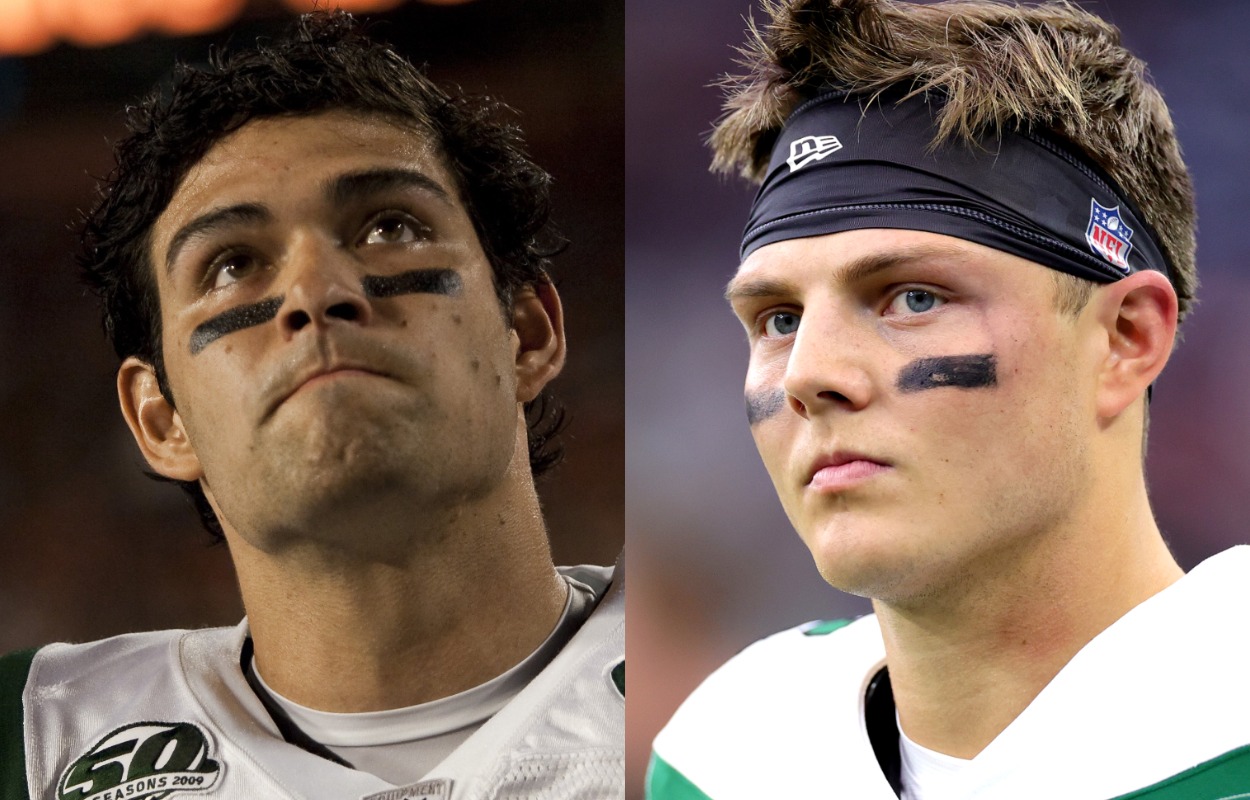 Wilson, who turned 22 in August, entered Week 14 having completed 58% of his passes for 1,539 yards, six touchdowns, and 11 interceptions in eight games. He's thrown touchdowns in only three games this year — interestingly, he had two passing touchdowns in all three outings — and at least one interception in every game he's finished.
Tortured Jets fans might already be thinking about Ole Miss' Matt Corral or looking to 2023 and wondering if they'll be in the mix for Alabama's Bryce Young. Never mind that Wilson has played without starting left tackle Mekhi Becton for almost the entire season and is starting on a rebuilding team.
Sanchez, who served as the Jets' starting quarterback from 2009-12, is trying to stay optimistic. In a recent interview with the New York Post, the USC product called Wilson "best off-script quarterbacks I've ever seen" and praised his playmaking ability.
"It is incredible how special he looks at plays that are so difficult. He just blows your mind. Like wow, that is special. You've seen it enough to know like 'Yeah, this is our guy, he's gonna be alright, we just gotta get him some help.'"

Mark Sanchez
"Off-script" refers to quarterbacks finding ways to extend plays and move the chains. Kansas City Chiefs star Patrick Mahomes has excelled at going off-script dating back to his days at Texas Tech.
Sanchez said he'd "like to think" Wilson, the second overall pick in April's draft, still has a bright future with the Jets.
"He's got all the raw tools, and now he's just learning the game," Sanchez, who now works for Fox Sports, told the Post. "Learning to master these situations. Learning how to play. And knowing how to play is managing your misses."
Sanchez went through his own rookie struggles with the Jets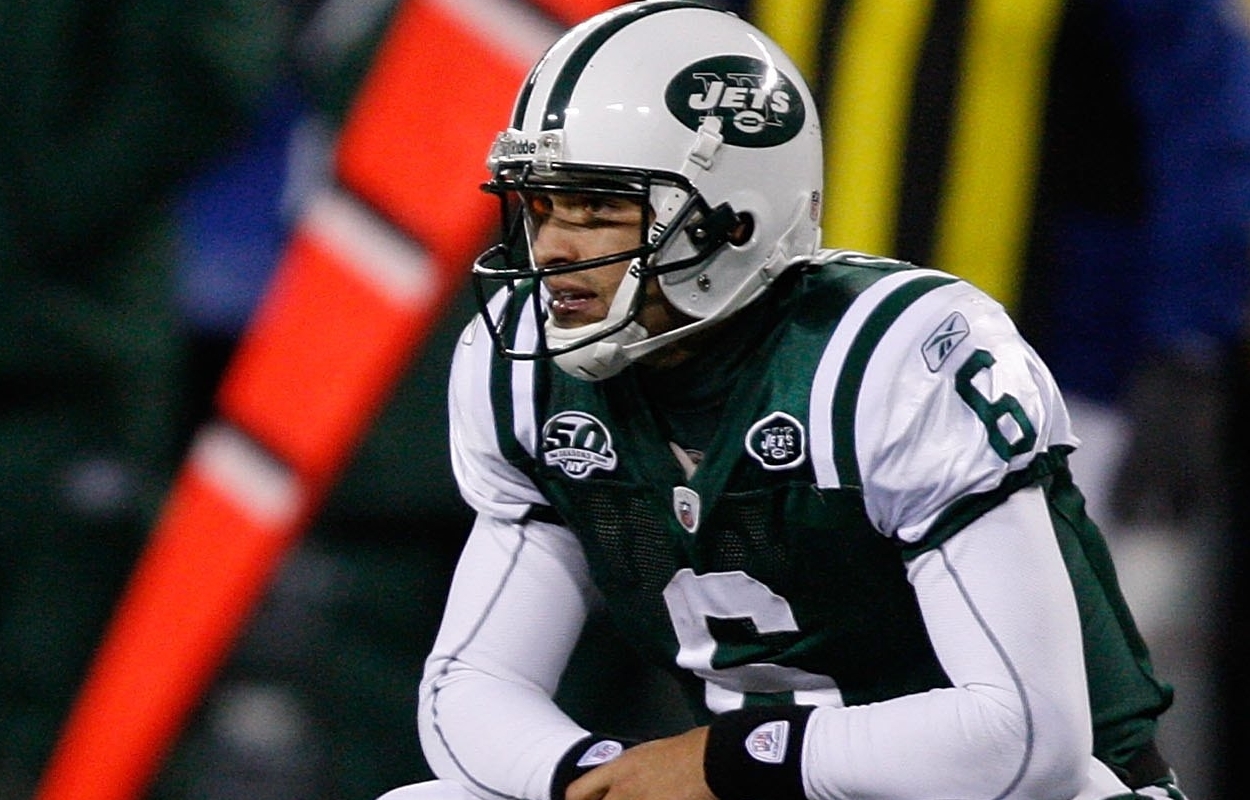 Say whatever you want about Sanchez's overall legacy with the Jets, but his opinion matters here. He's among a select group of quarterbacks who can attest to what it's like being a rookie quarterback in New York — er, East Rutherford, N.J.
The fifth overall pick in 2009, Sanchez went 8-7 and completed 53.8% of his passes for 2,444 yards, 12 touchdowns, and 20 interceptions as a rookie. He had four games with at least three interceptions, including five in a 16-13 home loss to the Buffalo Bills.
Eventually, the Jets took the ball out of Sanchez's hands and leaned fully on the rushing game. The result? After falling to 7-7, the Jets won their final two games, snuck into the playoffs as a wild-card team, and reached the AFC Championship Game.
In three postseason games, Sanchez had a 60.2 completion percentage, four touchdowns, and two interceptions. However, unlike Wilson, the USC product took over a win-now team already featuring numerous proven Pro Bowlers, including future Pro Football Hall of Fame offensive lineman Alan Faneca and star cornerback Darrelle Revis.
The Jets (and their impatient fans) need to hear Sanchez out and go one step at a time
Unfortunately for Jets fans, the 2021 season isn't over yet. The 3-9 Jets still have road matchups with the Miami Dolphins (6-7) and Buffalo Bills (7-5) ahead; they also host Tom Brady and the Tampa Bay Buccaneers on Jan. 2.
For now, Wilson needs to work on managing his mistakes and possibly playing spoiler where he can. The rookie completed 60.5% of his passes for 226 yards, two touchdowns, and an interception in a Week 13 loss to the Philadelphia Eagles; he also rushed for a touchdown. At times, he looked exactly like the dynamic quarterback the Jets wanted when they selected him in April.
As of Dec. 10, the Jets are currently projected to pick fourth and fifth overall in the 2022 NFL Draft. Those early selections could go a long way in giving Wilson the help he needs, especially on the offensive line.
For the first time in over a decade, Jets fans should put their faith in Sanchez. He is, after all, the last quarterback to start a postseason game in a Jets uniform.
Like Sportscasting on Facebook. Follow us on Twitter @sportscasting19.