Former Kentucky Standout Rex Chapman's Victory Over Addiction Can Be an Inspiration for Everyone
Rex Chapman was an electric player to watch in college for the Kentucky Wildcats. He was then a pretty good NBA player for four different teams throughout his career. While watching professional athletes like Chapman can inspire everyone to be great, Chapman has become even more of an inspiration after his career.
Rex Chapman was a star throughout his career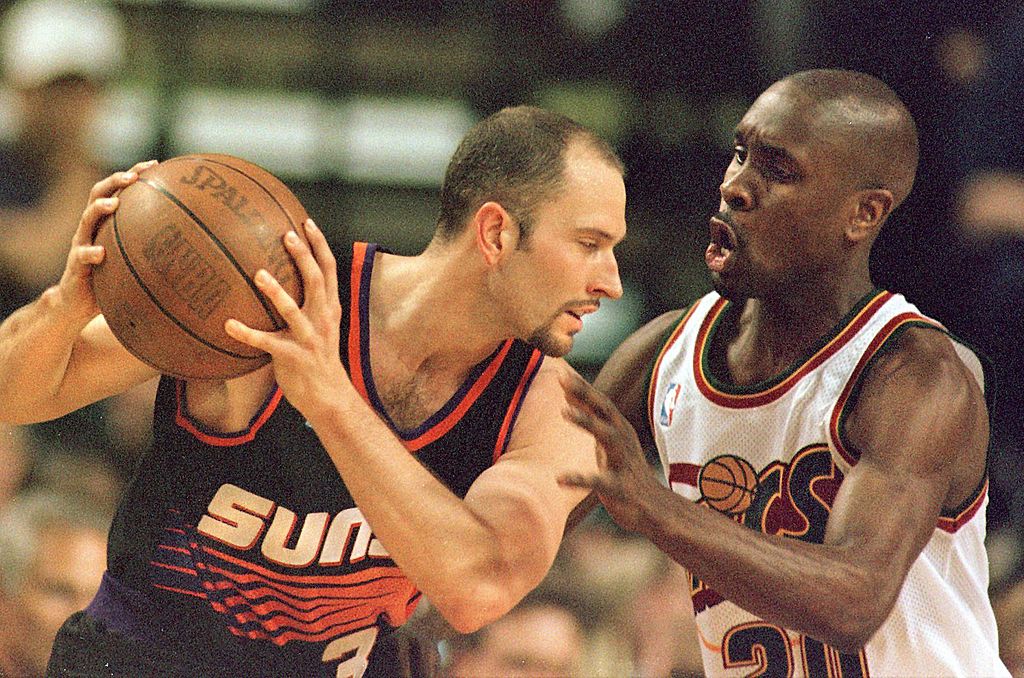 For two seasons, Rex Chapman was one of the most talented players in the country for the Kentucky Wildcats. During the 1986-87 season, Chapman scored 16 points per game to go with 3.6 assists. He ultimately earned SEC All-Freshman Team honors that season. He then scored 19 points per game during the 1987-88 season to go with 3.7 assists. Chapman helped lead Kentucky to the Sweet 16 that season, in addition to earning the 1988 SEC Tournament MVP award.
Chapman's play in college led to the Charlotte Hornets selecting him with the eighth overall pick in the 1988 NBA draft. Just like in college, Chapman was also pretty good in the NBA. He earned NBA All-Rookie Team honors for the 1988-89 season after scoring 16.9 points per game. He then had several really good seasons, including the 1993-94 season where he scored 18.2 points per game for the Washington Bullets. That was on 49.8% shooting too, in addition to 38.8% from 3-point range.
During his NBA career, Chapman played for the Hornets, Bullets, the Miami Heat, and the Phoenix Suns. He averaged 14.6 points per game for his career and ultimately retired in November 2000.
Chapman struggled with drug addiction
Chapman did, unfortunately, deal with a lot of injuries throughout his career. However, he rarely had doctors prescribe him pain medication, according to ESPN. Then towards the end of his career, he had an emergency appendectomy and doctors prescribed him OxyContin.
"After two days, I was in love. I had never felt that good," Chapman said, according to ESPN. "I was at ease in social situations. I was having a good time all the time. Really, for the first time ever. But it was all a damn lie. Pretty soon I was taking 50 pills a day. Just crushing up bottles of it, keeping it hidden under my mattress at night. When I woke up needing it, I would throw down that bottle and the powder would get into my system quicker. My wife didn't know. My four kids didn't know. And that led to all of that falling apart."

Rex Chapman
After his career, Chapman had two unsuccessful stints in rehab. He even lived out of his car at one point. Then in 2014, Chapman was arrested after he stole items from an Apple store and tried to pawn them. He was charged with nine counts of retail theft and five counts of trafficking stolen property, according to the Los Angeles Times. Shortly after that, Chapman then went to rehab again in Kentucky.
He has now been clean ever since.
Chapman said to the Los Angeles Times that he swims to stay healthy and that he tries to stay busy. He also said, "I can fake my way into a bad mood like nobody's business but I've been seeing a therapist and I feel great… way better than I've ever felt."
Becoming a social media sensation 
Within the past year, Chapman has gone from being a basketball superstar to a social media superstar. In January 2019, Chapman tweeted out a video of a dolphin knocking over a man on a paddleboard with the caption, "Block or charge?" The caption was referencing the always controversial basketball fouls, the blocking foul and the charge call. It currently has over 1,100 retweets and over 5,000 likes.
From that point on, "Block or charge?" has become a social media movement as Chapman has tweeted out countless videos of people being hit or knocked down in some way with the same caption. He also tweets out many other videos that can brighten up anyone's day, including a series of videos with the caption, "Dogs, bruh." 
Chapman now has over 590,000 followers on Twitter which is 10 times more than he had a year ago, according to ESPN. 
"I just think that everybody likes good things," Chapman said, according to ESPN. "Everybody likes dogs, everybody likes to feel good and believe the best in people. I think right now, if it's providing anything, it's just a little laugh during the day, just to remind yourself that we all just have thoughts in our heads out here."

Rex Chapman
Throughout his life, Chapman has gone from being a basketball star to battling a drug addiction, and now he is a social media influencer. His path to get to where he is now can has been tough, but his story can be a true inspiration to everyone.