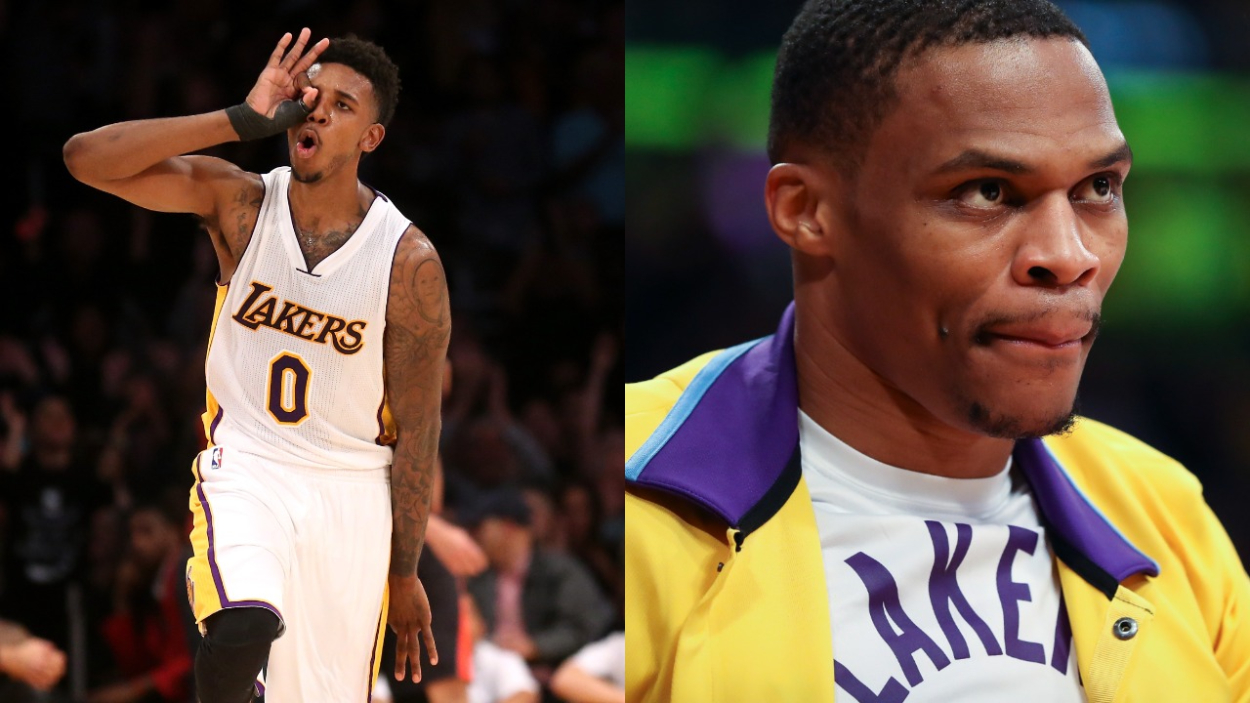 Former Lakers Star Nick 'Swaggy P' Young Uses Instagram Comment to Blast Fans, Stand up for Russell Westbrook: 'This Man Russ Is a First Ballot Hall of Famer'
Russell Westbrook has played poorly for the Los Angeles Lakers this season, but Nick "Swaggy P" Young recently took to Instagram to blast fans trying to tear him down.
If you spent the last few days watching the NFL playoffs, you likely missed the Los Angeles Lakers hitting a new low. They lost to the Denver Nuggets by a whopping 37 points to fall to 21-22 on the season.
Russell Westbrook has continued to struggle with the Purple and Gold as most of the blame (whether justified or not) has been falling on his shoulders. But during the team's recent slide, a fan sent the former MVP a diss track, which found its way onto Instagram. It then resulted in former Lakers star Nick "Swaggy P" Young coming to Westbrook's defense.
Russell Westbrook and the Lakers are struggling to play winning basketball
The Lakers' season hasn't gone as planned. After building a "superteam" with LeBron James, Russell Westbrook, Anthony Davis, Carmelo Anthony, and others, LA got off to a slow start and has never gotten on track.
Davis hasn't played in a month due to an MCL injury, and Westbrook is in one of the worst stretches of his career.
Russ is averaging 18.7 points, his fewest since his second season, to go with 8.0 assists, 8.1 rebounds, and 4.3 turnovers. He's also only shooting 43.8% from the field and 29.1% from deep. In his last 10 games, Westbrook has recorded 14.9 points per game on 35.9% shooting, and he's only making 19.2% of his 3-pointers.
LeBron James, on the other hand, is seeing his team waste one of his all-time great seasons. He's averaging 28.9 points, his most since 2009-10, to go with 7.5 rebounds and 6.5 assists. He's also shooting 51.9% from the field, his highest percentage since joining the Lakers.
The combination of Westbrook's struggles, Davis' absence, and the team's all-around poor play, though, has resulted in the Lakers falling to 21-22. If the season were to end today, they would be in the NBA Play-In Tournament.
Nick 'Swaggy P' Young stood up for Russell Westbrook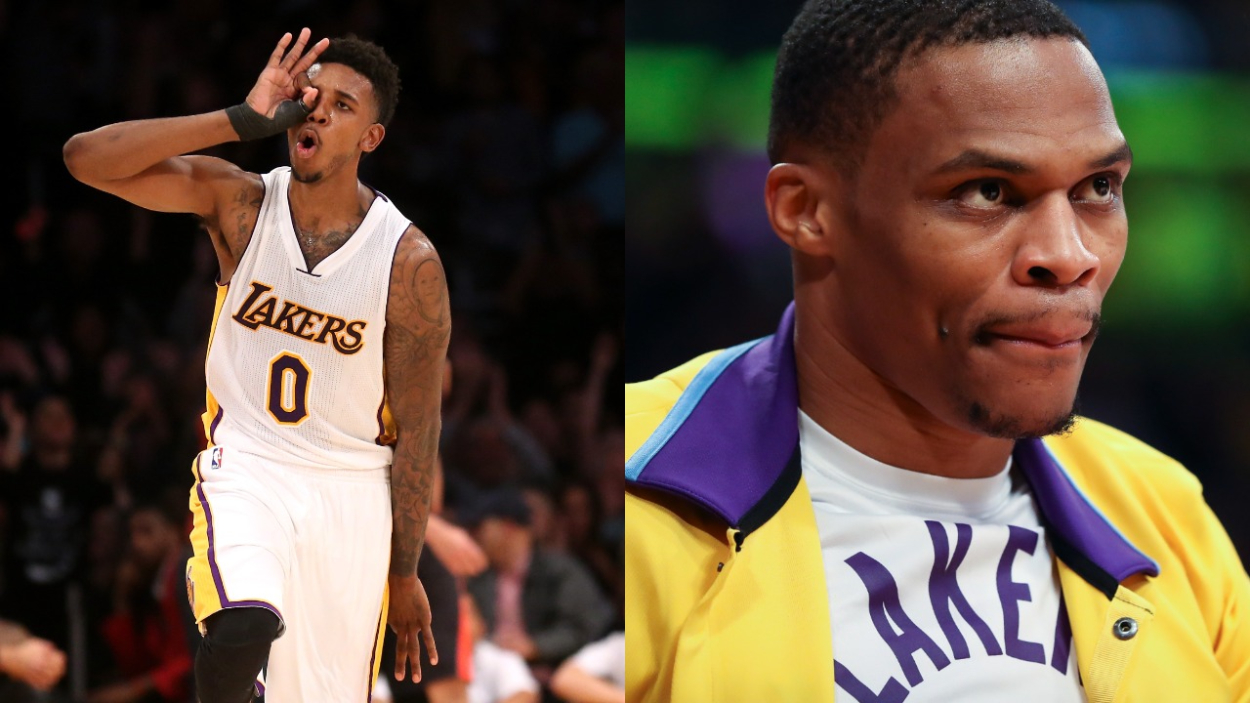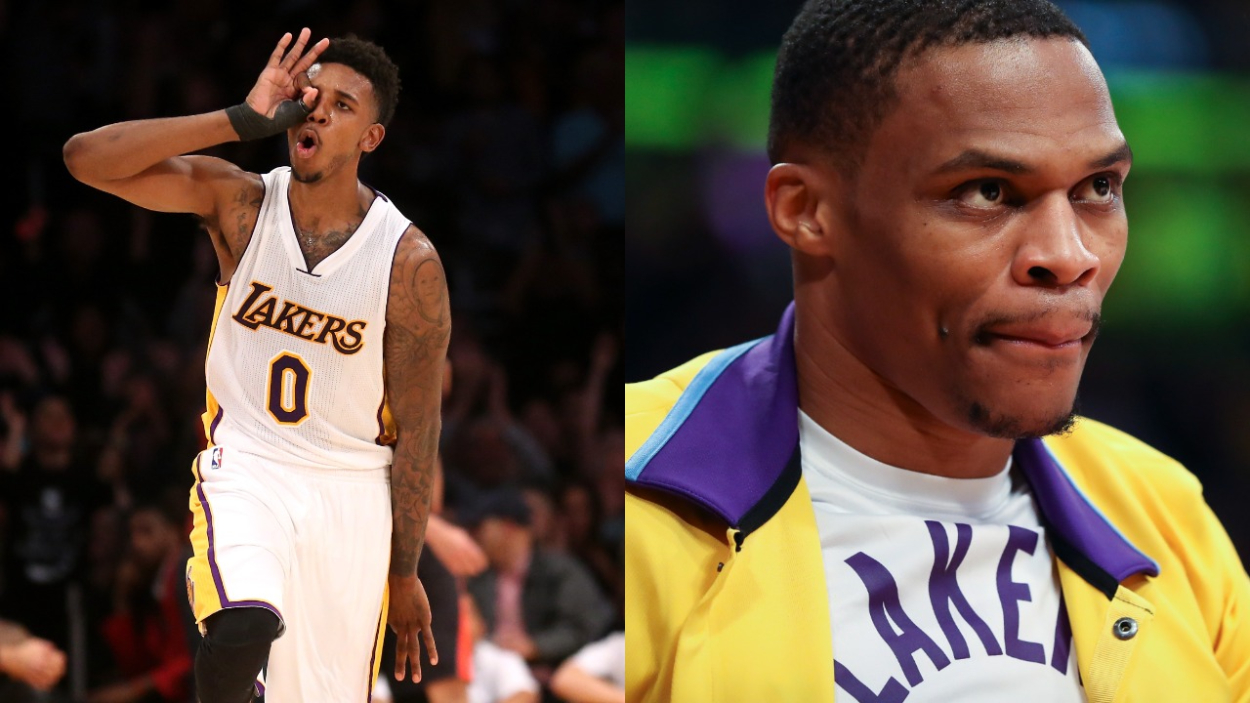 With Russell Westbrook playing so poorly, he has received most of the blame this year. From opposing teams making fun of his shooting struggles to talking heads asking him to take care of the ball, it's hard to remember a time when Russ has been under fire more than he is now.
And recently, a fan sent a diss track to Westbrook's DMs. House of Highlights then posted it on its Instagram, where Nick "Swaggy P" Young, who played for the Lakers from 2013-14 through 2016-17, came to his defense.
"That's why they losing because ppl show hate more [than] love," he commented. "This man Russ is a first ballot Hall of Famer and y'all been talking about him like he Tony Snell lol no disrespect."
It appears Young just wants Westbrook to get his respect, and he has a point. But Russ also deserves a lot of the criticism he has received.
Russ deserves criticism, but not all of it
It's hard to argue with the numbers, especially recently. Russell Westbrook isn't playing well and is a major reason why the Lakers have struggled. With how incredible LeBron James has been this year, Westbrook just needs to play complementary basketball, but he's instead making things harder for The King.
The two-time NBA scoring champ needs to be held accountable for his poor play. But he doesn't deserve to be a meme, nor should anyone treat him like he hasn't been one of the greatest players of his generation. 
Russ also isn't the only reason the Lakers stink.
LA is allowing 113.3 points per game, which is 27th in the entire NBA. That's not all on Westbrook. Carmelo Anthony, Talen Horton-Tucker, and Malik Monk have just as bad, if not worse, defensive box plus-minuses, which looks at the defensive points they contribute above a league-average player per 100 possessions. Westbrook is at -0.8.
The Lakers should have enough talent to mask Westbrook's struggles, but they are magnifying them instead. He's playing poorly, but that roster should still have enough firepower to beat a team like the Sacramento Kings, who LA has lost to twice.
All in all, Russell Westbrook deserves a lot of the criticism he is receiving. But he isn't the only Laker struggling to play well. This team is just proving how poorly constructed it actually is.
Stats courtesy of Basketball Reference